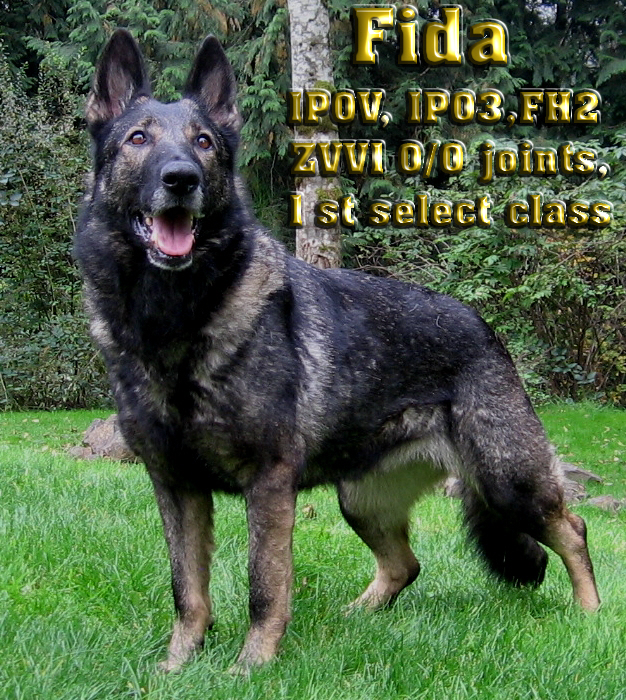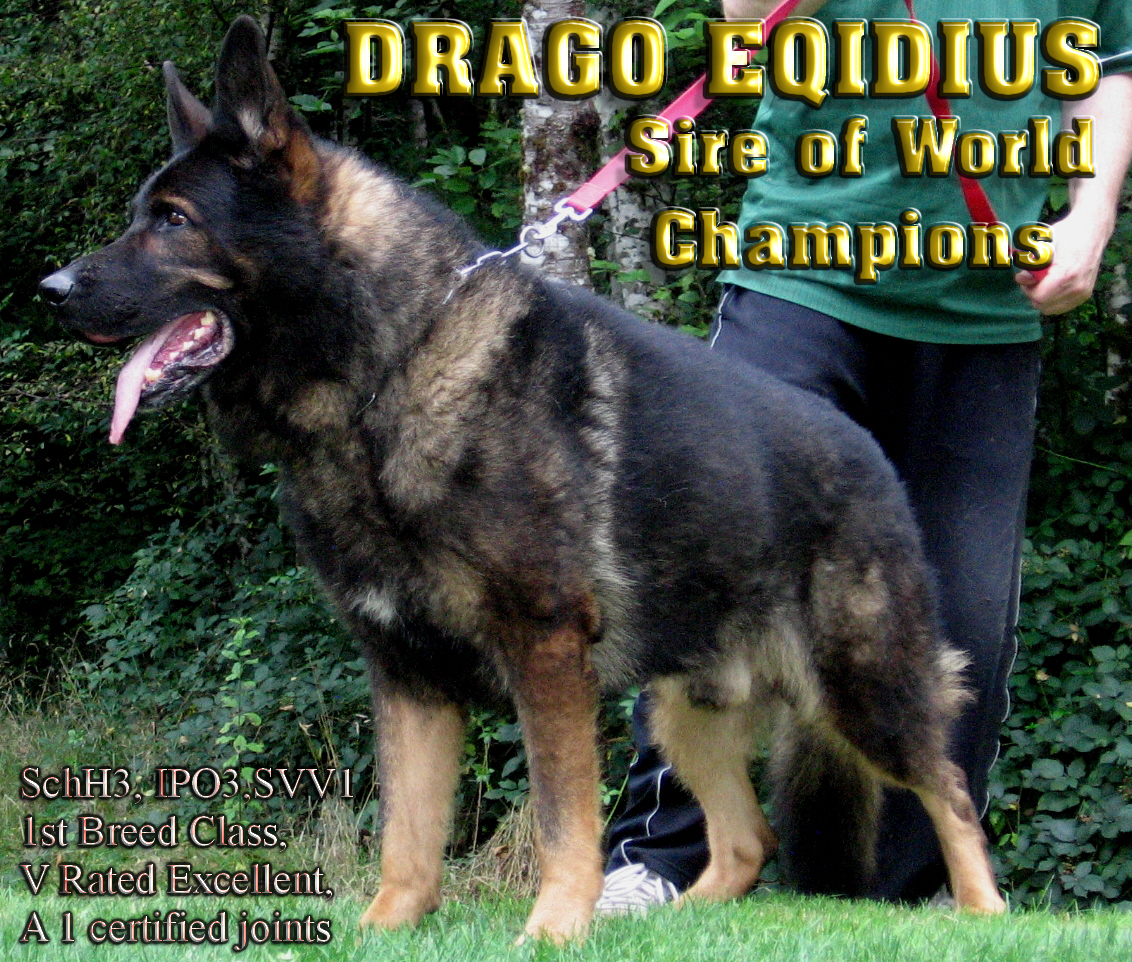 RESERVED

Currently Accepting Deposits

Whelped: 12/24/13

We have a VERY EXCITING litter due to whelp in December out of our excellent black sable imported female Fida IPOV, IPO3, FH2, SG rated, temperament pronounced, 0/0 certified excellent joints, sired by our WORLD RENOWN PRODUCING STUD MALE DRAGO(SchH3, IPO3, V rated excellent, A1 certified joints

Fida (IPOV, IPO3, ZVV1, FH2, 0/0 certified joints, SG rated, temperament pronounced) is an exceptional highly titled working female and excellent producer. Highly titled working progeny of Fida maybe seen worldwide. We have really appreciated the progeny that Fida has produced for our program. She consistently produces very dark rich pigmentation, gorgeous working conformation, proper shoulder angulation, wonderful blocky head type, old style working character type coupled with strong solid nerve base.

Fida goes back on top West German working line and half Czech line. Her sire, Jabina Querry, was  one of John Jabina's finest producing/working male. He was a working legend in the working dog community. Her dam is every bit as notable. Emilka was a tremendous working bitch that was multiple SchH3, IPO3, ZVV3, ZPO2, ZPS titled, and  the dam of top producing/working dogs seen worldwide. Fida is also a proven producing female of titled working offspring seen in multiple countries around the world as well.

  The working history, strength in nerve base, and consistency produced on her damline line, may be fully seen/established in the multiple top working dogs/females that Emilka has produced. Emilka was a top producing dam for 2 notable kennels in the Czech Republic. The thing that you will see over and over again out of Fida's damline is: excellent working conformation(many of her progeny were V rated excellent), top working ability with dogs earning top working titles, many of her progeny were top competitors on a national level, a majority were koer class 1, and a majority of her progeny were 0/0 excellent or A1 certified in their joint. Fida, like her dam, is also a improver of hips, pigment, hardness, working intensity, overall health.

   Not all dogs from a kennel are created equally, however, Fida's damline (Emilka) was a tremendously successful producing bitch with some truly famous working/producing dogs to her credit.

    I have owned more than one Emilka daughter, over the years, and they have had really strong natural aggression levels, coupled with rock solid nerve base, and tremendous working versatility. My Emilka daughters, over the years, have also had exceptional sire lines as well, just like Fida with Jabina Querry presenting in her sireline.

     Fida was one of the most heavily utilized bitches for the kennel she previously produced at. She is a consistent improver of health, hips, proper dark rich pigmentation, proper standard coat type, produces full sets of teeth, very strong natural civil aggression/active defensive reactions, strong natural food motivation, and wonderfully high working drives/versatility in working ability. She is a really strong bitch and is of high breeding value.

    Fida consistently produces massive boning, very robust body style, and gorgeous blocky head type.

What can I say about Drago?!! He is a wonderful stallion of a male that has been a World Renown producing stud dog. He is a V rated excellent male that is 1st select breed class, with a very hard/pronounced temperament, SchH3, IPO3, SVV1 titled, and proven producer of multiple top WUSV competitors, the # 1 working German Shepherd female in the World last year, WUSV qualifying winners, national championship winners including the Ukraine's National Championship winner, and countless dual purpose service dogs. He is a Legend and we are blessed to own him.

Here are some of the tremendous highlights in Drago's World Renown breeding career:

1) Sire of the # 1 working German Shepherd female in the World last year

2) Daughter Geischa was 3rd on the 2012 WUSV

3) Drago daughter was the WUSV qualifying winner last year

4) Sire of Multiple World Team competitors representing on the WUSV for the last several years in a row

5) Sire of multiple national level winners including the Ukraine's National winning dog and Slovakian Champion Faro

6) Sire of multiple certified working Dual Purpose service dogs serving in multiple countries

7) Brother(1/2), through Nash, was the 2012 2nd place WUSV Reserve Champion ONLY 1 POINT BEHIND 2012 WINNING DOG HANK

8) # 1 producing stud dog out of Slovakia and one of the top ranked producing stud dogs to come out of Europe over the last several years.

9) Grandson is the 2013 FCI CHAMPION!!!!

Very few stud dogs can boast the kind of proven breeding results of Drago. This is why I stated we are truly blessed to have him. It is not something that I take for granted. I am truly grateful to have him, and I am so excited to have the opportunity to provide our clients with his excellent working progeny. He is just a exceptional dog all the way around DUE TO BE BRED 03/2018

We have a SUPER old style Czech Border Patrol/German breeding out of Zevah Van Den Heuvel titled 3x HGH , NADD DJ&DS, CGC, A H/E sired by our WORLD RENOWN PRODUCING STUD MALE IMMO (BH, AD, IPO3,  A1 NORMAL( Excellent hips/elbows)

PROVEN SIRE OF 130 PLUS SUCCESSFUL WORKING OFFSPRING!

WONDERFUL OLD STYLE CZECH BORDER PATROL/GERMAN WORKING LINE BREEDING!!

  This is a super bloodline combination for clients that are looking to impart highly successful, influential, and original producing Czech Border Patrol/Old German working bloodlines back into their pedigrees. The resulting progeny will have tremendous versatility in working ability with a true natural territorial protection for family companion protection and or personal companion protection,  will be ideally suited for police and military, herding, water sports, IPO, will have excellent overall character type with children,  and are ideally suited as foundation breeding prospects where health and working versatility are needed.  This will be a primarily black sable dominant litter in coat pattern with dark sables and bi-colors as the other presenting coat patterns.

  This is a wonderful linebreeding on hip and performance producing LEGEND Aly vom Vordersteinwald!!

Immo produces very robust body style, extremely blocky head type, and wonderful overall boning. His progeny always have exceptional character type with BOMB proof nerve base, exceptional hardness, high trainability, high working willingness towards their handler, and really strong versatility in overall drive. Immo is BH, AD, IPO3, son of Drago Eqidius most famous 1/2 brother Goran through the World Renown Nash Bloodline and is A1 certified excellent hips/elbows, KKl 1.

Zevah is a gorgeous direct daughter of our Czech Border Patrol/German line retired working female
XANTA.
  Zevah has accomplished the following titles and certifications 3x HGH titled, NADD DJ&DS, CGC, A stamped hips/elbows(good/excellent), cross trained in realistic apprehension, rated. Zevah is a female of impeccable old style working character type. She has bomb proof nerve base, is a passionate retriever possesses outstanding natural defense/civil aggression, is perfect in her approach with children and other animals, is a stellar natural athelete and is perfect in the water, so ideal for water sports, and has the true natural versatilty in overall working drives that all Shepherds should be properly equipped with. Zevah goes back on some of the most influential Czech Border Patrol working/producing lines of the past i.e. Grim z PS, Xero z PS, Bara z Oplovny,  Panter Aritar Bastet, Jaguar Aritar Bastet, Xara z Lipin to name a few.  Her dam was also a direct daugther of WUSV working line great Javir v. Talka Marda. This breeding is a wonderful example of blending together the finest old style Czech Border Patrol producing lines combined with some of the strongest producing German working blood seen in the last couple of decades of the breed. 
Zevah has an incredible partnership with our dear friend and client Mary Lou. I want to extend a special thank you for all of the hard work, training, care, and effort that you have put into Zevah. You are a spectacular team!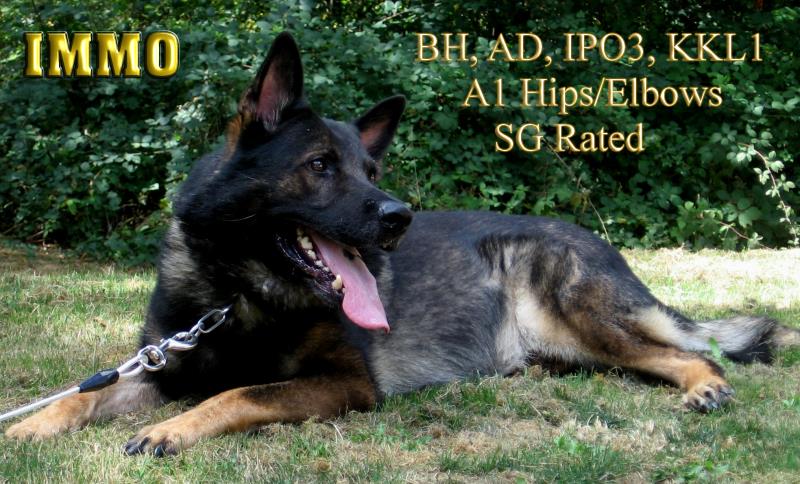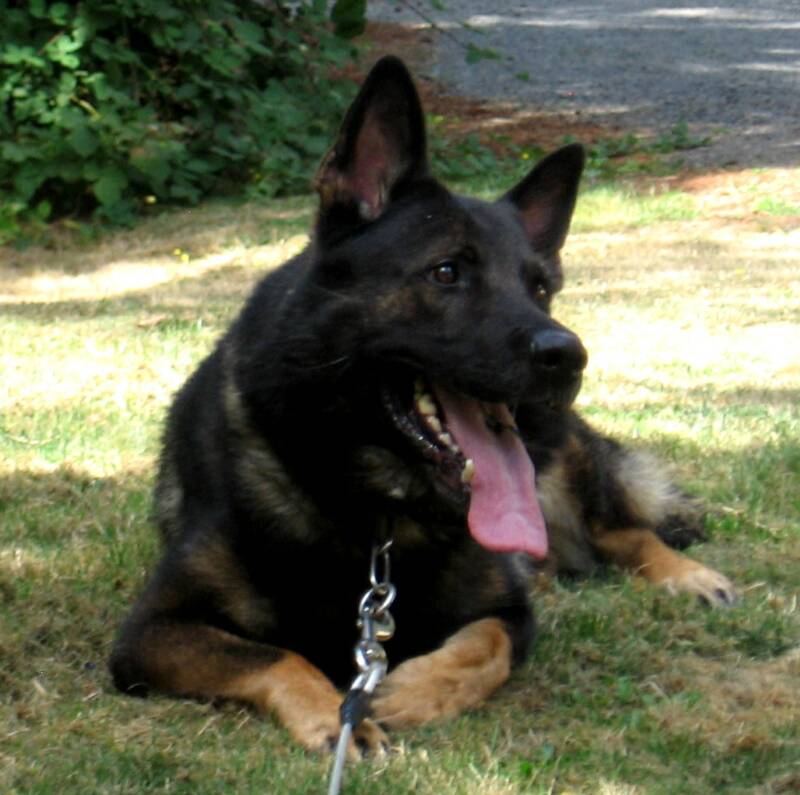 IMMO IS FROM THE "BLOODLINE OF WORLD CHAMPIONS!!"

I feel very fortunate to have Immo within our famous program due to his exceptional ability to stamp his progeny with his exceptional character and enormous taste for the work.

Immo is from the LEGENDARY producing Nash bloodline. Nash's two most successful producing sons seen worldwide were our DECEASED LEGEND Drago and 2x WUSV Goran.  This is very exciting for our program, since we now have both Drago and Goran's gene pool within our frozen semen stores. With Immo, we will be able to linebreed upon Nash through his two most successful producing sons Drago and Goran. In breeding Immo to our Drago daughters, or our Immo daughters back over Drago's, frozen semen, we will have the opportunity to have future working legends in the making! Immo is Goran's top producing son seen worldwide, and we have a deep appreciation for what he has given to the breed.

When referring to Immo's working character, this is honestly one of the most serious dogs I have personally encountered. He is very similar to my deceased LEGEND Congo, in overall character type, in referencing sharpness, hardness, and just true civil aggression. Even though Immo is of German descent, he is so true to the character type that you used to see in the old sentry style Czech Border Patrol dogs that were used during communism. This is one of the many reasons why Immo is seen within our program. He is a truly amazing old style working dog of tremendous talent with a wonderful ability to produce.

Immo is also quite nice to behold. He is a stallion of a male with a MASSIVE head type, robust body style, huge boning, and excellent old style working structure. In appearance, he is cross between our deceased LEGENDS Norbo Ben Ju and Drago Eqidius, so he is gorgeous to look at!

With his natural hardness, sheer power, enormous working drive, and top ability to produce, he fits right in with our lineup and the style of offspring that we are known to produce.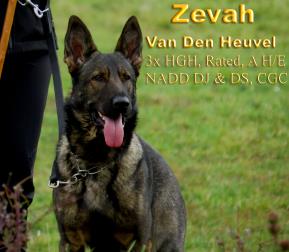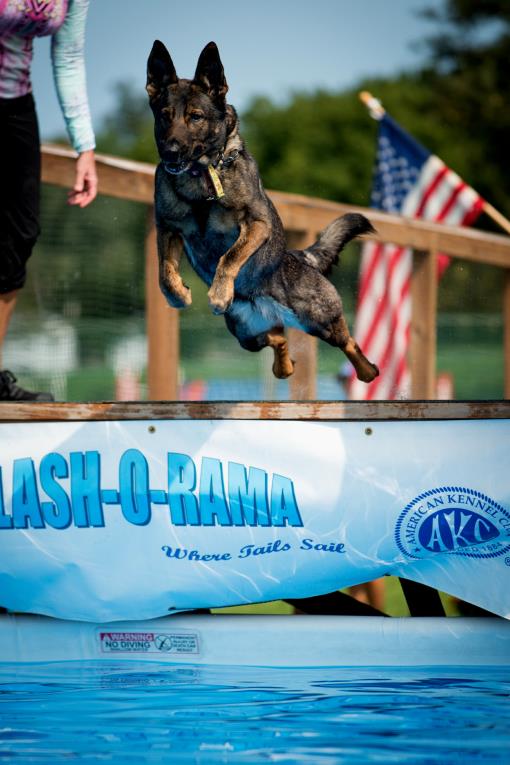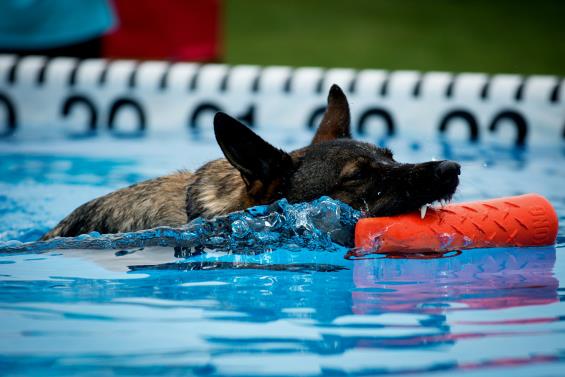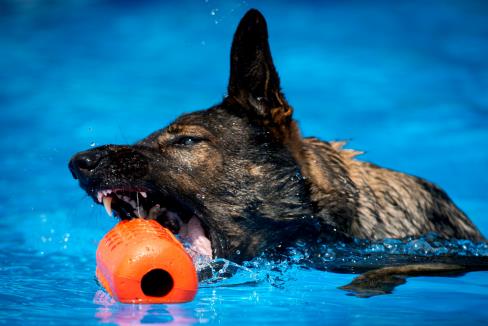 ZEVAH VAN DEN HEUVEL 3X HGH, NADD DS&DJ, CGC & A SPECIAL THANK YOU TO HER BEST FRIEND MARY LOU!