 DRAGO EQIDIUS "BLOODLINE OF WORLD CHAMPIONS!!"

I would first like to start out by saying thank you to Jan for helping our family to facilitate bringing World Renown and Legendary producing stud dog Drago Eqidius into the United States and to Peter for selling our family his beloved dog! This tremendous stud dog's producing track record is second to none and truly one to marvel at. In Jan's words, "Drago is definitely the best breeding dog I've ever bred- it is like diamond of my breeding. Many of my partners wanted to buy Drago."

We are truly blessed to be able to add this top proven producing Legend to our World Renown stud dog lineup. Drago has been part of our stud dog lineup since May of 2013. He is currently one of the most influential producing stud dogs for progeny suitable for top sport competition and serious Dual Purpose service work.

Drago produces such high versatility, intensity, and working willingness in his progeny, it makes them highly suitable for a huge range of working fields. He also produces absolutely PERFECT NERVE BASE, so you are assured a clear minded dog. He is also well known for producing extremely high intelligence level in his offspring.

Pictures of Orry's Progeny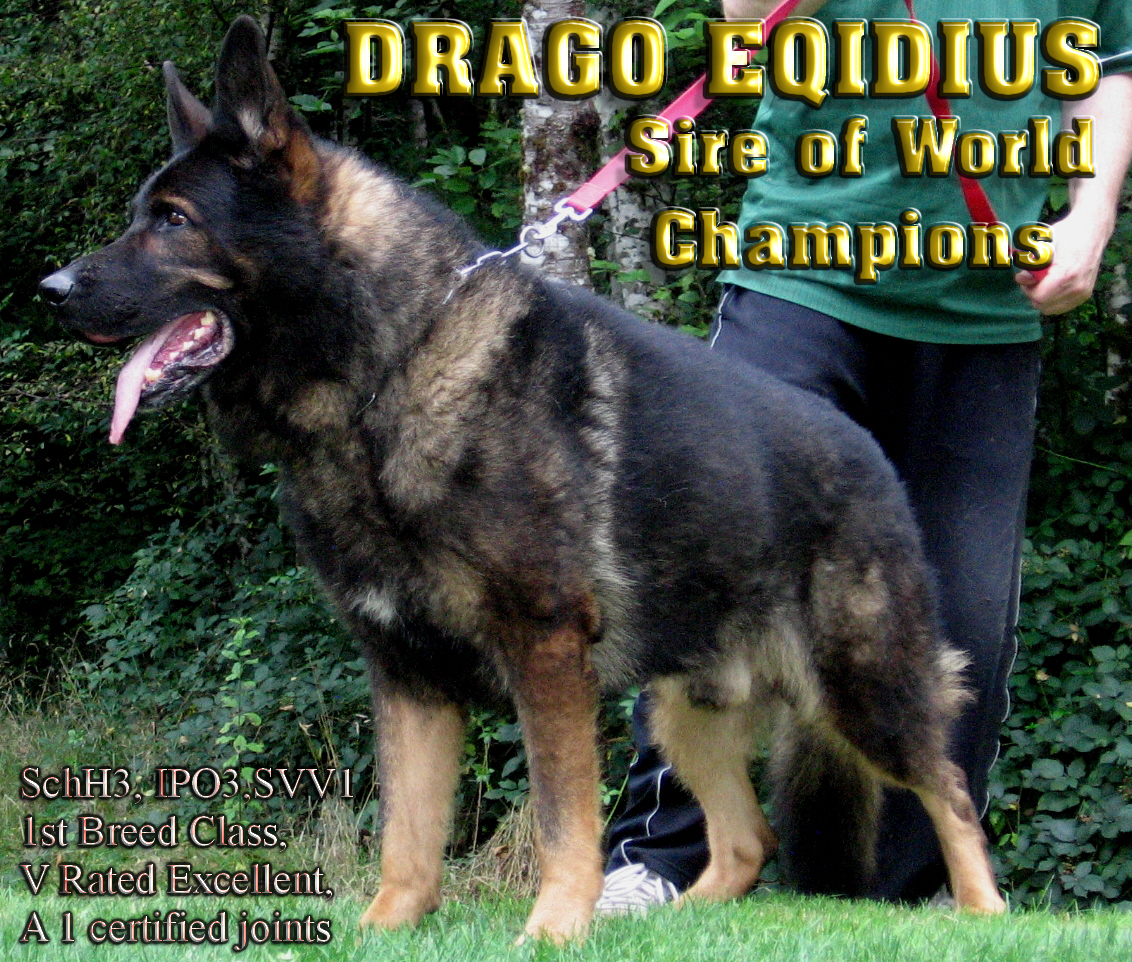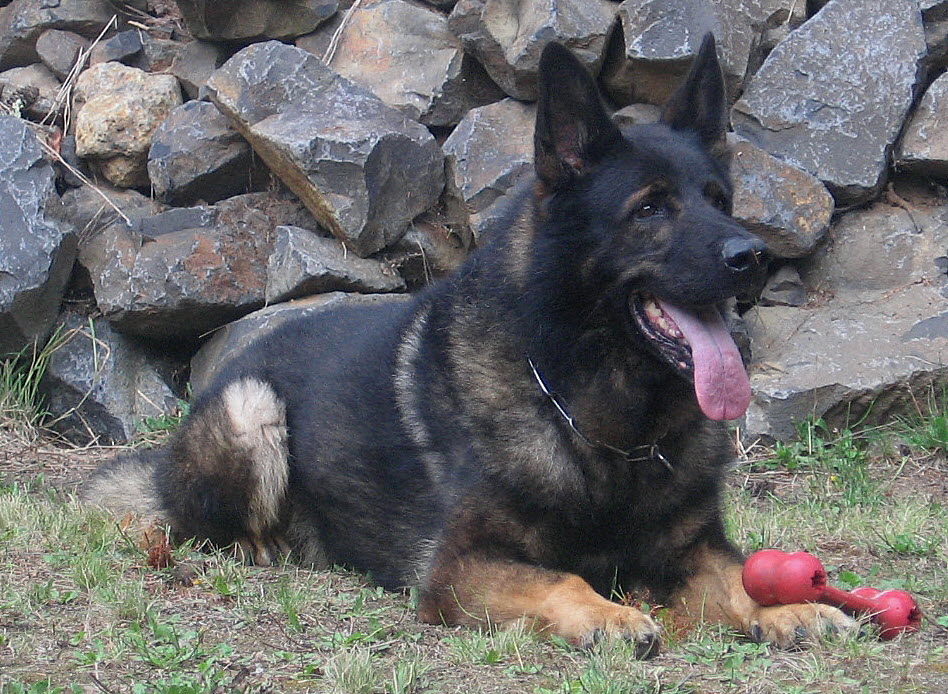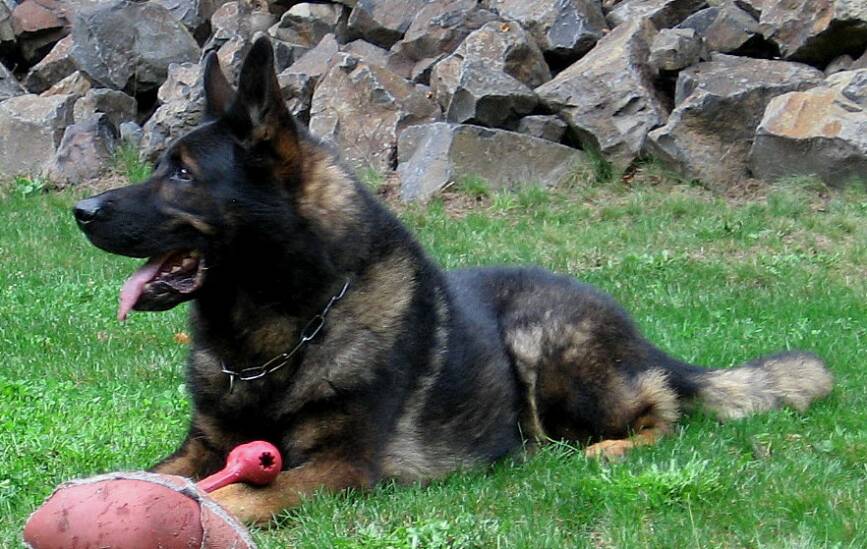 Drago is the # 1 producing stud dog out of Slovakia and currently one of the top producing stud dogs to come out of Europe. He can boast being the sire of Multiple World Team Competitors including producing the # 1 working German Shepherd female in the World last year in Geischa. Geischa has been a multiple World Team Competitor, WUSV qualifying winner, and was 3rd on the WUSV for 2012! Drago also produced Ukraine's National Winning Dog and FCI competitor Oliver Val Bella Dog, Faro Demin Dvor WUSV competitor, FCI competitor, Slovakian Championship winner, Multiple IPO3, SchH3, V rated excellent, top proven producing males and female currently stationed at top kennels around the world, producer of multiple Dual and Single working service dogs, and Grandsire of the 2013 FCI WINNER!

1) Sire of the top working German Shepherd females in the WORLD 2011, 2012, 2013, and projected for 2014

2) Daughter Geischa was 3rd on the 2012 WUSV

3) Drago daughter was the 2011 WUSV universalseiger winner

4) Sire of Multiple World Team competitors representing on the WUSV for the last several years in a row both male & female progeny

5) Sire of multiple national level winners including Ukraine's National winning dog and National winners in Slovakia

6) Sire of numerous certified working Dual Purpose service dogs serving in multiple countries

7) Brother(1/2), through Nash, was the 2012 2nd place WUSV Reserve Champion ONLY 1 POINT BEHIND 2012 WINNING DOG HANK

8) # 1 producing stud dog out of Slovakia of ALL TIME and one of the top ranked producing stud dogs seen in the world today.

9) 2 out of the 3 dogs representing on team Slovakia for the 2013 FCI WIN were of our Drago's bloodline

10) The 2013 FCI INDIVIDUAL WINNER, Chris, is Drago's grandson through his WUSV working son Faro.

11) Drago's daughter Original WON the 2014 WUSV / FCI Qualifier in Slovakia! Currently # 1 working German Shepherd female seen in Slovakia and another International level working daughter up and coming by Drago.  

Here are Original's Video Clips during the WUSV/FCI qualifier 1st place win:

http://www.youtube.com/watch?v=HQa7N5SABCo   

http://www.youtube.com/watch?v=tSO0oxzfCRM

Drago's genetics having huge success in this year's 2013 FCI.

Event:

23. FCI WM 2013

Category of event:

FCI Weltmeisterschaften

Results list name:

23. FCI WC 2013

Results list type:

IPO

Grandson of Drago Eqidius won WM champion!!!!!! and team Slovakia occupied 1 place, composed Chris spod Lazov, Witz Eqidius 1/2 brother of Drago, and malinois.

  Out of all of the dogs representing countries around the world, Drago's grandson, Chris won!! The Slovakian Team also took 1st place with two out of the three dogs competing containing the bloodline of Drago.

   It is truly exciting to see such a tremendous producing stud dog having such a positive improving impact on the working GSD breed. It is really exciting for Team Slovakia, and for the success of Drago's blood.

Drago is SchH3, IPO3, SVV1 titled, A 1 certified joints, 1st select breed class, V rated excellent working conformation, with a pronounced courage, hardness, and willingness to fight.

Drago is a VERY HARD male with EXTREME hunt drive, a HUGE taste for the work in all three phases, rock solid nerve base, enormously developed grip strength, extreme tracking aptitude, and monsterous ball drive. He is a stallion of a male with the most gorgeous working structure you could ask for in a top producing stud dog. He has a truly powerful build with huge boning, a tremendous head type with a very strong lower jaw, a proper stop, lovely almond shaped black brown eyes, proper ear set, correct front and rear angulation, short coupled with great rear impulsion, and rich dark pigmentation. If I had one word to describe Drago is would be "POWERFUL" because he is just exactly that. He is for an experienced handler only. More importantly is what Drago has produced. He is currently ranked as one of the top producing stud dogs to come out of Europe, and we are blessed to have Drago progeny to offer to our clients for many years to come, as Drago will be part of our stud dog's semen preservation program.

A Few Examples of Adult Male and Female Drago Progeny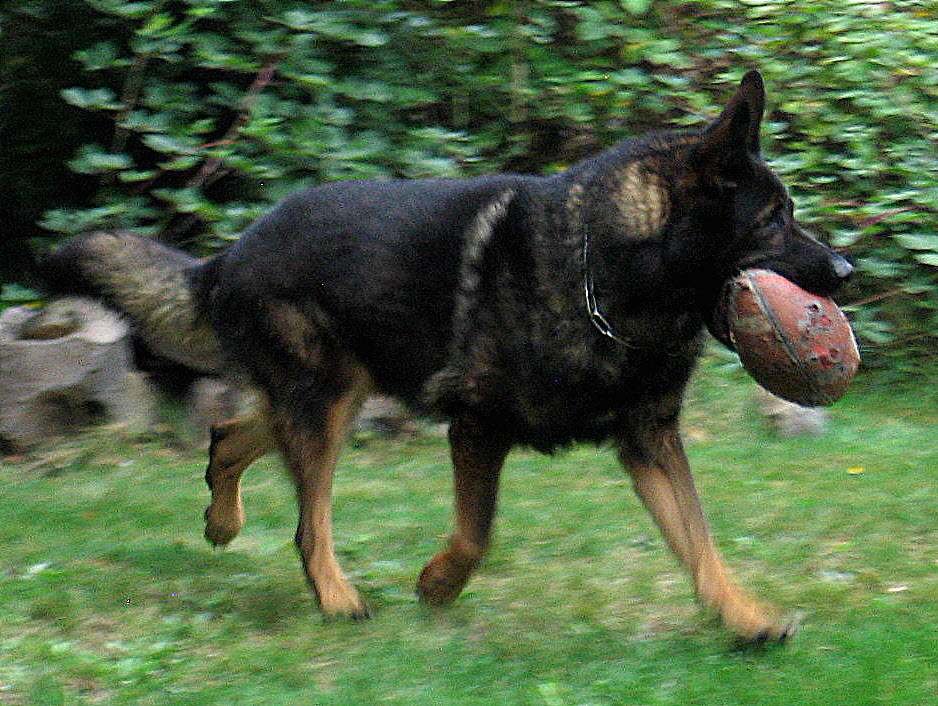 Drago's  pedigree is absolutely fantastic and contains top foundation producing/working legends seen top to bottom on both sides.

Drago's dam Nike was truly one of the finest producing bitches seen for kennel eqidius. She produced excellent highly titled working progeny seen in multiple countries. Her most notable producing son of all time is our Drago.  She also produced top WUSV competitor Cherry and Norman as well.

Drago's sire is Renowed producing stud dog Nash vom Lisdorferland with a linebreeding on the following highly influential producers that are famous for the preservation of the original working German Shepherd Dog:

•5 - 4............................................. in V Fero vom Zeuterner Himmelreich

•4 - 3............................................. in V Troll von der bösen Nachbarschaft

•5 - 4............................................. in V Askia vom Froschgraben

•5 - 4............................................. in V Kid von der Maineiche

•3 - 2............................................. in V Aly vom Vordersteinwald

•4 - 3............................................. in SG Afra vom Haus Feller

•5 - 4............................................. in Flocke vom Entschenkopf

Drago's exceptional genetics and tremendous ability to impart them into his resulting progeny will make him a true cornerstone for the future of Van Den Heuvel K9's preservation program. His genetics will occupy a very large place in the continued current and future successes of our Famous Breeding Station.

Video examples of Drago progeny : #1 working female for 2012 and 3rd place winner for the 2012 WUSV, 2011 Universal Sieger, Geischa, FCI and Ukraine National Winner Oliver, WUSV and Slovakian Champion Faro, Drago Himself, Drago's grandson Chris 2013 FCI World Champion(1st place for 2013 FCI), 2014 WUSV/FCI Qualifying WINNER Original and Young Adult working female example, Oxy

Drago is almost 10 years of age in the follow photos!!

Drago and Fida Male and Female pups at 2.5 weeks of age

Here are some of the tremendous highlights in his World Renown breeding career: