 Fida is a very famous proven producing female that literally has produced progeny that are seen Worldwide. She is a gorgeous dark black sable female with outstanding working conformation and tremendous working talent. She is IPOV, IPO1, IPO2, IPO3, FPR1, ZM ZVV1 titled, 1st select breeding class, pronounced courage, hardness, willingness to fight, and has certified 0/0 excellent hips/elbows. She is super in our home, is very patient with our children and loves them, and is so willing to please. She is a true pleasure to live and train with.

Fida possesses strong natural territorial instincts, has very high natural characteristic retrieve drive, extremely high food motivation, is a natural tracker, and will bite anywhere on the suit and hidden training aids. She is fully committed to protecting her property and family. I feel that she is equally as talented in realistic work as she is in the sport. She is a truly talented old style working female with excellent genetics for producing what she is in her offspring.

Examples of Fida's progeny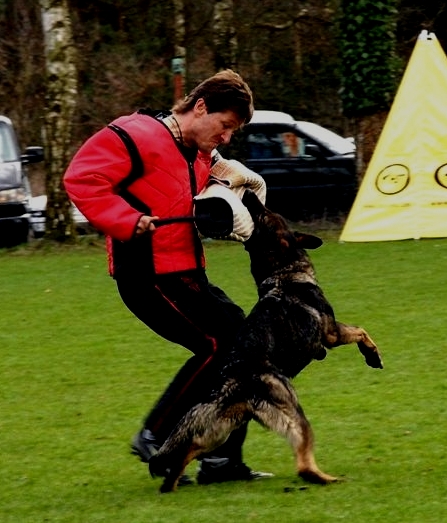 Fida's World Renown Sire and Dam

Fida goes back on top West German working line and half Czech line. Her sire, Jabina Querry, was one of John Jabina's finest producing/working male. He is a working legend in the working dog community. Her dam is every bit as notable. Emilka was a tremendous working bitch that was multiple SchH3, IPO3, ZVV3, ZPO2, ZPS titled, and dam of top producing/working dogs seen worldwide. Fida is also a proven producing female of titled working offspring seen in multiple countries around the world as well.

  The working history, strength in nerve base, and consistency produced on her damline line, may be fully seen/established in the links listed below. Emilka was a top producing dam, in Europe, for a number of years. You may see a variety of her progeny listed below. The thing that you will see over and over and over again out of Emilka is: excellent working conformation(many of her progeny were V rated excellent), top working ability with dogs earning top working titles, many of her progeny were top competitors on a national level, a majority were koer class 1, and a majority of her progeny were 0/0 excellent or A1 certified in their joints. Many of her excellent working progeny are not listed on the database, but I included several that are. Fida also is a improver of hips, pigment, hardness, working intensity, overall health.

   Not all dogs from a kennel are created equally, however, Fida's dam Emilka was a tremendously successful producing bitch with some truly famous working/producing dogs seen in multiple countries to her credit.

    I have owned more than one Emilka daughter, over the years, and they have all had really strong natural aggression levels, coupled with rock solid nerve base, and tremendous working versatility. All of my Emilka daughters, over the years, have also had exceptional sire lines as well, just like Fida with Jabina Querry presenting in her sireline.

     Fida was one of the most heavily utilized bitches for the kennel that she previously produced at in Europe. She is an improver of health, hips, producer of proper dark rich pigmentation, proper standard coat type, produces full sets of teeth, very strong natural civil aggression/active defensive reactions, strong natural food motivation, and wonderfully high working drives/versatility in working ability. She is a really strong bitch and is of high breeding value.

     See below the successes of Fida's  1/2 brothers, 1/2 sisters, and full littermates through her dam Emilka.

     Our upcoming Fida x Drago litter is also a proven genetic combination, as Fidorka's dam Emilka was bred to Drago's sire Nash. The results were highly successfult: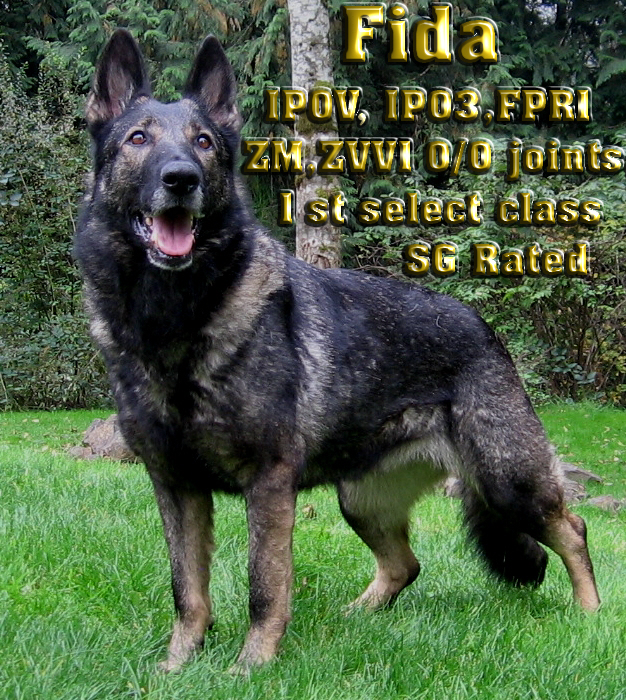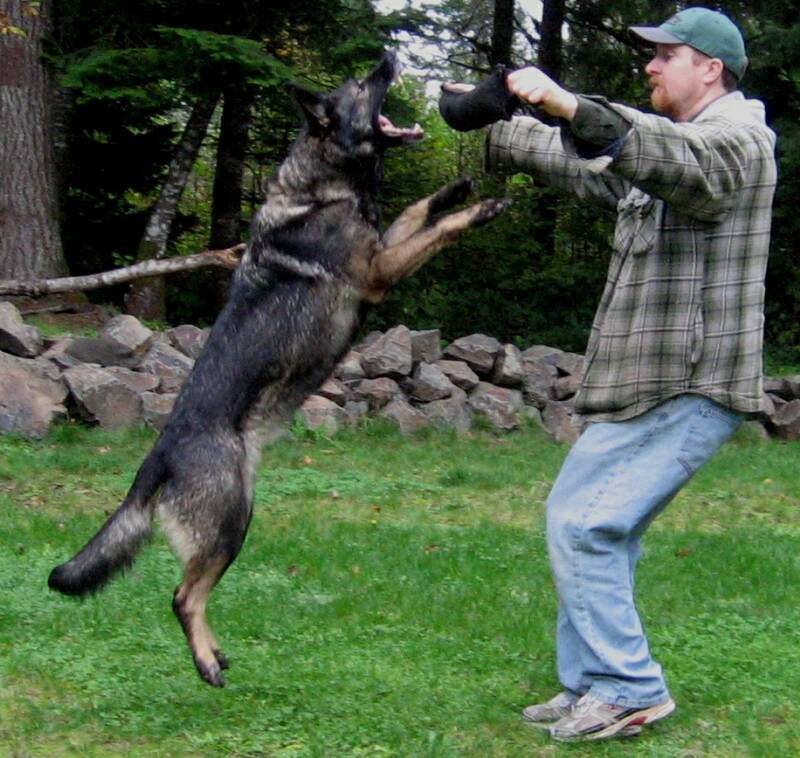 I have a true appreciation for Fida not only as a true example of a great old style working GSD, but also as a proven producer. She produces gorgeous working puppies with massive boning, really robust head type, and excellent overall structure. She is a very strong proven improver of hips, produces excellent dark pigmentation without pigment loss, produces standard coat type, proper teeth, and produces super solid nerve base, a high willingness for the work in all three phases. Her offspring are just a pleasure to live and train with due to their excellence in character type and strength in proper nerve base.

Fida's Famous Sire: Jabina Querry

BHP 3, AK/1 HD: A- Normal, DNA

Mastership of Denmark 2003 Platz 4

Mastership of Denmarkn 2004 Platz 2

Mastership of Denmark 2005 Platz 3

WUSV 2004 Platz 10

WUSV 2005 Platz 2

Fida's dam is equally as impressive and was the foundation producer for a very well known working kennel in Europe. Emilka was very highly titled and was also a top producing female of progeny seen Worldwide, much like Fida. Emilka was ZVV3, SchH3, IPO3, SchHA, ZPO2, 0/0 excellent joints etc.

Fida's pedigree is an outstanding combination of 100% top German/Czech Border Patrol working bloodlines. Her sire, Jabina Querry WUSV, DK-BSP, SCHH3, BHP3,  is an absolute legend! Here are highlights from his famous International Working career including being the # 2 working dog in the world on the World Team in 2005!