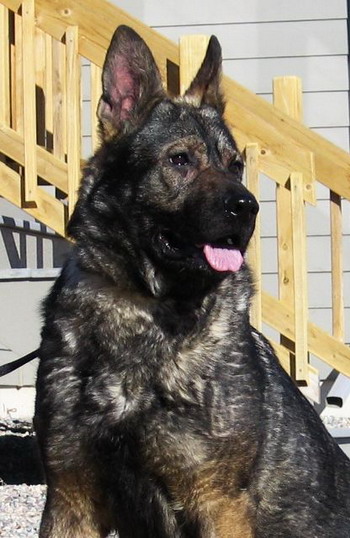 Caska Van Den Heuvel clear elbows/0/0 hips is a true old style Border Patrol female. She is a daughter out of our famous Border Patrol bloodline combination between our Internationally Acclaimed producing stud male Congo Vikar out of our Internationally Acclaimed producing female Amalka z Pohraninci Straze. We repeated the bloodline combination between Congo Vikar and Amalka z Pohranicni Straze for 7 years. Their progeny may be seen in several countries around the world working as Dual and Single Purpose service dogs, Patrol dogs for security companies, PSA competition dogs etc.

Caska is a female of original Border Patrol working character type. She was retained by our breeding program specifically to improve and maintain overall structural health in her progeny, to absolutely ensure that proper Civil aggression and active defense are preserved, and excellent working conformation is upheld.

Caska is particularly precious, to the original old style working GSD breed, for the purpose of ensuring that highly recessive characteristics, specific to the Old Style working dogs, are preserved in their original state, purpose, and working function.

Her offspring will be highly suitable for realistic working fields i.e. Single purpose Patrol Apprehension, Dual Purpose Patrol/Narcotics, Area Protection, Executive Protection, PSA etc.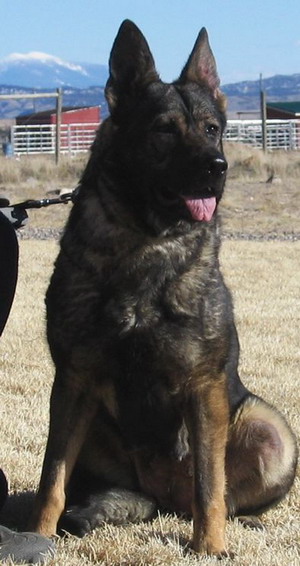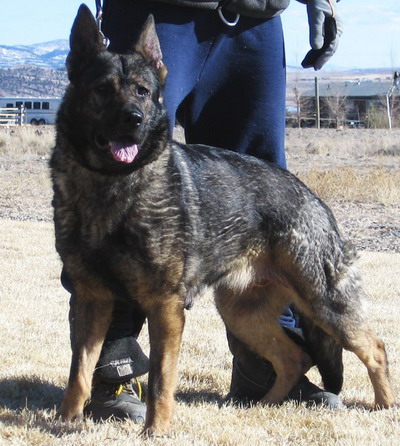 Structured linebreeding present in Caska Border Patrol working pedigree

4 - 4............................................. in Zar z Pohraniční stráže CS

4 - 5............................................. in Gomo vom Schieferschloß

5 - 5............................................. in Gabi z Pohranicni straze

5 - 5............................................. in Din z Pohraniční stráže CS

5 - 5............................................. in Vanda z Pohranicni straze

5 - 5............................................. in Iwo von der Buschecke