 Amalka is the daughter of the great producing stud dog Grim Z Pohranicni Straze rated velmi dobry, titled ZM, ZVV3, IPO3, SchH3, hips 0/0. Grim has a long line of tremendous offspring, including Amalka's half brother, which is Grim's z Pohranicni Straze finest producing son to date and may be seen under our stud dog's lineup(Xero z Pohranicni Straze velmi dobry, IPO3, SchH3, 1.class 5V1/P). Her grandsire Baron z Pohrancni Straze velmi dobry ZM, IPO3, SchH3, ZVV3, OP1 has produced hundreds of certified border patrol dogs.

    She comes from a long line of outstanding dogs such as DDR Gomo v. Schieferschloss, DDR Treu v. Schaferstolz, DDR Iwo v.d. Buschecke, Zar z Pohranicni Straze, DDR Hassan v.d. Hasselwiesen, DDR Held v. Ritterberg, DDR Ingo v. Rudingen, Kaso z Pohranicni Straze to name a few.

The excellent Border Patrol bloodlines that are encompassed within Amalka's pedigree, shine through not only within her working abilities but through her offspring as well. Amalka has seven certified Border Patrol dogs in her first three generations coupled with several of the most influential DDR producing stud dogs for the working German Shepherd breed.

     Her offspring have been placed as prospects in a large variety of working homes ranging from family protection, SchH, Drug detection, Search and Rescue/Recovery, herding/water rescue to Dual Purpose Police Work. Her pups have solid nerves, excellent heads, substantial structure, super working drives, and are equipped with alot of temperament. Amalka's offspring consistently possess very high natural tracking abilities.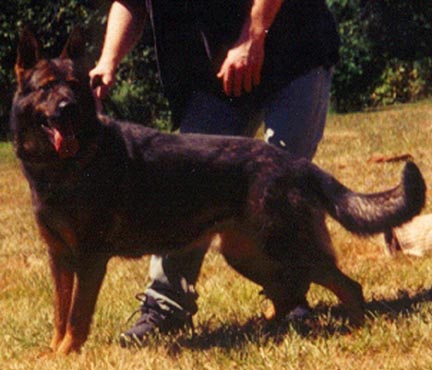 Amalka Z Pohranicni Straze Czech import rated velmi dobra, ZVV1 titled, 1st breeding class, full bonitacion pronounced courage, hardness and willingness to fight, hips/elbows 0/0. Amalka is a large boned high power female that excels in dual purpose police and serious personal protection work. She is a very strong civil female equipped with super solid nerves, a strong taste for all phases of work, and an overall interest in her work with the handler. She has high characteristic retrieve drive, full hard calm grips, perfect defense, and an outstanding disposition with the family.