 Congo Vikar SchH 3, IPO 3, ZVV2, 1st select breeding class, V1 rated Champion of the class, 0/0 excellent hips/elbows. Congo has not only been a World Renown producing stud dog for Van Den Heuvel K9, but also produced for the World Renown Border Patrol Stud Dog Lineup, which was the Former Pohranicni Straze breeding station!  He is truly one of the finest hip improvers that have had the blessing of working with. Congo's genetics may be used to vastly improve upon hips, longevity, strength in constitution type, conformation, and versatility in working drives. He is a virtual replica of one of the greatest producing Working Stud Dogs, Gent od Policie IPO3, SchH3, ZVV2, OP1. Congo's bloodlines go back on many of the greats such as, Zar z Pohranicni Straze, Ford v. Ritterberg, Held v. Ritterberg, Golf v. Ritterberg, Hassan v.d. Hasselwiesen, Cessy v. Schieferschloss, Golm v. Baruther Land, Gomo v. Schieferschloss to name a few, and Gent was linebred 5-5 on Ingo v. Rudigen.

Congo is the perfect ideal GSD both in tremendous working abilities and in working conformation type. He truly lived for apprehension work, yet he was very successfully cross trained in sport. He is an extremely serious male that possesses very hard and precise defense. He is equipped with perfect character and is all that we could ask for in an old style producer. This hard civil stud has a massive body and head, with very dark rich pigment, and imparts his offspring with all that he is. His loyalty to his family members is unmatched, as well as his overall ability to work. BELOW ARE TYPICAL EXAMPLES OF CONGO PROGENY.

Congo Vikar's son Oso Van Den Heuvel is a certified

top Dual Purpose K9 owned by Officer Roselles.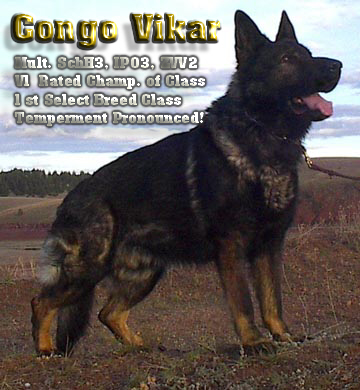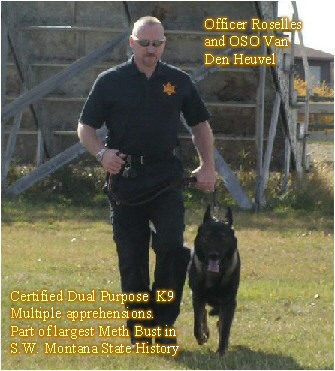 Congo Vikar's son Damon Van Den Heuvel Multiple SchH 3 titled here in the States as well as in Germany. He took high point  in trial protection while competing in Germany and also qualified for the Nationals here in the States. Damon was out of our famous bloodline combination between Congo and our retired female Exa. He is an ideal example of the versatility that Congo produces. Congo has produced numerous Dual and Single Purpose Police dogs, but also has produced top sport dogs like Damon as well. Damon is also very typical of the structural integrity that Congo imparts into his offspring, as he has certified OFA Excellent hips. Damon is loved by our client Nancy, and we want to thank her for the wonderful job she has done with Damon. Nancy was a handler that originally resided in Holland, but now resides and trains in the States as well as overseas.