 This is a top proven long-standing successful line-breeding with Immo's genetics.  THIS IS ALSO A 2X PROVEN REPEAT BREEDING!! The resulting progeny will be ideally suited for those looking to improve the structure of their genetics, wanting a Shepherd with true working versatility and intensity, and a dog that will be massively conformed. The line-breeding that is present between Immo x Amalka is a long-standing successful combination well known for producing exceptional trainability coupled with gorgeously conformed working dogs. Most of the dogs that are line-bred upon were V rated excellent. 4-4 V Olix v. Karthago SchH3, BSP, 5-5 V Boy v. Haus-Klonne SchH3, BSP, 5-5 SG Quinie v. Karthago SchH3, 4-4 Connie v. Kornerplatz SchH3, 5-5 V Fado v. Karthago 1989 WUSV World Champion, SchH3, FH, IPO3, 1990 WUSV Vice World Champion, 5-5 Gimmi von der Abfuhr SchH3, 5-4 V Nick v. Heiligenbosch 99' WUSV, BSP, SchH3, IPO3, FH1, 2x  LGA, 5-5 V Aly v. Vordersteinwald SchH3, BSP, FH2.

Amalka (SVV1, ZM, A1 excellent certified joints, SG-1 rated, 1st select breed class, temperament pronounced) is an exceptional working female and excellent producer. I have a deep respect for Amalka's genetics. Her pedigree contains VERY REAL working dogs that have consistently produced offspring suitable for top sport as well as for serious working fields that require dogs that can handle very demanding work .

Amalka is a gorgeously conformed working female and will impart strong boning, robust body style, massive blocky head type, and wonderful conformation  type into her progeny.  Amalka consistently imparts very powerful grip strength, natural tracking aptitude, high natural characteristic retrieve drive, solid nerves, and high overall versatility into her offspring.

Amalka is a female of rock solid character type full of warmth, working willingness, and versatility in overall drives. She has a super approach with children and is absolutely clear minded. She has an unbelievable long distance send, is very powerful in protection, has absolutely full committed grips, and is a really enjoyable female to work. More importantly, she is able to produce true to her genetics.

This is a super bloodline combination for breeders who need to concentrate the consistency in their bloodlines,  so excellent for pedigrees that need more structuring. This is also the ideal combination for breeders who need to improve working conformation as both Immo and Amalka are improvers, depth of pigmentation, strength in boning, massive head type, strength in proper aggression, natural tracking aptitude, and where working willingness is needed. These will be highly versatile working puppies of old style character type that will be super for all scent work, top sport and realistic protection work, Dual/Single Purpose, Ring, Family companion/Personal Companionship where reliable protection and safety with children/other animals may be expected. They will also be wonderful to live with due to the old style character type that will produced, so will have a nice ability to settle when not working.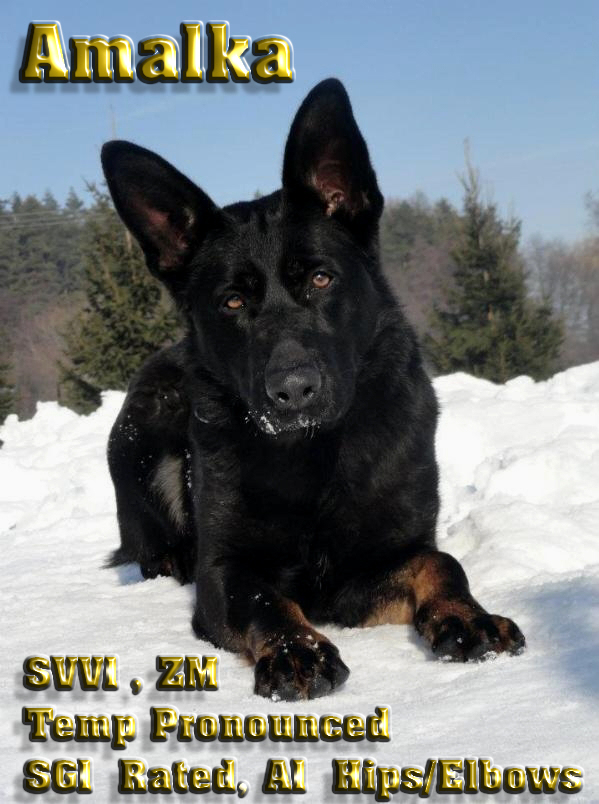 Fresh Semen Litter  2x PROVEN REPEAT BREEDING!!

LITTER DUE TO WHELP

June 10th, 2018

We have a VERY EXCITING litter out of our WORLD RENOWN PRODUCING MALE IMMO! Immo is the most famous producing son of 2x WUSV Goran who was also the most famous 1/2 brother in the world to our Drago by our top female Amalka!!!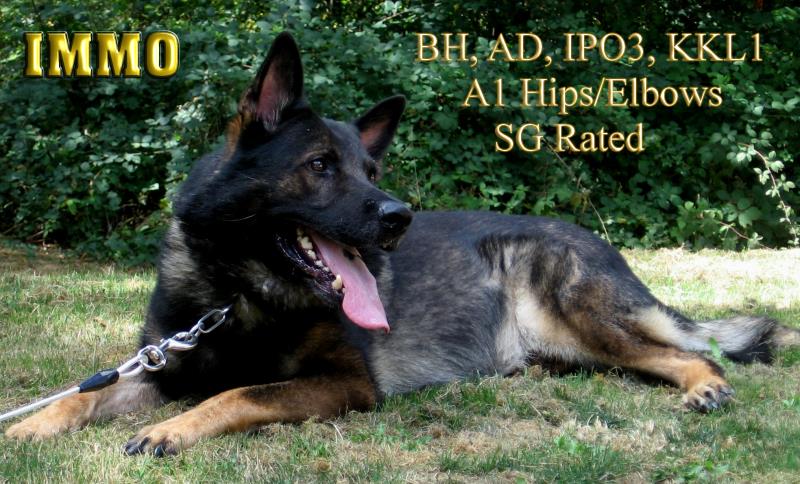 WONDERFUL OLD STYLE  CZECH SLOVAK/GERMAN WORKING LINE BREEDING!!

Immo produces very robust body style, extremely blocky head type, and wonderful overall boning. His progeny always have exceptional character type with BOMB proof nerve base, exceptional hardness, high trainability, high working willingness towards their handler, and really strong versatility in overall drive. Immo is BH, AD, IPO3, son of Drago Eqidius most famous 1/2 brother Goran through the World Renown Nash Bloodline and is A1 certified excellent hips/elbows, KKl 1.

IMMO IS FROM THE "BLOODLINE OF WORLD CHAMPIONS!!"

I feel very fortunate to have Immo within our famous program due to his exceptional ability to stamp his progeny with his exceptional character and enormous taste for the work.

Immo is from the LEGENDARY producing Nash bloodline. Nash's two most successful producing sons seen worldwide were our DECEASED LEGEND Drago and 2x WUSV Goran.  This is very exciting for our program, since we now have both Drago and Goran's gene pool within our frozen semen stores. With Immo, we will be able to linebreed upon Nash through his two most successful producing sons Drago and Goran. In breeding Immo to our Drago daughters, or our Immo daughters back over Drago's, frozen semen, we will have the opportunity to have future working legends in the making! Immo is Goran's top producing son seen worldwide, and we have a deep appreciation for what he has given to the breed.

When referring to Immo's working character, this is honestly one of the most serious dogs I have personally encountered. He is very similar to my deceased LEGEND Congo, in overall character type, in referencing sharpness, hardness, and just true civil aggression. Even though Immo is of German descent, he is so true to the character type that you used to see in the old sentry style Czech Border Patrol dogs that were used during communism. This is one of the many reasons why Immo is seen within our program. He is a truly amazing old style working dog of tremendous talent with a wonderful ability to produce.

Immo is also quite nice to behold. He is a stallion of a male with a MASSIVE head type, robust body style, huge boning, and excellent old style working structure. In appearance, he is cross between our deceased LEGENDS Norbo Ben Ju and Drago Eqidius, so he is gorgeous to look at!

With his natural hardness, sheer power, enormous working drive, and top ability to produce, he fits right in with our lineup and the style of offspring that we are known to produce.