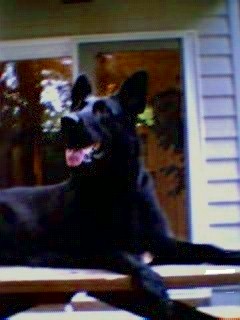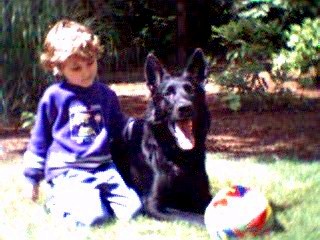 Gita Ste-Kot is a daughter of the super producing DDR stud dog Derrik v. Haus Iris, and goes back on some studs who had a tremendous impact on the breed of working dogs i.e. Don v. Rolandsteich, Ingo v. Osterberg, linebred 4-4 on Hassan v.d. Hasselwiesen, Gomo v. Schieferschloss and 5-5 on Held v. Ritterberg. Gita is linebred on Cessy v. Schieferschloss 4-4 as well. She is a solid black Import that is almost all of DDR bloodlines with a bit of excellent old Czech working blood, Velmi dobry(rated very good at the exhibition (show) for working conformation, ZM, ZVV1, SchH1, IPO1(2x), ZOP, temperament pronounced hips/elbows 0/0.

  She is a very lively character that excels in SchH, agility, obedience, and tracking. Off of the field, Gita has cross trained in very serious personal protection work.She is devoted to her family and children of all ages. She is equipped with perfect character, and is extremely stable and discriminative in all situations.

  Gita produces offspring with excellent working structure. Her pups have very large strong boning, super head type, strong nerves, versatile working drives, and very solid structural health. We are very pleased to have Gita within our breeding program, as she has provided super representatives for the German Shepherd Breed.

Gita is a very well balanced female with nerves of steel, super working drives, and a willingness to please her handler in all facets of her work. She possesses very hard and precise defense coupled with full hard calm grips. She has outstanding characteristic retrieve drive and perfect tracking abilities.