 Bomba is a tremendous addition to our female lineup and to our family. She is an intensely driven, highly dominant rich very dark black sable working female with black masking. She is a granddaughter of our famous producing female
Ulrike Eqidius,
and she is extremely similar to her in character type. Her blood will occupy a very large place in our breeding program.
Bomba (BH, IPO1 level trained, fully cross trained in apprehension and will do full suit and hidden sleeve work inside buildings on slick surfaces, temperament pronounced, rated very good, 0/0 excellent hips/elbows) is a female with EXTREME working drives coupled with a great old style working character type. She has enormously developed retrieve drive and will retrieve absolutely anything. She has full, calm, crushing grip strength, and was doing muzzle work at just over 12 months of age.  She is naturally territorial and will defend her property and her family without question. She has a rock solid nerve base and a very clear head. She also possesses a very high willingness to please her handler, and loves our children.

I would consider Bomba to be a female of impeccable working character type and a tremendous addition to a true working dog's breeding station. She has an exceptional working pedigree and is very carefully linebred to add to her future imprinting capabilities in producing superior working progeny.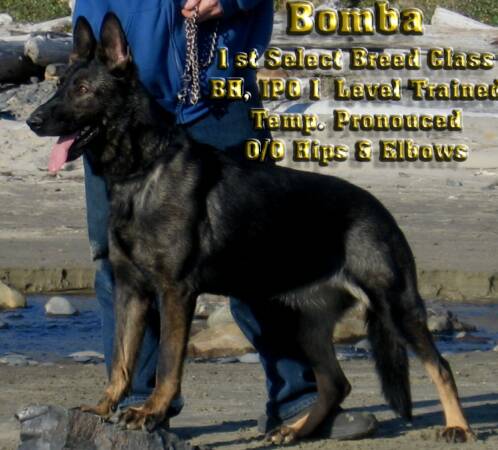 Bomba's Sire Issac, multiple SchH3, FH1, Multiple FCI, WUSV, and BSP competitor She is a daughter of top WUSV/BSP working male Issac om Bracheler See SchH3, FH1 BSP 2009 5th place, WUSV team champion and in 2009. Her sire has a SUPER pedigree working pedigree and is a gorgeously conformed working dog.

Bomba's dam line is equally as impressive. Her dam is a top breeding between our retired female Ulrike Egidius and Norman Eqidius, which has impeccable hip background both top to bottom. Norman was an incredibly hard male that was a strong producer in Europe. I love his bloodlines, and his pedigree, and I really appreciate the health behind this particular male. Bomba's pedigree also possesses Legendary producing stud male Car and his famous WUSV and top producing son Honza Okal.

Honza's dam, Betty Egidius of the famous B. Egidius litter, goes back on Lord vom Gleisdreick through Fiasko vom Gebruder Grimm.

Also seen behind Bomba's  damline is, Daja Va-Pe, who is from the famous D. Va-Pe litter. Daja was sired by Nick vom Heiligenbosch, and goes back on greats Timmy and Troll v.d. bosen Nachbarschaft and Yoschy v.d. Dollenweise. This is a pedigree that is famous for producing very hard and intelligent working dogs of very high temperament and drive.

Bomba is due to be bred to our World Renown producing stud male Norbo Ben Ju in November of 2012. The resulting progeny will be excellent, versatile working dogs with original character type of true working German Shepherds with an enormously developed taste for the work.

The breeding between Bomba and Norbo Ben Ju will be a line breeding 2-5 on Car which will also have the presence of two of his most famous sons WUSV Honza Okal and his most famous son 3x WUSV/3xFCI Norbo Ben Ju.

Bomba's working pedigree is a superior example of very hard old style Czechslovak Border Patrol working bloodlines combined over top German working lines that are proven to consistently produce International level working dogs.

5 - 5............................................. in 1989 WUSV SIEGER Fado von Karthago

4 - 5............................................. in SG Half vom Ruhbachtal

3 - 4............................................. in V Nick vom Heiligenbösch

5,5 - 5........................................... in V Troll von der bösen Nachbarschaft

4,4 - 5........................................... in V Yoschy von der Döllenwiese

4 - 5............................................. in G Ina vom Haus Gard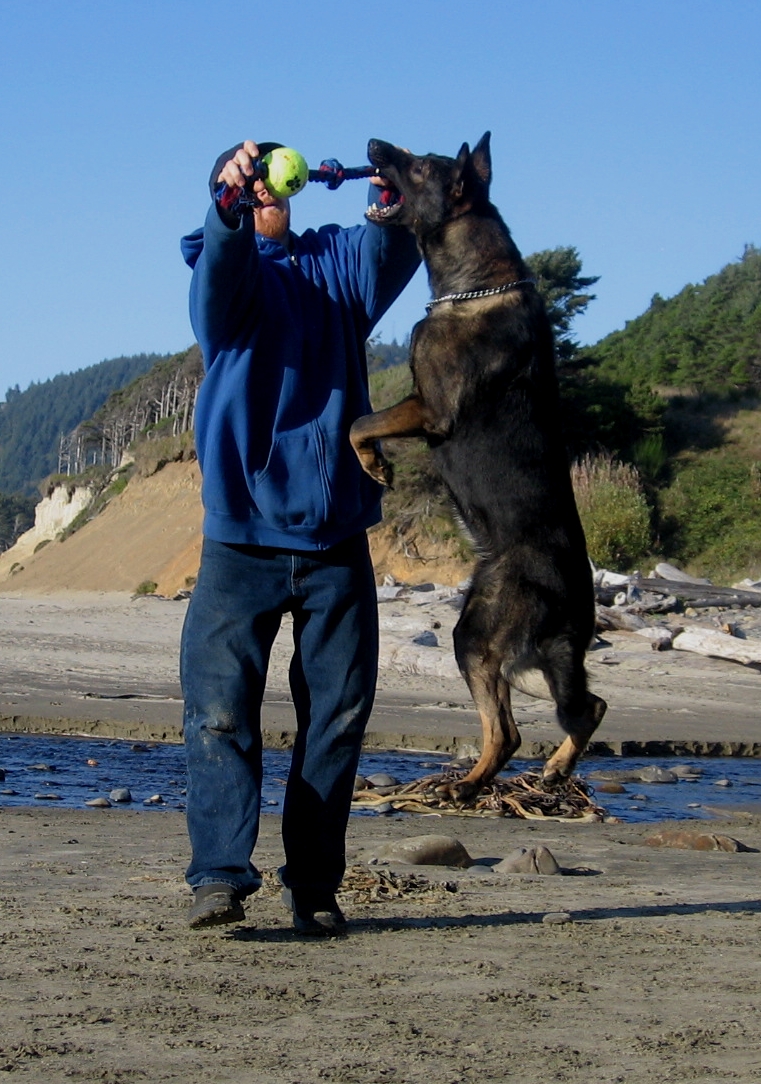 Drago X Bomba 2x Repeat Litter Pictured at 4 Weeks of Age

Drago X Bomba 2x Repeat Litter Pictured at 6 Weeks of Age