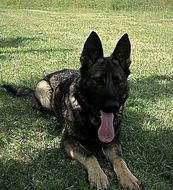 Ulrike Eqidius (ZVV 1, IPO 1, IPO 2, SG rated, 0/ 0 hips and elbows)  is an intensely driven, high-powered and extremely dominant female that is a top producer of serious, powerful working progeny that explode with drive and very realistic defense.

Ulrike's pedigree is an excellent example of

Czech working bloodines combined with the very best German working lines. On her sireline, we see sire Honza Okal, half brother to the legendary Norbo Ben Ju through Car Kostolianskej cesty. Honza's dam, Betty Egidius of the famous B. Egidius litter, goes back on Lord vom Gleisdreick through Fiasko vom Gebruder Grimm.

Ulrike's dam, Daja Va-Pe, is from the famous D. Va-Pe litter. Daja was sired by Nick vom Heiligenbosch, and goes back on greats Timmy and Troll v.d. bosen Nachbarschaft and Yoschy v.d. Dollenweise. This is a pedigree that is famous for producing very hard and intelligent working dogs of very high temperament and drive.

Ulrike is an extremely serious female with very high defensive drive who is quite realistic in her protection work and who will rise to defend her handler and territory in an instant. She is a dog whose respect must be earned, but whose loyalty and affection with her handlers is open, warm and giving. Ulrike has extreme drive to food, high retrieve drive and high prey/ play as well as prey/ hunt. Her work ethic is extremely intense, with a deep natural nose and excellent focus to any track. Ulrike has excellent nerves and for all her intensity and drive, settles beautifully once work is done and is a genuinely stable and pleasant companion in the home.

Ulrike is a powerfully built black sable female with beautiful angulation and structure and is a known improver of hips and overall conformation. She is a flawless mover, with a fast, ground-covering stride and no wasted effort or movement, and she passes this to her progeny.

Ulrike's progeny are intense and focused working dogs that will perform in any circumstance or environment. They are large and powerful, with substantial boning, corect angulation and crushing bite compression. Many of her progeny have gone to be foundation stock for other working dog kennels in the United States. Ulrike occupies a priceless place in our lineup of working females.