 Molly is a top working daughter of our lengendary producing stud dog Xero Z Pohranicni Straze rated velmi dobry, titled IPO3, SchH3, hips 0/0. Xero has a long line of tremendous titled offspring, as well as grandchildren and great grandchildren. 

  Molly comes from a long line of Long-standing successful producing Border Patrol and East German dogs. Her pedigree is a stellar example of what a top Border Patrol pedigree should be, as it is filled with some of the most influential Border Patrol producers of today and of the past. You will see a super linebreeding on DDR great 5-4-3 Iwo v.d. Buschecke, 4-3 on Kaso z Pohranicni straze seen behind Xero, grand daughter of the great producing stud dog Grim Z Pohranicni Straze rated velmi dobry, titled ZM, ZVV3, IPO3, SchH3, hips 0/0. Grim also has a long line of tremendous offspring including his finest producing son Xero(Molly's sire).

     Molly's offspring have been placed as prospects in a large variety of working homes ranging from family protection, SchH, to Dual Purpose/Single Police Work. Her pups have solid nerves, excellent heads, substantial structure, super working drives, and are equipped with alot of temperament.

    Molly is a Top Working Czech import Daughter from our Elite producing stud male Xero z Pohranicni Straze(Owned by our dear friend and client Kristy). Molly is rated velmi dobra, ZVV1, ZVV2, SchH1, SchH2, IPO1, IPO2, ZOP1, Canine Good Citizen's Award, 1st breeding class, full bonitacion pronounced courage, hardness and willingness to fight, hips/elbows 0/0, is one of our fabulous females. We are very pleased to have Molly as a part of our program, as she is an excellent producing female of ideal GSD character type.

  Molly is a large boned female with a superb working character type. She has very high drives and focus to the toy, excels in search work and would have made a super narcotics dog. She has powerful and effective protection work. She is a very nice female on the field and has very effective realistic protection work off of the field on the suit and hidden sleeve. Molly has strong civil and defense, is equipped with super solid nerves, a strong taste for all phases of work, and an overall interest in her work with the handler.

  Molly has absolutely perfect character type with children. She is naturally territorial and will securely watch over her property.

Molly is a Top Working Female from our Xero z PS!

Sch2, IPO2, ZVV2, ZOP1, Canine Good Citizen's Award, Select breeding class, rated SG 0/0 hips/elbows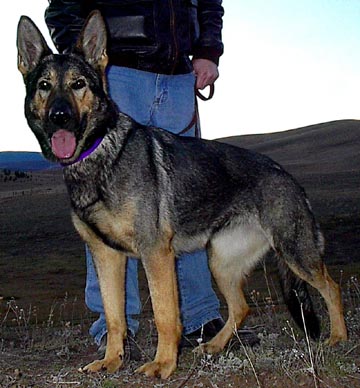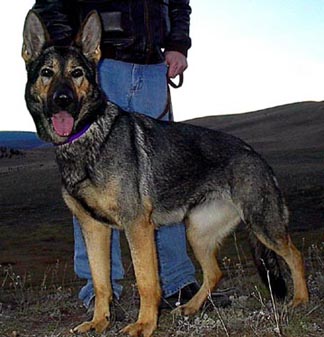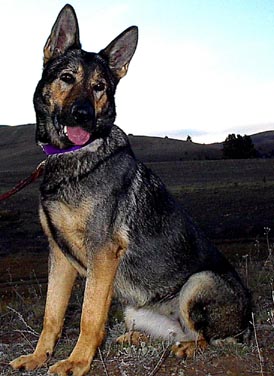 Also present in Molly's excellent pedigree is DDR great Gomo v. Schieferschloss, Donar z Pohranicni Straze, Nora z Blatenskeho Zamku to name a few.

    We are expecting a very strong upcoming litter by Molly and the Great Norbo Ben Ju. Date of Birth: January 19th, 2005!