 Heidi z Esagilu (ZVV1 titled, select breeding class, SG rated, temperament prounced, 0/0 hips/elbows) is a proven top producing working breeding female for our program. Heidi has an absolutely wonderful character type. She has an enourmous willingness to please and engage her handler. Her overall bite drive is very strong with full, hard, committed grips. She has extreme overall drives and is a natural tracker. Heidi has excellent robust boning, a strong head type, and a classic German Shepherd expression. Heidi is a full littermate sister to our bi-color female Hilda.

Heidi's sire Illo von der Aburh(SchH3, IPO3 Czech National Championship competitor. You will also see the famous German working line litter P. v.d. Schafbackmuhle that yielded top producing stud males Pollux and Pike sired by the World Renown Karlo v. Peko Haus. Karlo, Pike, and Pollux were very well known for their ability to impart a great deal of hardness/drives into their working progeny.

Heidi's dam  Fidzi z Esagilu was a very high heavily utilized breeding female that produced many excellent working progeny in Europe. Her granddam is Figa Cega dam of our Exa and littermate sister to Faro Policia's famous sireline Farug Cega. From Heidi's damline you will note excellent foundation DDR blood.

Also worth noting the excellent producing/International competition dog Iriac vom Ruhbachtal SchH3 4x Times Championship of Germany, 3x WUSV competitor.

Scores and the place at the Championship of GERMANY:

September 2001 Göttingen SG 90 93 96 279 37

September 2000 Darmstadt V 98 92 98 288 5

September 1999 Augsburg V 98 94 98 290 1

September 1998 Baunatal V 97 95 94 286 4

3rd generation XATO v.d. bosen NACHBARSCHAFT SCHH3,IPO3, 5 - times BSP GERMANY:

Scores and the place at the Championship of GERMANY:

September 1997 Ludwigshafen SG 90 94 90 274 49

Október 1996 Bochum SG 95 95 94 284 7

Október 1995 Krefeld V 96 96 96 288 5

Október 1994 Karlsruhe SG 95 94 96 285 7

Október 1993 Augsburg SG 98 91 93 282 34

4rd generation DDR TOP male GRISCHA v. SCHWARZEN MILAN - SCHH3, CHAMPIONSHIP OF GERMANY - scores: 95-95-90 - very good.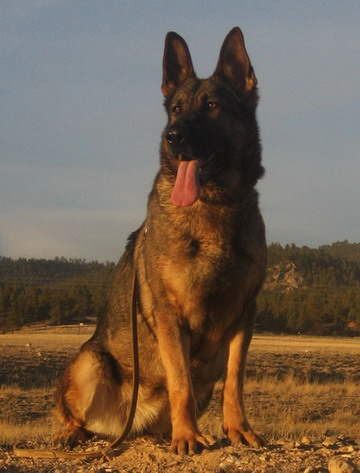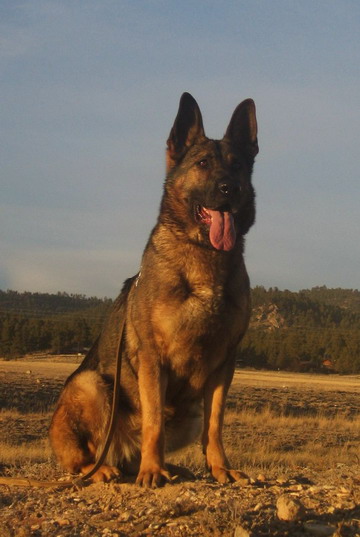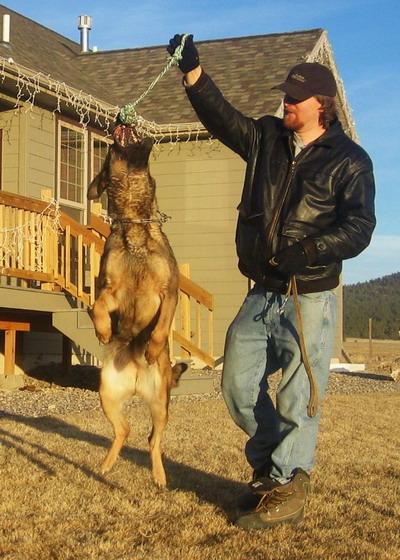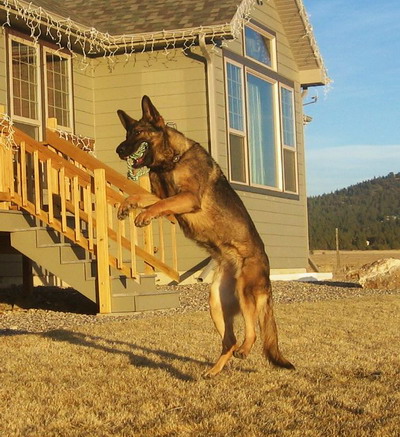 Heidi is one of our favorite females here at Van Den Heuvel, and is an absolute sensation with children of all ages. She is socially open and very appropriate in her approach to them. This clear-headedness and discerning conduct is a bedrock component of her character, making her a truly utilitarian working German Shepherd female that is comfortable enough in all working environments to excel in the work at hand. Heidi is a perfect example of her exceptional pedigree and bloodline. Her work ethic is peerless - she will work all day and then settle beautifully in the house once the work is concluded.

Heidi is a high-temperament sable female. Her progeny are uniformly robust  in structure and boning, with very substantial head type and gorgeous expression.

Van Den Heuvel K9 is very fortunate to have acquired this exceptional working female, and we are grateful to our colleagues in Europe who assisted in making this possible.

.