 Van Den Heuvel K9 is pleased to present to the US as of March 2001, The World Renown Faro Policia, Rated Excellent, Breed Surveyed, Selected 1st Breeding Class, SVV1 titled and the Winner Of The Stud Dogs Show In Bratislava 2000 In The Service Dogs Category at only two years of age!! 0/0 Hips/Elbows.

Faro has excellent working structure, with a considerable head, perfect ear set, extremely dark pigment, considerable withers, solid back, and proper angulation. He has spacious movement that is long and low over the terrain. He is equipped with perfect character, with highly developed prey and characteristic retrieve drives coupled with excellent defense. Faro is a wonderful balanced male around children as well. He is equipped with strong defense with a natural suspicion of strangers, and is perfect at protecting his territory against a strong threat. Faro loves to work, and he completes all the disciplines with willingness and fastness. He has super bitework, with full hard committed grips, and perfect obedience.

Faro's bloodline combination is  super with some of the most noted DDR producers within the breed, along with Certified Border Patrol Dogs in his first, second and third generations. His dam, Fatyma z Pohranicni Straze Certified Working Border Patrol Female, is one of the finest producing females of the past for the Border Patrol, and has not produced dyplastic hips in her 8 year breeding career.

His offspring are impressive to all who have tested his pups. Faro consistently produces truly excellent working drives, beautiful working structure, strong temperaments, and very sound structural health. He was the #1 producer within the Famous Policia kennel in Slovakia, and was amongst the top three producing stud dogs, for the year 2001, for the World Renown Border Patrol breeding program at the very young ages of 2 and 3 years of age.

Faro is linebred on the great DDR Stud Bero Friedersdorfer Flur 3-2, who sired one of the most influential Border Patrol Producers, Titus z Pohranicni Straze. He is also linebred on two of the most influential DDR stud dogs 4-3 Held v. Ritterberg and Ingo v. Rudingen 5-4. What a combination of outstanding proven producing working bloodlines that are present very close up within this excellent pedigree. Faro strongly imprints all of the ideal qualities that are present within his working character and structure into his offspring. A true producer off of his foundation working bloodlines.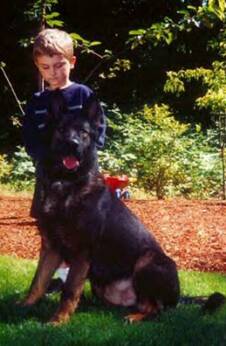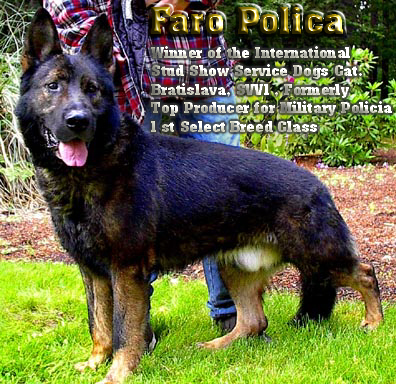 Typical Van Den Heuvel K9 Puppies Produced by Faro Policia

Some Examples of Titled Adults Sired By Faro Polica through World Renown Breeding Stations Van Den Heuvel K9, Military Policia, and Former Border Patrol Breeding Station  Pohranicni Straze