Era is an extremely high energy, dominant and dynamic female, an outstanding daughter of her famous sire, Xero z Pohranicni Straze, out of our excellent producing female Anonda. This is a time tested bloodline combination (Car/Titus) that was repeated many times in Europe because the resulting progeny were superb examples of hard-driven and intelligent working dogs of lasting structural integrity.

Era is a perfect example of the strength of this bloodline combination. She is a high-temperament female, extremely driven, with tremendous willingness and stamina that are sustained by her perfect structural integrity. She lives to work and is impervious to environment, weather, or setting. By age 4 months she was biting a sleeve and chasing down a decoy for an escape bite, and this intensity is consistently passed on to her progeny. Era's protection is serious and very realistic.

Era has a warm and open character type and is always a favorite of children for her energy and affectionate nature. She is highly territorial and particularly protective of children, and will defend her territory with very serious aggression. She is tolerant of other species, especially cats and birds and particularly enjoys the comapny of horses. She has extremely stable nerves and is confident in any work or training setting.

Era is a dark sable female with gorgeous head type and expression, deep rich pigment, substantial boning, proper front and rear angulation and tight feet. She will occupy an important part of our Internationally Acclaimed breeding program.

Era will be a very strong part of our carefully structured breeding program. She will produce very uniform and strong litters. Her puppies will consistently show excellent pigment, strong nerves, and early presence of working drives. They will have very robust body structure coupled with excellent old DDR head type.

  The key dogs in her sireline are her sire Xero z Pohranicni Straze, grandsire Grim z Pohranicni Straze, Ben z Bolfu, Tina z Pohranicni Straze, Lenka Klo off of the excellent L. Klo litter that also produced Lord, the linebreeding 4-3 on Kaso z Pohranicni Straze, and 5-4 on DDR Iwo v.d. Buscheke, the great Klara z Pohranicni Straze. Her dam's damline is a perfect example of Norbo Ben Ju's blood.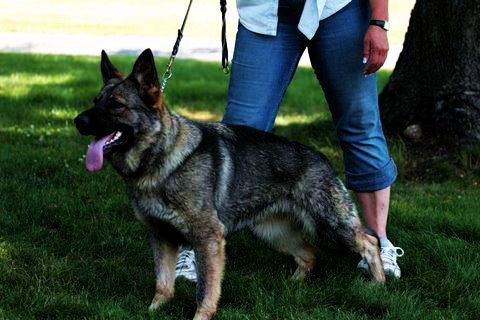 BELOW ARE PHOTOS OF ERA DURING DEVELOPMENT AT 3.5WEEKS OF AGE, 5 WEEKS OF AGE, 4 MONTHS OF AGE, AND 18 MONTHS OF AGE