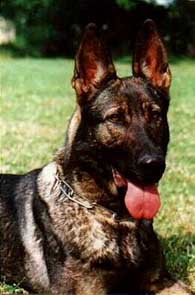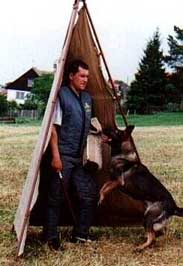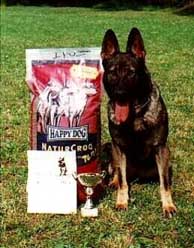 Bishara has always produced strong puppies with rich dark coat pattern and wonderful character type. To date, all of her offspring have yielded good to excellent hip results, which is another very impressive accomplishment of Bishara.

She possesses very strong DDR and Border Patrol working blood that will blend perfectly with our hugely successful producing stud dogs.

We would like to present our very exciting new addition Bishara z Travnickova dvora.

Bishara is a very impressive female with excellent boning and a very strong head type. She has had a very successful working and breeding career in Europe, and will bring very positive traits to our carefully structured breeding program.

Bishara has titled to a  SchH1, SchH2, SchH3, IPO1, IPO2, IPO3,  ZVV1, Winner of the Italian Tournament, 1st select breeding class, pronouced courage, hardness, willingness to fight, releases on handler's orders, and 0/0 hips/elbows.

Bishara has a clear mind and is stable with children, which is an absolute must for a German Shepherd to be a part of our breeding program.

We are currently expecting a wonderful litter between Bishara and Doksy. The details on this specific bloodline combination may be viewed under our currently available litters. We are truly looking forward to this proven successful bloodline combination.