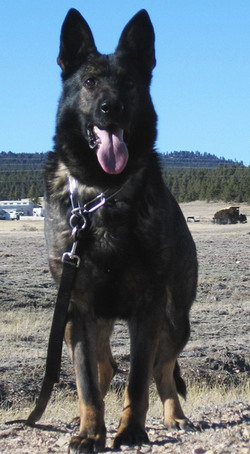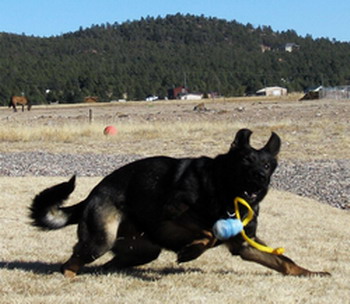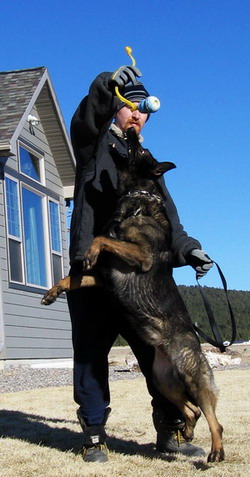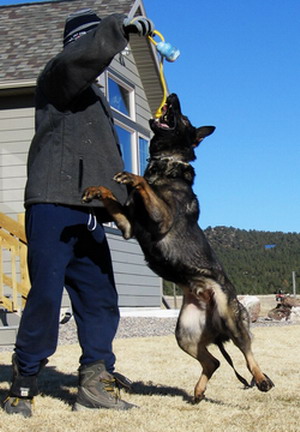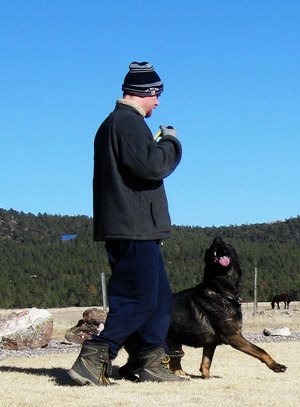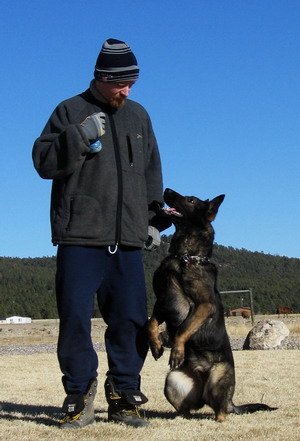 Bina z Pohranicni Straze ZVV1, Fully apprehension trained, 1st select breeding class, temperament pronounced, 0/0 excellent hips/clear elbows. Bina is one of the last true top working females bred by the Former Government Border Patrol and is a truly superb bitch. She is a proven producing female of extremely hard old style working dogs. She has whelped 3 litters of 9, 10, and 11 pups in Europe, so has a proven strong track record of producing excellent working offspring.

Bina's 100% Border Patrol working pedigree is an ideal example of how to properly line breed on excellent old style Border Patrol working dogs. Bina is linebred 2-3 on the famous WUSV, Czech National Championship competitor Grim z Pohranicni Straze. She is a daughter of Dax bily Trpsalik. Grim's famous D bily Trpsalik litter produced top working and producing dogs Denny, Dax, and Dar. All were successful working and producing dogs in Europe. Bina is  also a granddaughter of Grim z PS's most successful producing son Xero z Pohraninci Straze. Other top producing dogs that are highly noteworthy in Bina's perfect working pedigree are 3-4 linebreeding on Ben z Bolfu, 4-5-4 ,5 on Kaso z Pohranicni Straze, 5-6-5 on Iwo v.d. Buscheke, 5-4 Gomo v. Schieferschloss, Hassan v.d. Hasselwiesen, Held v. Ritterberg, Ingo v. Rudingen, 5-5 Klara z PS to name a few.

Bina's blood will occupy a special place in our elite breeding station because she is able to maintain original type and temperament of the true working German Shepherd Dog.