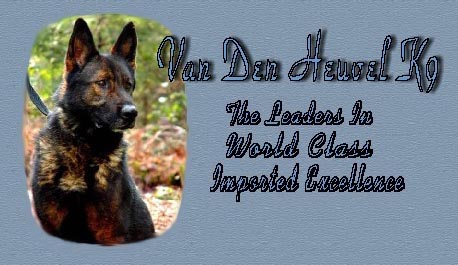 Copyright 2002 

Van Den Heuvel K9

Any reproduction of any part of this website is strictly prohibited.  If you wish to use any of the content of this site, Please contact us at 406-438-1092

Our Philosophy and Breeding Program

This section of our website has been dedicated, for our prospective clients, to allow for true depth and understanding on our philosophy and goals for the German Shepherd Dog.

Unfortunately, today we are seeing many poor quality specimens of the German Shepherd Dog in both  temperament and conformation. We have been subjected to incorrect, slope - backed toplines, roach backs with steep overangulated legs, imbalance in overall working drives, lack of versatility, and a complete loss of solid nerves.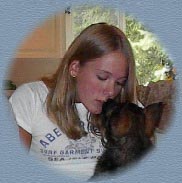 Finding a true well balanced German Shepherd Dog, that strictly adheres to the original ideal of what the breed should be (noble, strong, versatile, well balanced working drives, and healthy working conformation), is becoming increasingly difficult. Fortunately, we have based our entire breeding program on strictly adhering to these original standards for the breed. We are preserving and promoting true representatives of the German Shepherd breed - maintaining  the Shepherd as the noble, healthy, versatile, courageous, well balanced animals that were consistently seen 40-60 years ago.

Above all else, Van Den Heuvel K9 is producing healthy, devoted, faithful, well balanced offspring. We have taken an immense amount of time researching the K9's that are used within our breeding program. Our legendary stud dog Congo Vikar was one of the top three producing stud dogs for the Czech Border Patrol, which has the most untainted breeding bloodlines in the world today. Our females and stud dogs have been deemed the finest representatives for the breed, not only in correct working conformation, but also in excellent well balanced working abilities. Our K9's have undergone the immense rigors of a variety of working titles and police training programs, proving their strong versatility. Not only are our dogs serious protection trained animals and Czech police graduates, they have the excellent versatility required of a true German Shepherd representative to cross train in a variety of competitive sporting fields. Our K9's have the true balance present within their working drives to produce offspring that excel in a large variety of working endeavors. We must stress that only the finest, most versatile individuals and bloodlines are bred within our kennel, holding true to the breeding standards of the past and recreating them in the new millennium.

Please enjoy your visit at our website, and the opportunity to view all that the noble German Shepherd should truly be!

Yours truly,

Van Den Heuvel K9

We offer to you:

*Puppies from 100% working bloodlines from the finest & oldest Border Patrol and top German International bloodlines.

*Protection trained young adults for personal companion protection, or protection for the family.

*Titled imported adults tailored to your specific needs.

*Excellent references gladly provided.

*Excellent customer service relations.

*The ideal pup/adult dog for your specific needs, whether you need a highly trainable, loyal, healthy, devoted companion, or a working K9 for any specialized working field. We take the time that is neccessary to have a clear understanding oF exactly what are clients needs are, so that we completely fulfill our clients requests.

*Breeders of Dogs for Search and Rescue, SchH, Personal Companion Protection and Family Companion Protection, Bomb and Drug Detection, Police, and The Ideal Devoted Pet.

*Our females are not overbred, but bred on rotation, to ensure the outcome of strong, healthy pups.

Our females are fed the highest quality supplements and diet while pregnant, to ensure that the pups will have healthy formation of their joints, their overall structure, and proper brain development.

*Our puppies are raised and socialized with children, and are seriously temperament tested for a minimum of three weeks before placement, so our clients receive the ideal puppy for their specific needs and lifestyle.

*Written Guarantee provided to all of our clients

*Puppy and Adult Guarantee: Replacement Only No refunds. All deposits are non-refundable. The new owner is responsible for all actions of their new dog, as well as all vet expenses, training expenses incurred, and any other care to maintain a healthy working individual on the date of shipment. All Shipping expenses are the new owners responsibility.