 Xara (V-1 Rated Excellent, ZM, ZVV1, IPO1, IPO2, 0/0 Excellent hips/elbows) is an exceptional proven producing female that absolutely produces progeny that are true to the original old style Czech Border Patrol working GSD.  Her offspring have massive boning, really strong robust body style, huge blocky old style head type with a pronounced stop, and excellent dark pigmentation. She also produces offspring that will absolutely protect their handler and property without hesitation.

She is a truly stunning solid black female with outstanding V-1 rated working conformation and tremendous working talent. She is ZM,  IPO1, IPO2,  ZVV1 titled, 1st select breeding class, pronounced courage, hardness, willingness to fight, and has certified excellent hips/elbows. She is super in our home, is very patient with our children and loves them, and is so willing to please. She has extremely high civil aggression, very strong natural territorial behavior, and because she is a very real female, she is a dog that you sleep very well with at night knowing that she is the protector of your property and family.

Xara possesses REAL natural territorial instincts, has EXTREME food motivation, is an exceptional natural tracker, and will bite anywhere on the suit and hidden training aids. She is fully committed to protecting her property and family. I feel that she is equally as talented in realistic work as she is in the sport. She is a ideal example of an old style working female with excellent genetics for producing what she is in her offspring.

I have a very strong appreciation for Xara because of what she is able to lend to the working GSD breed. She produces gorgeous working puppies with massive boning, really robust head type, and excellent overall structure. She is a proven improver of hips, produces excellent dark pigmentation without pigment loss, produces standard coat type, proper teeth, and produces super solid nerve base, a high willingness for the work in all three phases. Her offspring are just a pleasure to live and train with due to their excellence in character type and strength in proper nerve base. They demonstrate strong natural territorial instincts, and true old style character type. Her progeny have a really super approach with children and are extremely clear minded.

Examples of Fida's progeny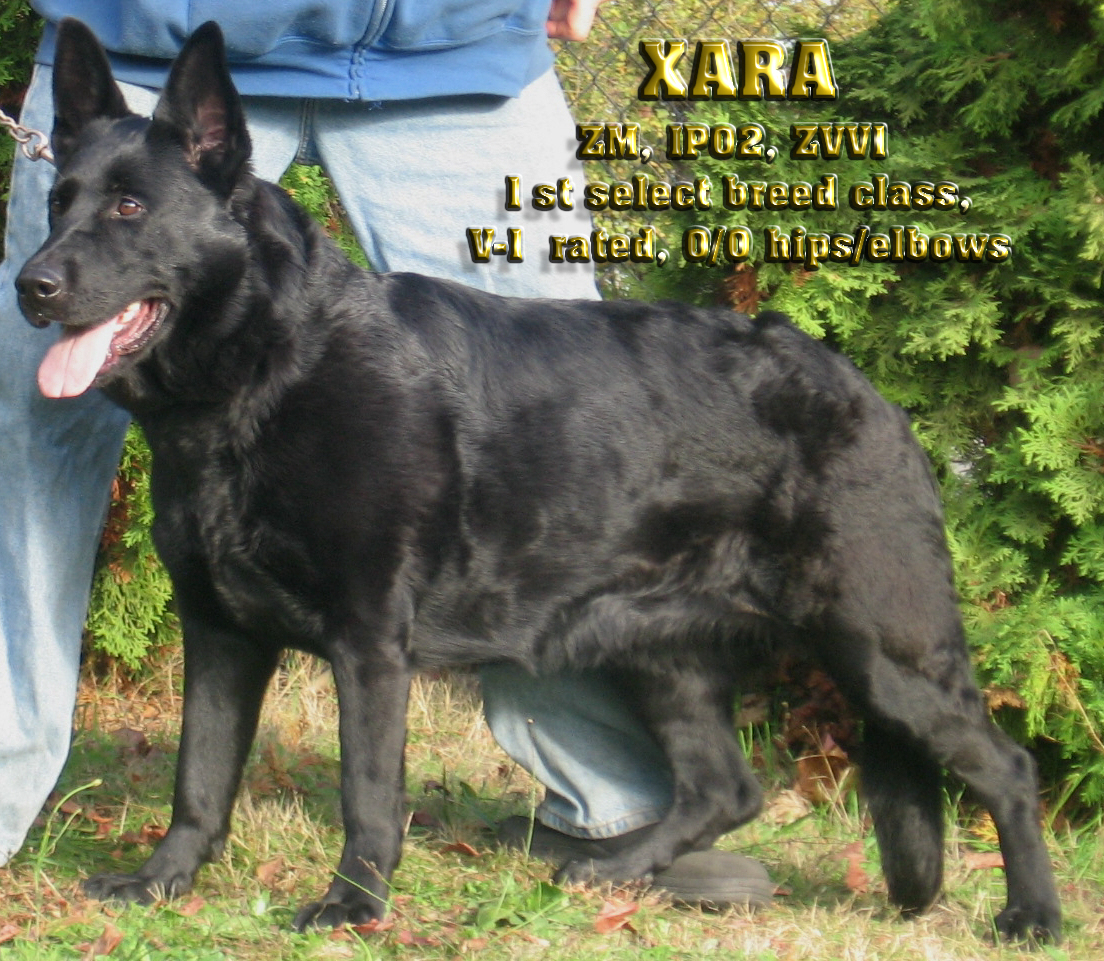 Xara's pedigree is an outstanding combination of 100% top German/Czech Border Patrol working bloodlines.

Xara sireline is from the famous C. Leryka bloodline combination that was sired by German great Melano vom Cap Arkona out of Leryka's tremendous foundation producing female Emilka. Emilka was very highly titled and was also a top producing female of progeny seen Worldwide. Emilka was ZVV3, SchH3, IPO3, SchHA, ZPO2, 0/0 excellent joints etc. The resulting progeny from the C. Leryka litter possessed excellent joint health, most were highly titled, used extensively for top breeding programs both overseas and here in the States where consistent results were seen.

The most notable producers seen behind Xara's excellent working pedigree are: Melano vom Cap Arkona, Nick vom Heiligenbosch, Emilka Anrebri, Frankie Anrebri, Allegra Egerstau, York Anrebri, Derrik von Haus Iris, Chasanta, Canto Manepo, Fixie od Policie, Arys z Travnickova dvora, Ex Hronovsky pramen, Omar z Blatenskeho zamku, Half vom Ruhbachtal, Timmy von der bosen Nachbarschaft.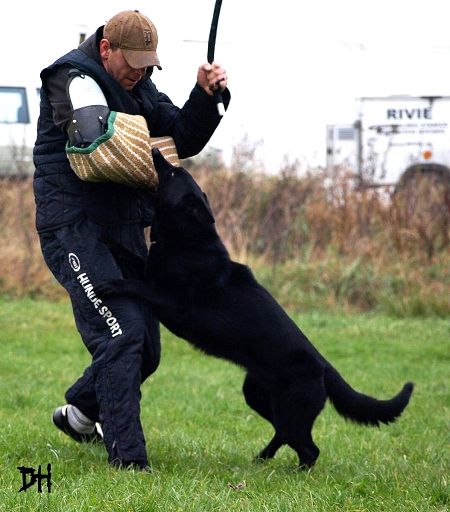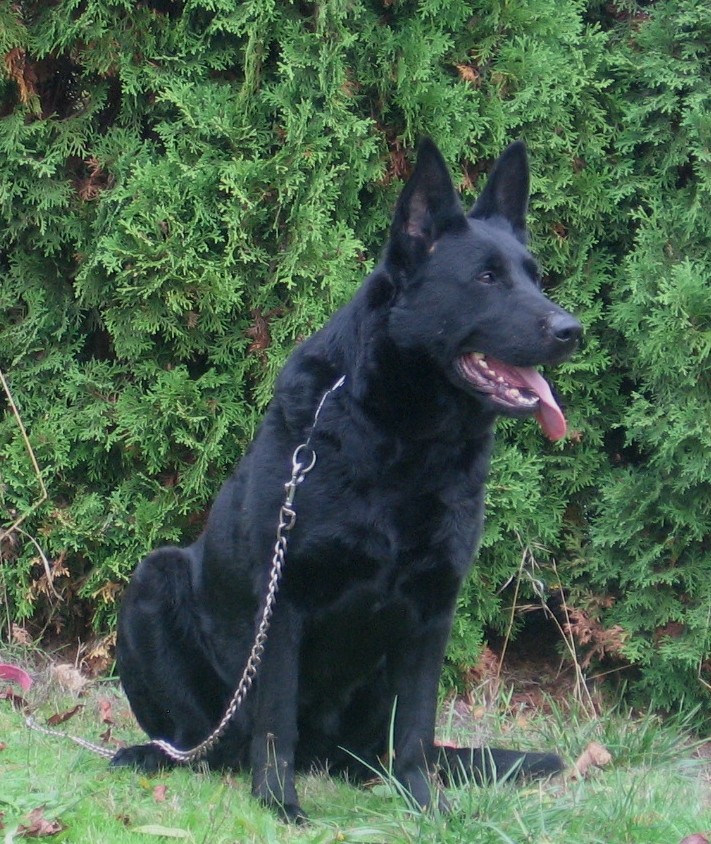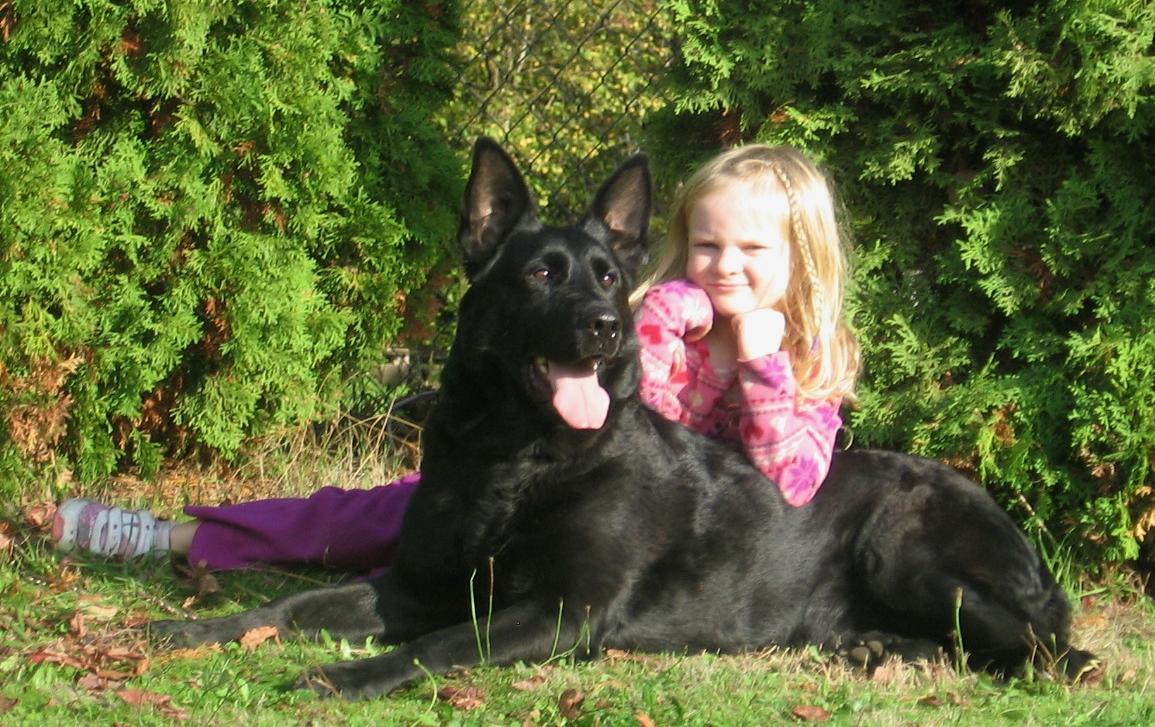 Typical 14 Day Old  And 7 wk Old Xara x Congo Vikar Female Progeny