 We truly enjoyed the excellent working progeny out of our proven producing female Sami (ZVV1 titled, 1st select breeding class, temperament pronounced, rated very good, 0/0 excellent hips & elbows).  She is owned by our dear friend Nancy, who is one of the owners of the Indy 500 raceway, and is looking forward to Sami being a part of our famous breeding station. I would like to extend a special thank you to Nancy for Sami being an exclusive part of our carefully structured program.

She is a proven producing female of progeny that have been placed for top sport as well as having progeny seen in the Swedish Army.

Sami is a female of impeccable working character type. She possesses a very old style working character in that she has the ability to settle when not working. She has enormously developed working drives, has very strong natural characteristic retrieve drive, is an excellent tracker, has a wonderful natural focus on the handler, has crushing firm, deep, and calm full grips, and will realistically work on the suit and hidden training aids.

Sami is a female with a great approach with children, and is non-conflict in the home. She is territorial and will protect her property and her family.

I have an appreciation for the excellence in character type in this particular female. She is a joy to work due to her abundance in working drives as well as her natural ability to focus.  Sami produces progeny with large robust body style, rich dark pigmentation, and excellent boning/broad head type.

Sami is a daughter of the excellent producing stud dog Chari z Esagilu. Chari was an absolutely excellent hip and elbow improver. He consistently improved upon hip and elbow integrity when he was heavily bred in Europe. Sami's grandsire on her sire line is quite famous as well. Jaguar Aritar Bastet was not only an excellent working dog himself, but was also a very strong producer of very serious old style working service dogs with hard character type. She also goes back on top producing females in Fidzi z Esagilu and Fega Cega full littermate sister to Faro's famous producing sire Farug.

It is notable that top producing Border Patrol producing males Grim z Pohranicni Straze and Tom z Pohranicni Straze are seen within her pedigree along with German working great Aly vom Vordersteinwald.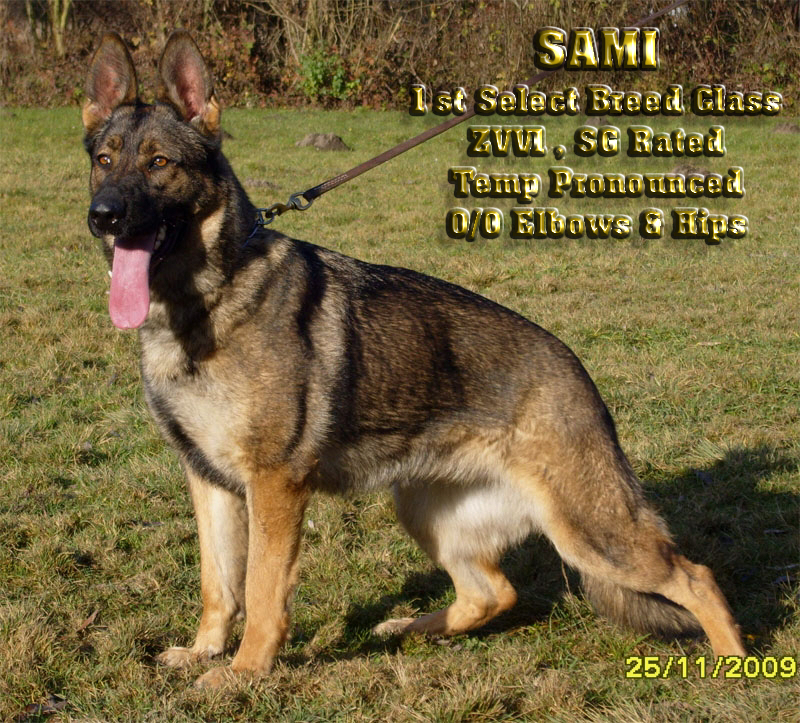 Sami's Puppies 1 to 14 days

Here is another quick picture of her :) She is very tired after a busy day in the barn and playing lots haha...she came inside and just fell asleep...and Caleb came over and put his blanket on her so she could be comfy :)


She definitely has a great character. All the cats and horses were maybe a little much...but within a few minutes she was running around and totally confident! Its a lot what she has been through in the last day: a plane ride, a new home, away from her Mom, away from her siblings...thats a lot! And I am having fun already with her!

Her overall structure is so pretty! And she moves beautifully! And her color is the best! :) I will keep in touch and make sure to continue sending you pictures and updates.  Did you keep anything back from this litter for yourself? I will keep working on her drive by doing lots of tug a war playing and balls and stuff.

I would still love to see pics of Xara's two puppies just out of curiosity :) And other than repeating the Xara/Congo breeding again when she comes back into season, do you have any other litters planned?

Now my real question is how are you feeling? Did all the other puppies get to their new homes alright?
Thanks again Dari!

~ Rachel

Hi Dari,

Len sent you a message earlier but yes we have our baby! He's absolutely beautiful! Great personality, so far Nero loves him and plays with him. They are so cute together. Thank you so much! We'll send pictures periodically of the boys.

Best wishes,

Rebecca Dear Dari and John; I just wanted to take a minute to thank you for the 2 fabulous pups you selected for me. They are very different from each other, but both are exactly what I was looking for. The Sami pup is very mature for her age and really acts more like a little dog than a pup. She is an excellent athlete and is already following a track. It appears that she also has very good prey drive for her age.


The CONGO clone is exactly that! I have never seen that kind of massive bone structure on a female pup. She would absolutely be the cornerstone of anyone's breeding program. There is nothing that bothers her and I can already see that she will be a real handful when she grows up. Under the circumstances, I am amazed that you would let this pup out of your possession.
I have dealt with other breeders over the years, but I have not seen the level of integrity and effort that you both put forward on my behalf to really evaluate each and every pup in question so that you could satisfy the very strict specifications that I placed on the two pups that I wanted. Your excellent reputation has been well earned, and that doesn't happen by accident. It comes from meticulous attention to your customers' requests.

Thank you again for the two great pups, and as I told you on the phone, we will definitely be doing some more dog business next year.

Sincerely,

Mike

Good Morning, Dari;

      It would be my pleasure to give you pictures of Lila. I have seen pups that have extreme prey drive and love to chase the ball, but I have never seen one that brings it back every time at a full run. Talk about tough, my hands are covered in band aids, her energy and confidence are excellent, and she seems impervious to anything other than what she is fixated on at the moment.

Sincerely,

Mike

    Dear Dari,

Today Skaya decided that she would try our pool! I think she part fell part was leaning in too far...and then splash!  So funny :)

I just love her! Can you tell :) She is perfect for me!

I cannot wait for my Congo boy to join my life also, but for now I am truly loving my one on one time with Skaya! And she will be super to help teach my boy later on the rules :)

~ Rachel

Hi Dari,

so sorry I have not been able to check in regularly, as you can imagine, Isis now takes up every minute of my day! Lol !! I wanted to send a picture and thank you for my little monster, she has brought such joy and happiness to my life. Well, most of the time, Lol. She is just plain hysterical and her working ability is phenomenal.  I call her my little alligator, among other things.  Lol I am back in touch with my trainers I've known for 15 years, and they are so impressed.  It is almost 4 hours to their new home, but they are quality trainers.  I wish I had the sister now.  I searched here and was not satisfied with the trainers, so a 4 hour drive is just how it has to be.  They run a 501c3 non-profit.  Shannon trains police dogs and donates them completely free of charge to departments that cannot afford a dog.  They are super people and very patient and kind.  We are in great hands.

Letters From Clients Who Own Sami Puppies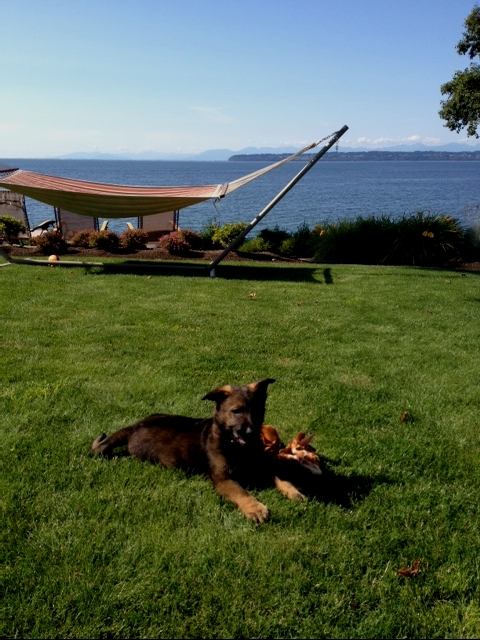 Hiya!

Here is a quick picture of Skaya at my parents beach house in Blaine, Washington!

She has come in and pretty much owned the place :) I always have a toy on hand so that when he gets mouthy with the kids they just give her the toy to chew on rather than their fingers or toes :)

She is a total hit and everyone already adores her! And she knows it and walks around with such confidence!

~ Rachel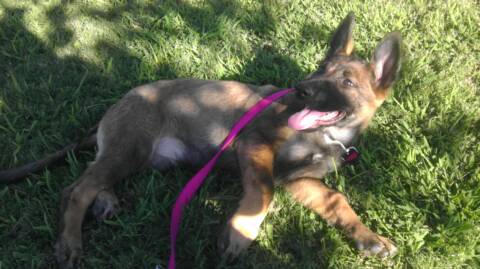 I've honestly never had a dog as smart as Isis before, not even close. I ran a non-profit rescue for 5 years, so I have had a lot of dogs, and she is genius.  She learned everything I knew in a hour, seriously. I swear she was sitting there with the leash in her mouth saying "please teach me more, more, more". She is a little biter, but she loves obedience and is obviously a natural tracker. I uploaded some videos of her, they are hysterical, she loves to sit in my bathwater before I can catch her! Lol 

I just wanted to take a moment and tell you thank you for my little monster. She is such a handful that I do not have time to think about the past much. She has helped me tremendously by giving me a reason to go back around people in Jacksonville and the baseball fields, places that are very difficult without my little boy.  She needs me as much as I needed her, more for me I'm sure.  I'm back lifting and training at the gym 4 days a week now, and driving to Houston every weekend for Isis's training.  We do a lot together.  My chihuahua, well, he hates her and they cannot be together right now, only because of Isis size. You were right, she needed a sister here. 

I hope you are doing well.  Shipping out puppies like Isis as often as you do, it's no wonder you are so well known and respected, she is a joy. I'm feel so lucky to finally, after 8 years, to have a Van Den Heuvel future star and a great friend in you, it's wonderful.

Thank you again,

J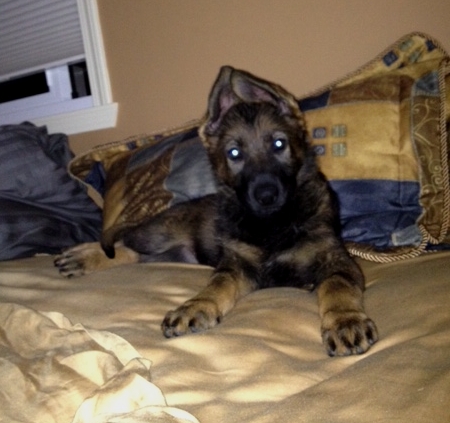 Dear Dari,

What a super letter from Mike! That must make you feel very proud!

I absolutely agree with what he said about your breeding program...it is second to none! I will never get another shepherd from anyone else! And you are a perfect example of the type of breeder I want to be!

My girls are both wonderful and it seems what he said fits mine also which is quite interesting :)

I still cannot believe I own my very own Congo puppy! Everyday is a blessing with her!

The other night I was in the porch with her cause it was such a beautiful night, and from the corner, behind some hedges my Dad came walking by in dark clothes and a big jacket...in an instant Carma was at the end of my porch roaring at my Dad!!! She went from lazily lying beside me to full defence mode!!! I was so proud! She is only 3 months old for goodness sakes! My Dad just smiled at me and said "we'll I guess I don't need to worry about you and Caleb in your own house anymore do I?" I just smiled back :)

Also the other morning Skaya (Sami puppy) was sleeping with me and we had already gone out early to feed the horses and were back cuddling in bed. I had left the sliding glass door a bit open and unbeknown to me my parents Caucasian named Orra came strolling in, well Skaya went flying out from under my bed (that is her favorite place to sleep haha) barking like crazy, I bolted up right in bed and saw Orra walking into our house and up the hallway...Skaya absolutely was on point and gave me the heads up that someone or something was coming into the house. I was also so proud of her!

What fabulous dogs I have!!!

~ Rachel