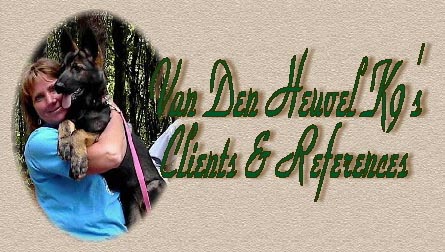 Hi Dari,                    

I hope all is well with you and your family. My family (including Amber) is well - looking forward to spring now. I love snow,but after a couple of months of the cold I'm done.

Just a quick note to let you know Amber is doing great! She is far a superior dog! I teach her once (maybe twice) she gets it. But more than that she is a Love! She is so much part of our family she goes every where with us and my 15yr old has really bonded with her.

Thank you once again for a great dog and family member!

sincerely,

Aundra

ps. hopefully you'll receive her picture if I do this computer right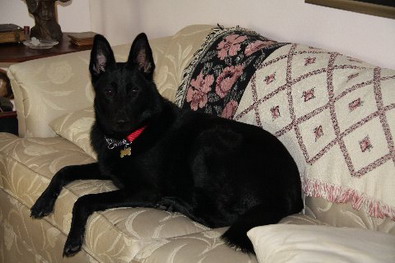 Dari,

Here is my Mr. Varen at 7m's.  He is doing great.  His grips as you see are awesome.

He is a blast to work.  Thank you soooo much for him.  He is my best bud.  Even

when we are not working.  He is great in the house.  Even with all his drive he does

settle well.  Hope you are doing well.  I am send some poeple your way that are

looking for pupps.  I said your the best.  And that's the truth!!!!

Take Care,

Alysia


Hello!

I am attaching some pictures of Ozzy, he has fit in so well, he's spoiled rotten and he believes that he owns me, I guess that there is some truth to that! He is such a well tempered dog it's just incredible. He stays home during the day where the trash stays out, cat food in their dishes and he doesn't touch them. Although he is extremely jealous and does not want anyone having anything to do with me other than him. He is such an intelligent dog. I couldn't imagine my life without him.

My older male, Matrix is getting older and having a tough time getting around but, he is also patient with Ozzy.

Ozzy has also learned and mastered how to make me feel guilty every morning when I go to work. The,,,, don't leave look!

Well, I hope that everything is going great for you and I will keep forwarding pictures.

I still miss Napolean greatly but, having Ozzy doing something incredibly silly and snuggling like he does, sure helps. Plus I know for a fact that there was a higher power directing me to you when I really needed Ozzy. There is just more to it than making that first phone call.

Take Care,

Wendy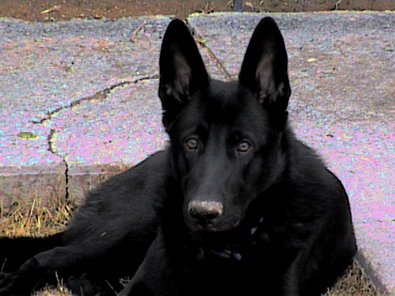 Xena x Cak 12 month old female Amber

Hafa x Orry 5-6 month old male Ozzy


Hello,

I know it has been a while since my last update but I wanted to let you know that Barghest (Cak/Livia litter, July '07) is doing well.  We completely agree that he is growing into a very handsome male!

I wanted to let you know that we have found a great Schutzhund group here in Pennsylvania and Barghest is doing extremely well in his training.  He has such a natural desire to work-we took him out to try some protection on his first day there and he went right after the sleeve as if he'd been doing this for months.  The other members have commented on-and I've heard this before-what a nice, full grip he has.  My husband also overheard them talking about how well-bred he is based on his overall characteristics-he has such a natural drive for the work, he has a great temperament, and he looks great (and these are very devoted West German line enthusiasts!).  One of the first comments from one of the trainers when we brought him in was how nice he looked-specifically what a great head he has.  Needless to say, we're proud!  Now, I just need to learn to become a decent handler so that I can work him somewhere near his potential!

This group also works with the local rescues and humane society to promote GSD awareness.  They visit schools and take part in many local events as advocates for the breed and to work towards dispelling some of the misconceptions.  I think Barghest would be great in this role as he has such a wonderful personality.  We'll see!

I just want to say again how happy we are with Barghest.  He is everything we were hoping for in a dog...he looks great, has a wonderful temperament, AND he can work!  We aren't quite ready yet, but we know we will want another puppy in the relatively near future (still looking at about a year or so, though).  When the time gets closer, I'll definitely be in touch to see what you have available. 

Thank you again and I'll try to get some good working pictures so that you can see him in action!

Rebecca Reitz


Dear Dari,

Here are some photo's of him that I just took. He had his last shots yesterday and weighed at 53 pounds!  I can't tell you how much we love him. We are calling him GiGi!  I know that it is far from Aleph.  Yogi calls him "G" for short.  When we go to the vets office they have a wonderful grooming area that is all glass so I can see what they are doing!  They bath him and he does very well. Of course all the girls make over him. Everyone does. I went through a drive thru on the way home and a woman just went crazy over him. She may be calling you!  He plays football everyday with Yogi and John. They are out there right now. He brings his football up and hits you with it!  You cannot get it out of his mouth, no way. He wants us to pull on it, so WE DO. He is full of muscles, no joke. He gets alot of exercise and CHICKEN.. He likes beef too. A big eater. So I feed him.... His favorite thing is probably pistachios!  I have to keep them put up!  I peel whole carrots and he love to take off with them and teethe on them. I am so happy that we got him from you. I was terrified to buy a GSD from anyone on the net. It wasn't the money, it was trust that I did not have with anyone I spoke to until you. Thank you for being so patient with me!

Much love to you all,

Suzy


Dari ,  No problem , I'm sorry it took me so long ..  feel free to put any pictures of Neiko up on your website ..  He is such a beautiful dog . You were right about his coloring ! he turned out to have just enough black in him to give him that  dark look !! Glad we decided on that litter!! I have him on the green tripe raw dog food and he loves it... No problems with anything !! easy boy  to handle but ready for anything !!!  I'll keep the pictures coming ... thanks for all the support ..    sincerely Danny

Hello Dari !!

It's Danny from the Bay Area with Neiko son of Jack and Zutta .. I am so sorry it's taken so long for me to send this email in regards to Neiko.. He is my boy !! He is loved by all that meet him and I must say the compliments on his look and presnality are an everyday occurance !!!  And most have yet to see this dog work in the Schutzhund club !! I can't explain how this dog is perfect in everyway !!! He lives a great life and it's so cool to see how he is such an athelite. He fits into my lifestyle perfect and he has shown me time and time again that he will go and do anything I ask of him!! My boy Neiko !! He turns heads everyday !! Thanks for such a great match !! I will send more pics as soon as I can . We will be working with the Alameda Schutzhund  Club to try get him to the top !! He is exclining in every aspect and is making me a proud Dad !!!    Thanks agian for such an unreal dog !!! the best !!!  warmest regards Danny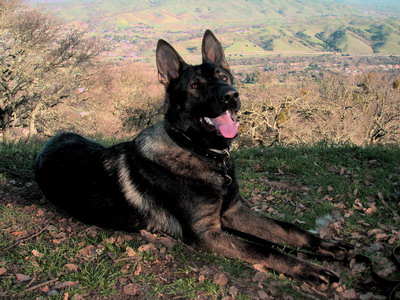 11-12 month old male Neiko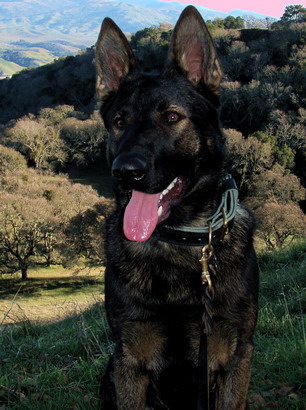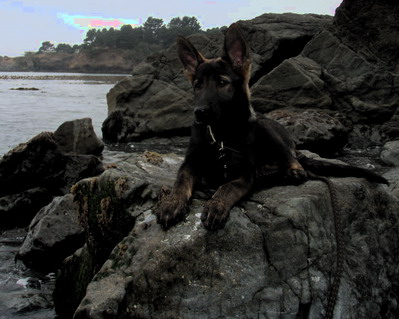 11-12 month old male Neiko


HI Dari,

How are things ?? Czech is doing great. I love her. I can't remember if I sent a copy of your contract back to you signed ?? Could you send me a quick note, letting me know if I did or not. This isn't a great picture, but it's something, She is wild doing agility !!!!! I'll send you a better one later.

                  Thanks

                  Yan


Hi Dari,

I hope all is well.

I wanted to share Loki's first snow (if you want to call it that). In NC, if there is a dusting of snow, schools are closed.

He is doing really well, he is getting along great with the dogs, and is such a great addition to our family. I love this boy so much.

Thanks again.


Hi Dari

  Two years ago tonight, January 19, 2007... I waited nervously at Logal International Airport..

To fall in love..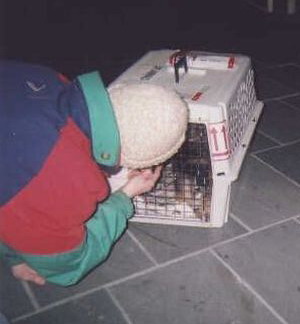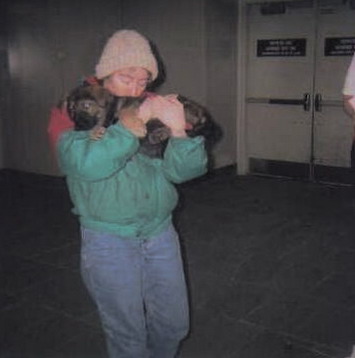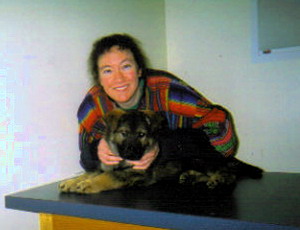 I slept the first 5 nights on the floor beside his crate, my hand between the bars so he could suck on my fingers as we slept..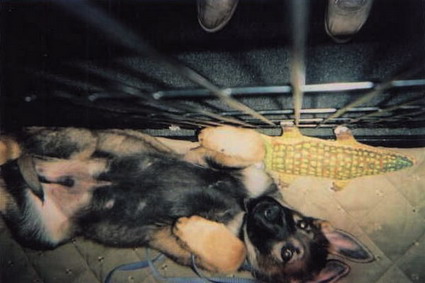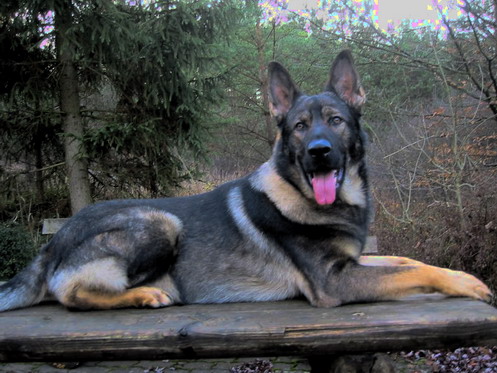 Thank you Dari, John, and kids! I love my silly, sweet, strong-minded, loving boy!!

Hugs

  Patti and Grimm

PS-- Please take good care of yourself, Dari. You are being warmly held in my thoughts and prayers.

Congo Vikar x Livia 2 year old male service dog Grimm

Hiyas Dari,

  Thank you so much for your time on the phone with caring guidance and encouragment. It means so very much to me!

   I recieved the wonderful photos of your ADORABLE children enjoying Christmas! Ohhhh, Harmony is so cute that she almost doesn't look real! Talk about a "Cindy Lou Who, who was no more than two.." Such a handsome, sweet older boy with his basketball stuff! Your little girl with her tea set.. oh Dari, what sweet, precious children!! Thank you for sharing these. Thank you for letting them train Grimm to adore kids.

  The pictures of gorgeous Elsa came, too-- Thank you! Grimm has her ears, I think. ;) Nice stocky, strong-looking girl Elsa is, with nice width across her chest. I will treasure these heartwarming photos of your special, kindhearted children, and of intuitive, intelligent Elsa forever, Dari-- Thank you!

    Slurps, wags, and "Uhh-uhh-uhh!" from Grimm! Prayers are on their way that you are feeling a resurgance in your own good health and wellbeing.

    Hugs,

    Patti and my beloved sweet/silly Grimm ;)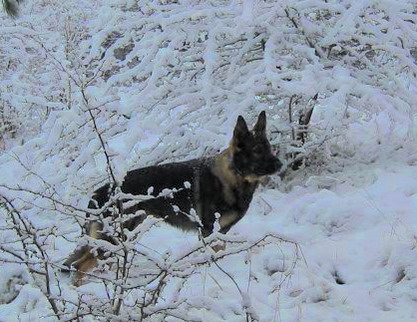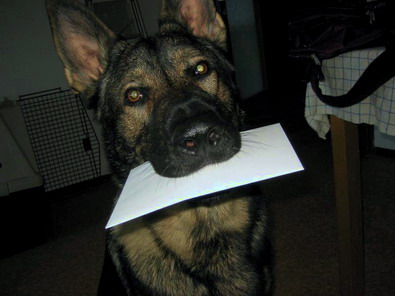 Hello Dari,

       In my years of judging Schutzhund I rarely see someone who is capable of taking a dog all the way to the top in National and/or WUSV competition.  Jerry Stewart, is one of these rare individuals.  Jerry has demonstrated his inate "dog savy" and ability and committment to train tracking, obedience, and protection. Jerry is also an excellent club Helper and helped us recently obtain titles on our dogs. I recommend Jerry for your top competition potential puppies.

PS You have some great dogs!

Joe Tackett

GSDCA-WDA & AKC-WDS Judge


Greetings from Missouri,

We are doing fine. He weighs right at 30 pounds now. I took him last wednesday for his real first checkup. She gave him his shots. She said that he was really wonderful and in great shape. He has a wonderful appetite. He eats alot. Yogi plays football with him almost everyday. John is obsessed about football! So Aleph is too! He is also stick and wood crazy!  He just walked in the kitchen door with a huge stick!  He also wants to eat ROCKS!  I am constantly getting rocks out of his mouth. Maybe I am telling you too much. I watch him like a hawk though.

I have a friend in town that is a professional photographer. I plan on having her take some photos of him this summer. Her stuff is awesome. Last time I was at her studio she had a women in with her Maltese's!  Wild. Well there's nothing like a solid black GSD!  He gets right up in John's face and barks like crazy! 

As I type they just walked in with their footballs!!!!!

Hope you are all well and happy!

More later from the Missouri Militia


Dear Dari~

Yes, please let me know when Hilda has been bred.    I am already SO excited to think that I am going to be having another baby Derek to raise.  I broke the news to him and don't know how happy he was to think he will have to share my time. He thinks he's No. #1 in the whole world.  He has been so obsessed lately with carrying things around in his mouth.  I love it.   It started with his dumbbell and then the mail and now if I'm getting ready to ride...he jumps up and grabs the bridle by the bit and takes off with it getting the reins all tangled up in his legs but never slows down.  He's just so willing in everything he does.  My daughter came into town to help me pack and he just adores her...took him about 2 mins. to fall in love with her.... yet we've been packing up the tack room and everything we'd put in the boxes, he'd quickly grab  out and take off with it thinking that he was being SO funny.  Yet the FUNNIEST thing was.... we'd be laughing hysterically which didn't help.  He knows he's a big comedian.  I just LOVE his personality.   When I talk to him he WATCHES every word that comes out of my mouth like he knows exactly what I'm saying.  LOL  He probably does.  I'm always talking to him and he is always so focused on what I'm saying.  

I just can't tell you enough, Dari.... the pleasure he brings to me every minute.  He never leaves my side.  So faithful.  I will have to take some pictures of him and send you.  Things have been getting crazy around here.  Only two more weeks until I'm going to try and be out of here and driving/moving back to VA.  The deal on my house here fell through so it's back up for sale.  Yet, I know God will take care of me and I trust Him that everything will work out the way it's supposed to.  Sometimes I don't understand.....yet my faith is STRONG!!!! 

I hope you are doing well.  Please know that I think of you often and pray for your good health.  I will try to get some pictures out to you before I leave.  I might not be getting my computer set up for a while after I get back there.

Blessings to you and your family~

Sandi


Not the best pics but the best I could do with them tonight out in the garage. I'll try to get better ones outside whenever the sun decides to shine!

Kona is still a smaller female but very much lives up to her name (Kona's Fury)....very energetic!!!! She is still a great dog with very high drive.

Nytro will be an excellent stud dog...he's still very calm and laid back and nothing upsets him or scares him. He has a very strong resolve about him and is a wonderful dog! Both are quick to learn things and are very intelligent. They are both great dogs that we enjoy having in our household!

Jason & Bonita


Dari, I was just So devastated when I read all about your health  problems that you've been having.  You must be TERRIFIED!!!!  Have you had anymore seizures or have they found out what is causing them?  I truly don't know how you got through all those speech problems.   I would have been petrified.  I'm so glad that you are so up on your nutrition and how your hormones repsond that I'm sure you are ahead of the game.  Such a shock for me to read tho'.  You are in my daily prayers and every time I look at Derek ..( I think you must be in his head also) cuz I think of you again and send another short one.  That boy NEVER ceases to amaze me as I said to you before.  He surprises me everyday.  So very wise and intuitive.  He's really testing his barking skills lately.  Barking at small things and large.  I'm sure he will find the medium.  He's

doing great with carrying things in his mouth even the tinest little handled flashlights.  I don't make him  carry

them longer  than a few seconds but build up each day.  He LOVES to walk way down to the mailbox  everyday  and you'd better be sure there is a letter in the mailbox or you'd better find a leaf or something for him to carry back.  And he takes it into my bedroom where I keep my mail.  If he drops it... I'll 

say get it" and he picks it right up and continues on.   He seems to love challenges.  I try and give him something everyday.    I'm beginning to wonder whether he knows his name is 'Derek' or 'Good Boy"  LOL  He will amuse himself with his basket of toys for Hours.  I have NEVER found ANY toys chewed up

and believe me I have 100's to choose from.  I've been putting on some 'prey' drive.  Only a little but am amazed at his grip.  No more puppy sleeve for him.  He sucks it right to the very back and holds  on very thing I give him and comes in all the better.  I brought him up slapping with a fly swatter that talks. He adores it

and loves it all the more.  Whatever I bring to him all the better.

I do have a strange way at bringing up puppies but I have the patience of 'Job" and it seems to work out great.   There is just not enough paper in the world to put down all the clever things he does.  Please just know that he is getting the best education ever and his tail is wagging all the time.  I've never seen a happier puppy.  He's always making me feel good.  Ever from when he was a pup....he gets up on the bed so I can rub his front legs.  For some reason..right from the very beginning he has loved that.  He goes into total relaxation.  And that relaxes me so we both are fine.  LOL  So we do that....plus I think it's good that they have a schedule to look forward to if kept consistent of any kind.  I do some clicker work w/ him in the mornings.  Right after he eats we do some clicker training and he can't wait.  Creatures of habit.

Has Hilda had her litter yet?  Please put me down for her next.  I would just love to have a true sister.   I love this combination. 

All my love and Derek's included for a big healing for you.  We are with you 100 % of the way.  Look forward to hearing from you but please NEVER do it unless you feel strong enjuf.   I can read between the lines to see if your're feeing well enough. 

I am still going to try and leave here around the last week inJan. and then I won't have any access to a computer for about 2 weeks.  The offer on the house fell so I'm not quite sure what I'm going to do now.  Yet, I drove the RV around to the front of the house so I could start loading things.  Derek took one look at it and practically turned himself inside out trying to get to it.  It does my heart good that he has fond memories.  God, only knows what I went to sp he would be happy in there.  I guess it worked. 

I'll stop babbling now but you continue to take care of yourself please.  I wish I was with you to help you with the new puppies.   Let me know what Hilda had if you get a chance.  Just curious.

Please take care or yourself.

Thoughts, prayers and blessings ~ Sandi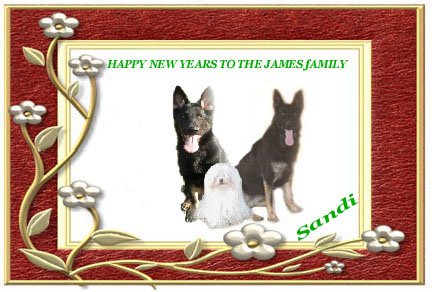 Happy almost New Years Dari,

All is well, Loki now knows Sitz and Platz, and I am working on his stay.

He has bonded so much with Jasper and myself (I think he might grow up to idolize Jasper). I split play time up, so I get to spend time with both boys, then we have playtime together. We start our morning off by walks (for Jasper), then I get Loki, and we do some off lead work in a very safe field. When playtime involves the boys and Macy together, I always keep it under control and safe.

Loki is starting to like soccer balls, and he totally loves tug.

Loki is highly independent, very friendly and settles easily.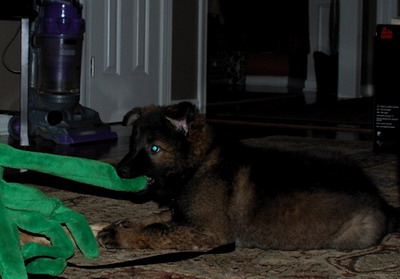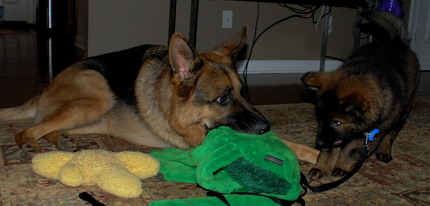 I start puppy classes at a recommended training facility the 3rd week of January, this is also the location were I will have him evaluated for herding.

He has a very interesting temperament, I totally love him.

He is making me look at my leadership skills, because he will need a strong leader.

We keep to a schedule, one that I did with Jasper. I like to keep to schedules, I believe dogs thrive from them.

My wife has had some time off from work, and she is in total love with him.

He is doing pretty good with the cats, once in awhile he tries to give chase, and sometimes he just enjoys watching them go by.

I sit about 3 days a week outside of Target (Loki sits on my lap) and he meets people, watches cars, people, etc, and he takes in the sights and sounds.

He doesn't bark much, only if needed:) and he is very very alert, I will feel very protected.

I just had one question for you. Can you advise me as to when I should start formal leash training (it's been awhile raising a puppy), and I want to keep strenthining my bond, and I like my off leash work (in a safe, controlled enviroment).

I assume after his second set of shots (for off property leash work), but do you recommend at home, on leash work, or should I wait?

Thanks Dari, I love Loki, he is a complete joy (alot of work, but well worth it), it pays off in the end.

Sincerely

Jack

P.S. I hope your health is well, and stay safe.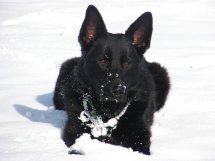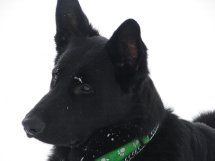 Corona in the snow. He loves it!

Hi Dari;

I hope you and your family had a Merry Christmas and hope you all have a Happy New Year as well. I thought I'd go ahead and send you some pictures of Corona since I haven't in quite a while and since I needed to email you anyway. As you can see, he is growing, growing, growing! In fact, he can be somewhat of a handful at times and is for the most part a sweetie.


Cak x Xena 1 year old male, Corona

Hi Dari,

We had crazy rain all weekend, as a result, a very muddy backyard

The one good thing out of it is that it gave me a chance to handle him, wipe paws, belly, face, etc. It's a great thing just incase something ever happens (medically) and you have to keep him still.

I decided to give Loki his first bath. I was planning on doing it anyways, however he was so muddy, he needed a day at my spa

These are from this morning (from the looks of pic #2, I may be "swimming with the fish", mafia style

Also, the bath went great, he flayled just a little in the beginning, and then was fine (I just go through the motions, and pass along calm energy).

After the bath, I blow dryed him on low heat, he actually was perfect, he sat in my lap on the floor, and I just dryed his cute little self.

I also wanted to wish you a very Merry Christmas, and a safe New Year. Enjoy your time with your family, and again, thanks for making my Christmas brighter

I hope you are feeling better as well.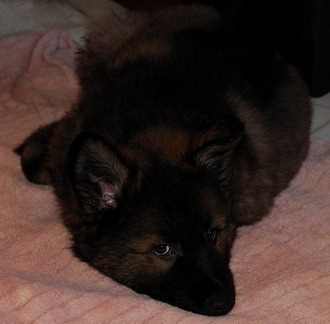 Orry x Gasi 8 wk old male, Loki


Dearest Family,

I am here in my new home!  I am very happy. I have a wonderful place here. I am living in the house and have a queen size bed to sleep in. They are constantly with me and playing. This woman, I am not sure if she is to be my mother or what. But she is feeding me wonderful food. I have had chicken and steak and even a few little cookies!  She gets me up though in the middle of the night to use the bathroom outside, oh well. Tell my beloved brothers and sisters that I am well.  By the way, we are playing football. I have my own. I do have a older brother here, his name is John. He is playing with me now. Sooooo glad! It is suppose to snow this week. Boy am I glad that I got to Kansas City safely. What a ride. I will write when I can and send more photos.

Much love to all and PUP POWER!

Aleph Carver Hicks

son of Gasi and Orry


Hi Dari,

Things are going well, Loki and Jasper are finally starting to interact, and Jasper is starting to act more like a big brother with the little tank.

LOL, Loki is really funny, he rests for awhile, gets up, plops down for a minute, gets up, looks for something to chew on, redirected, falls asleep.

What is really funny is that usually a few times a day, it's like "Shock and Awe", he gets a sudden burst of energy (like he drank a can of Red Bull), and goes on a terror strike (biting everything and anything)-it is so funny. My wife gave him a nickname, "Kenny the shark":)

My wife was wearing these wide leg type jeans, and he saw those, and his eyes lit up (like a Christmas tree). I swear the pants looked like giant bite sleeves, it is just too funny.

He is doing really well with the cats. My cats have learned with Jasper that the best thing to do is not run, and just see what happens. Loki just goes up to them, says "what's up", plops down (flat on his belly), and that is it (the cats have a level of comfort with him).

Today my wife's friend came over with her husband, and there little daughter (she is about 5), Loki was great. Loki was playful, friendly, outgoing.

Also, my next door neighbor, a male, was working by the fence, Loki noticed, ran to the fence, determined no threat, and just relaxed, and made a friend.

Tonight another neighbor knocked at my door, she brought a dog to see if I knew it (lost dog). I walked outside, Jasper and Macy were barking, Loki went to the window by the front door, noticed everything was ok, and layed down (didn't bark, realized things were ok)-he is very observent, evaluates a situation, and is able to then relax. I really like how he is calm and self confident.

He is such a great dog, so eager to please, and I couldn't be more pleased.

Here are some more pics from today.

I hope you are feeling better, and get strong for the holidays, and the many years to come:)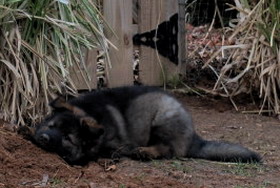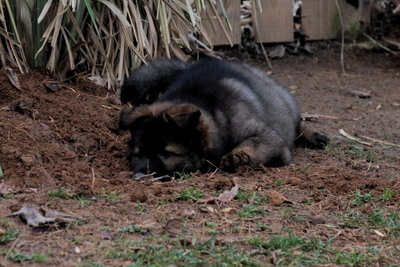 Orry x Gasi 8 wk old male, Loki

Orry x Gasi 8 wk old male, Loki


Hi Dari,

Just wanted to send you this picture of Amber. We had a Christmas party at my dog class and Santa made a visit.

We still love and spoil her! Everyone still comments how well behave and even tempered she is!

I hope you and your family have a "restful" and Merry Christmas and a healthy New Year!!!!

Sincerely,

Aundra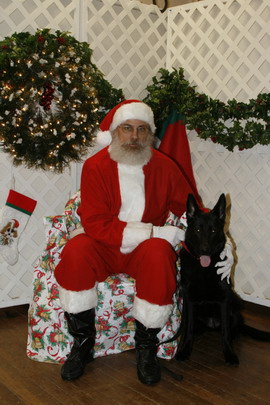 Dari,

Here are a few new pic's of my Jinx. Haven't she and Shelby grown in just a few months!

Thank you once again for the best friend a family could share.

Keep healthy, Susan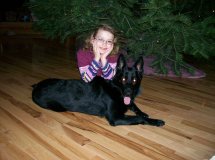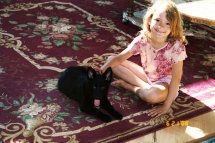 Dari, a couple of pictures of Chyann taken today (12/17/08.She is ball crazy and a fun little girl.If she is afraid of anything I have not found it yet.She is very protective of her home and my pickup but is overly friendy to regular vistors (read likes to jump on them and wants to play).We love her very much.

Thanks for a wonderful little girl.

Lawrence


Hi Dari,

I did send two emails with pictures attached.  I hope you got them.

I hope all is going well with your current litters.  I really like all 3 of the bitches you're currently breeding.  I can vouch for the working drive of Hilda's progeny!

I don't know if you know who he is, but I just did a working seminar with John Rogerson  (http://www.johnrogerson.com/) and Whidbey.  She was the youngest dog in the seminar.  He introduced us to scent work (fun games) and looked at our competition healing etc.  He really liked Whidbey.  When I mentioned she would be spayed in February he wanted to know why I would spay such a wonderful dog.  J  I feel the compliment is shared with you.

In May I am taking a 4 day "CSI" workshop with Rogerson down in the Medford area.  It is a camp that will teach teamwork, and scent detection/tracking and at the end of the camp there is a contest to see which dog and handler can follow the "evidence" and solve a "murder".  It will be a blast!  She has an agility workshop coming up with a top trainer from CA in February (right before she is spayed).

Take care,

Elaine

David & Elaine


Zoey is doing wonderful and is super smart.  She is fully crate trained now and listens to all commands with complete attention.  I can't believe how different she is from Jacky and her learning skills are advanced probably due to the amount of attention she received from you guys.  As well as her parents bieng super smart.  I love her very much and she has spent much time with me teaching her tricks.  She sits lays down and knows the command leave it which is quite handy because she is always picking up all kinds of things she should not be.  I say leave it and she just lets it go.  I think you picked me a fine pup and I am very pleased with her.  I hope all is well with you and your family.  Thanks very much for everything.

Michele


Hi Dari,Long time...Although I don't think I'll ever get over what happened with Cubbie (I liked that dog), Jack has turned out to be great!  He's a handsome, reliable boy, who among other qualities, has never had an accident in our home (I don't know how this can be -trust me, my wife, kids and I are not taking credit for it).  Jack's judgment has never been an issue.  When my daughters have sleep overs, he plops himself in the middle of everything and simply won't move.  No worries at all.  On the other hand, when you would want him to exhibit a little aggressiveness, he's right on cue.  About the only complaint my wife would have is that Jack simply dominates her on the leash; that's a training issue (I know), but we're blown away by how strong he is.  He should be pulling a sled!I will send you a picture.  All the best,Tom Finn

Tom, owner of Cubbie(son of Congo Vikar x Amalka that passed away) Jack ( Norbo x Afra son)


John and Dari,

Thank YOU so much. Ozzy has been such an incredible addition to my family. I can't even express to you how much he means to me. He is going through seperation anxiety right now. He actually pouts when I leave for work, lays at the back door, just the sadest little face. When I get home he lets me know that he is sad then within 5 minutes he is literally on top of me for the rest of the night. He really believes that he is a tiny dog, because he prefers to lay ON me at all times. He has even started barking at anyone who tries to hug me now. If anyone sits next to me he pushes between us. He has gotten to be so possessive already.

He loves to go car riding, I think that that is just because he gets to go with. His car riding is comical, because you know that the back seat on a jeep is soooo far away. Not. He has to keep his muzzle on the center console so that he is in touching distance at all times.

He gets to go to work with me on Fridays, where he sits behind my desk and follows me everywhere, including the bathroom.

He's just such a loving dog, he cries when I get in the shower, while he sits on the rug in front of it. No need to use a leash he just stays at my side, he's just be incredible. I don't know what you guys do to breed such an awesome dog, but, you sure do.

My bad news, my older one, Matrix is just really struggling, he is having difficulty lifting himself up and takes quite a few falls throughout the day. I have him on Rimadyl right now to help him with pain, but, it all is just so hard to watch. I honestly don't know how I'll get through him progressing this way. We are so close. He acted the same way Ozzy does now. He just can't get around to follow me now.

I have thought about adding a female to our home, primarily for Ozzy, he is so close with Matrix that I'm not sure he will be the same without having the constant companionship.

Here's a odd one. I had a lady stop by my house on Sunday after seeing me out with the dogs and she said that her son had a female black German shepherd that they got from a breeder in Montana 7 years ago and are looking to find her a home.  I asked her who the breeder was but, she said she didn't remember. I thought that I would check with you and see if you had any records of another dog being sent to Vegas years ago.

I look at your website often and am still amazed at how gorgeous all your dogs are and from my own experience so, thrilled with the temperment. I leave the garbage out, cat food out, while I'm gone and Ozzy does not touch it. 

So, I am the one thanking you from all of my heart, Thank you for such a wonderful dog, a wonderful family member.

Thank you, very much.

Wendy Westover