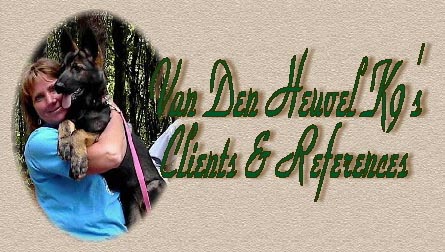 Dear Dari,

Just wanted to update you on Amber.....She's wonderful! She is by far the best puppy I've yet to own! We all love her and we all are enjoying her!  I kind of groan when we decided to get another puppy (you know - that puppy year that takes a lot of diligence and perseverance.) But Amber has really surprised us... She's calm around new experiences and looks to us for guidance. She is very intelligent and in tuned with us. If we say no - she's ok with it and moves on. Only if we're not home does she go into her crate, because she is that good.

She's a star at puppy class! Everyone thinks it's me, but I tell them it's Amber - she gets it the first time and she really just wants to please me. The instructor really wants us to continue on to see how good we can be. I will for now, because it's good interaction and great distractions for teaching her.

I hope all is well with you and yours. My family is fine - We're back to school next week and our routines. Take care,

Aundra

Again, thank you for picking her out for us!! She is all we could of asked for (and then some).


Hello Dari and Family,

I thought it was time for an update on Jinx. First of all Thank you again; she is everything I have ever dreamed about in a German Shepherd and MORE!!!!

We have just completed her Puppy Obedience Class. Of course she was the star !!!! One question though are you sure one of her parents Cak or Zena are not Mexican Jumping Beans?? She get's so excited heeling next to me that sometimes she forgets how to walk and just bounces along next to me. Our trainer figured out on the first week just what a Momma's girl she is; Jinx's can not tolerate being away from me! By the end of this 8 week session I was the only handler with a dog that comes with Sonic Radar! When we would do our long sit or down and go out of site we go behind the barn or house. A lot of the times I would go peek around the other side to see how all the pups were doing; All the other pup's were watching for their handlers on the side we left from, but not my Jinx's; the trainer stated that he knew where I was by watching Jinx she would track my every movement even out of site and sound. So any trespassers on my farm be warned as my dog has great built in Radar.

I paid for a lifetime training membership so now that we have completed one session we can attend many more. She really looks forward to going; so do I !!!

I hope this note find you and your family all in good health and happiness.

I think of you every time I look at Jinx !!!! Thank you for all your hard work and dedication over the years to build such a wonderful breeding station that produces such outstanding dogs !!!!!

Love and Prayers,

Susan


Dear Dari,

Thank you for the AKC registration form! Kaya has adjusted to her new environment well and seems very happy to be with us. She has camped in Capitol Reef National Park, in Central Wyoming, and in Wind River Range & the Snake River valley. She has experienced many lakes for windsurfing in Utah and Wyoming. She is fully crate and leash trained, and loves to travel. She is getting along well with our Golden Retriever, Cicada. I truly enjoy spending time with Kaya. She is extremely bright and sweet!

I have been following your diet plan, and am happy with it.  Both Kaya and Cicada are doing well, and  look great! Would you please let me know where I can obtain the super greens?

It has been wonderful to have Kaya as a part of our family Thank you for all you do as a breeder!

Kyo & Eric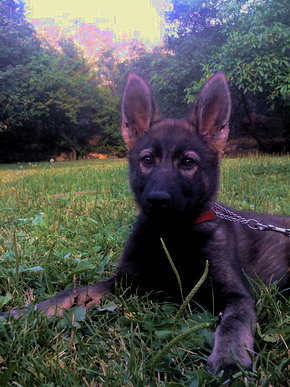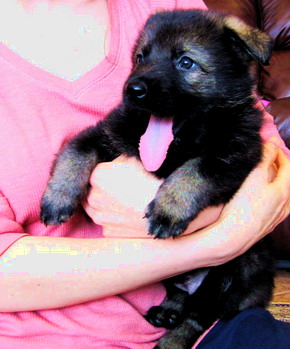 Caska x Orry "Kaya pictured at 4 weeks"

Caska x Orry "Kaya pictured at approx 10 weeks"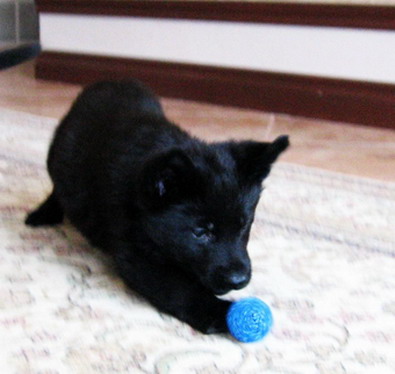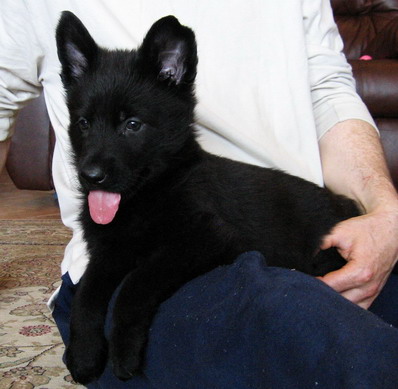 Zena x Cak "Jinx pictured at 6 wks"

Zena x Cak "Jinx pictured at 6 wks"

Dear Dari,

Varen is doing great.  He was not tired at all from his trip.  He walked into his new home like he owed it.  Lost of energy the first night.  He really likes rugs.  I had to pick them the first night.  He loves to play with Kado.  They are doing great together.  I have learned to walk with a long rope so he can bite that and not me. He loves to bite feet and legs.  But even with his wild side he very sweet.  He loves to just love to sit and look at your face. 

Dari he is amazing puppy.  He is just what I wanted.  You did a really good job creat training him.  He loves his creat.  He sleeps all night long.  Thanks for every thing.  He is the perfect puppy.  I'll call you in a few weeks to let you know how every thing is going.  I'll send some pic of him.

I hope you are feeling better.  Take care.  Thanks for the perfect puppy.

Best regards,

Alysia Mefford

Dari,

I would love for you to post what ever I send to you.  I'm very proud of what you have done for me.  He is the best little man.  He is sooooo much fun.  But a lot of work.  He has to be watched every moment.   He is so full of life.

And he loves kids.  I took him down town Tuesday and when he saw a little boy.  He ran to the end of his leash wagging his tail.  It was very nice to see.

I'll keep you updated on his new adventures and training.

Take Care,

Alysia Mefford

Hello Dari,

Just wanted to give you an update on the little man.  He is doing just great.  I took him for his 1st track yesterday.  I was really impressed with is natural focus.  At 9 weeks to being seeing the deep nose was awesome.  And the calmness in him was great.  I even had to pull him off the end.  He was fighting me to go back.  I love him so much he fits right into our house hold.  I'm really going to enjoy watching him grow up.  He is a tough little guy.  You were right he is prefect for me.   He is a Momma's boy already.

Take care thanks for every thing.

Best Regards,

Alysia Mefford

Hi Dari,

I received Varen's paper work the other day.  Thanks you.

I wanted to give an update on my little monster.  We took him the WUSV last weekend.  He traveled great.  Did fine at the hotel.  Would even go to the door to let me know he needed to go out.  He is VERY smart.  He is always thinking you can see it in his eyes.  So far I have not seen him worry about any thing.  He walks with such confidants in him self.  I have just fallen in love with him.  He sure is a Momma's boy.  He goes to work with me every day.  Him and kado are best buds.  She is a good baby sitter too.

Now training that is just going awesome.  His drive to bite is over the top.  He is VERY possessive.  Also tons of prey in him.  His drive to track is unbelievable.  But what I love the most he just loves to watch me.  He really looks you right in your eyes.  He has been like that from day one.  I can just walk and on his own he walks right next as in perfect heeling looking up at me.  I have not even worked on that yet.  My husband said you must have programmed him before you sent him to me.  He will make a great working dog.  He loves to work.

Dari I can't thank you enough for all your hard work.  I just love my little man.  He is just full of life.  He is just so happy all the time.  With a course  attitude.  I will let you know how his training is going.  I'll send you some picture.  Take care.

Best Regards,

Alysia Mefford

Dari,

I'm glad to Eric called you.  He seemed like a very nice man.  He came to our club

the other day.  And was very impressed with Varen.  Who wound not be impressed

with him.  That's my thought on that.  So I talked to Eric about how you picked out

Varen for me.  And the kind of dogs you breed. I also told him I would never go to another

breeder.  Working with you and John really was a pleasure.  And I look forward to doing it

again for a female.

I just love Varen.  He is just the coolest little man.  He is a huge part of my life.

He loves to work.  His OB is awesome.  His focus is just unbelievable at his age.

His protection is power, power, power.  He give every thing 100%.  That is who

he is.  He is becoming a very good watch dog already.  I can't thank you and your

husband enough for him.  And if I can help any one else to be as happy as I am.  I'm

more than willing to tell them about VDH. 

Thanks for every thing.  Have a wonderful holiday.

Best Regards,

Alysia Mefford

Dari,

I will be making the changes on the web site some time today.  I will note that Orry &

Ulrike belong to VDH.  I hope you like the changes.

By the way Varen is doing great.  I found a trainer in my area.  That just loves him.

So we go once a week to see her.  His focus is out of this world she said.  And she

loves the bond that we have.  He really seems to trust me she said.  Which I already knew but

nice to hear.  He got to run through agility course.  Just having fun with.  Nothing seem

to bother him.  He is will to tackle any I give him.   He went to the Vets and he weighed 37 lb.

I having a feeling  he going to be a big boy.  But what every he is big or small he my soul mate.

Thanks for every thing.

Take care,

Alysia Mefford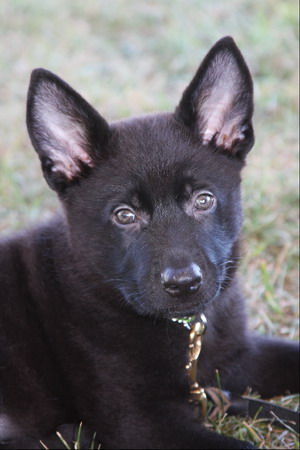 Ulrike x Orry "Varen pictured at 8 wks"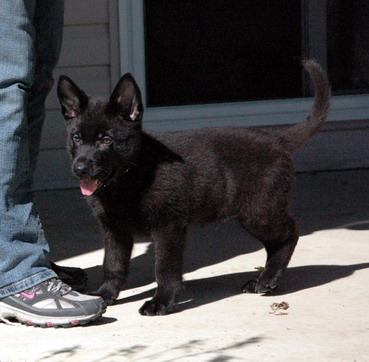 Ulrike x Orry "Varen pictured at 8 wks"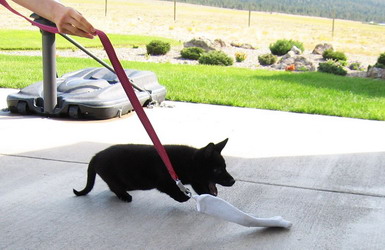 Ulrike x Orry "Varen pictured at 7.5 wks"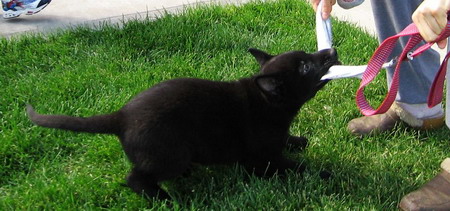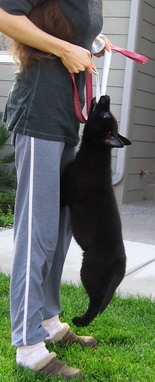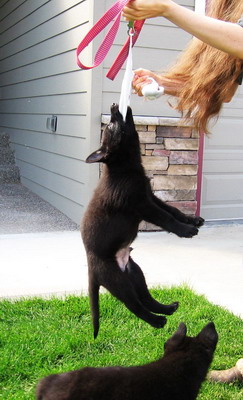 Ulrike x Orry "Varen pictured at 7.5 wks"


Dearest Dari..

  Thought you would like to see how "our puppy" is  turning out.  She sure is changing fast and becoming quite the "lady" - We have been going to training every week and she learns quickly and it doesn't take more than a few commands to have her understand her lessons.  She's quite the entertainer and always stirring up things around here.. We absolutely adore her and she's really getting super spoiled...but then I guess they all do .. Hope all is well with you - I think of you often.. Warmest regards, Linda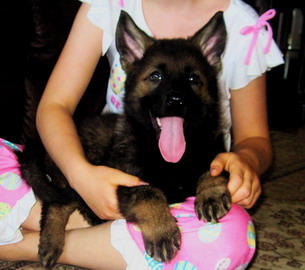 Exa x Orry "Heidi pictured at 6.5 wks"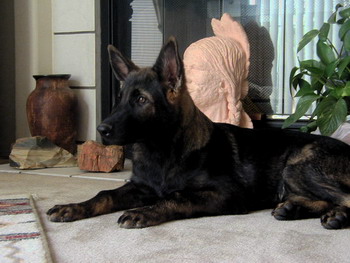 Exa x Orry "Heidi pictured at 3 months of age"


Dear Dari~

Just want to let you know that Derek is doing GREAT and showing quality in everything he does!!!!!  We are working at the rock problem and making some progress.  I love this puppy SO MUCH that I can't imagine if you had sent me one of the others.  He is SO perfect and beautiful as well with SO much intelligence.  He doesn't miss a thing.  I've been letting him do mostly whatever he wants w/ not much discipline.  When we go feed the horses he goes with me and the other 2...yet if I call his name....he runs as fast as he can to get to me.  He doesn't care what the obstacles are.  I decided I'd better start teaching him some silly things....shaking hands...., etc.  I showed him 3 times  and he has it down perfect.  The same w/ the platz.  He's been doing it yet not a perfect one.....I haven't pushed it.  Showed him a few times this AM and he goes right down.  I think there's no stopping him now.  Again, YOU should be so very proud of the puppies you are raising.  I've raised many...yet he is by far more well rounded for ALL situations.  He LOVES everyone!!!  Yet, we still sleep together on the bed for about an hour before he goes into his crate....he just lies there looking up to me w/ so much love..I just melt.  We are so bonded.  Yet he's fine in ANY situation that he is in.  If he hears a noise he JUMPS to his feet and starts barking.  I tell him to listen....and he stops and does just that.  Dari......I just love this boy so much.  And he is the happiest puppy I've even seen.  His tail is wagging all the time.  I try and make everything fun for him and he's so easy to please.  Yet he can be so focused in a split second.

I'm leaving in a week for Virginia for about 6 weeks.  I've been taking him in the RV while I'm packing and getting it ready.  He loves it.  He gets so excited when I ask him 'if he wants to go to the RV'.  He races to the door.  I am putting in a crate for him while I'm driving.....and letting the other 2 + Maltese loose.  I'm taking enough collapsible cloth crates for them all also + x pens.   This is going to be good for him as I will spend a lot of time down on my friend's farm...with cattle, horses, goats, etc.  and her 2 children...8 and 12.  They are so great w/ animals.  So I'm expecting only the positive for this trip. 

Okay...have I rambled on enough????    Here are some pics of course.  He still loves to spend time on his back.  So confident and at ease.  He loves all this toys and is always ready to play at any time.  I'm fortunate that my other two are so tolerant of him.  They love him.  BTW...he lost his first tooth.  Unfortunately I couldn't find it so I couldn't put it under his pillow. 

Derek is out for a good time ALL the time..... Such a silly boy!!!

How are the other's doing?  There is a SCH group not far from where I'm going to be in Virginia.  I might give them a call.  How is Mike doing with his puppy?

Many blessings to you and your family and will keep in touch ~

Sandi and Derek my 'McDreamy'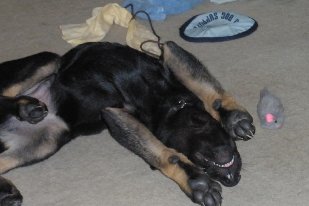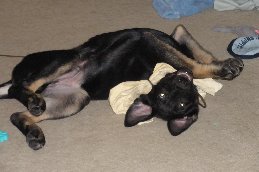 Hi Dari,

She's doing GREAT...she's so wonderful; everyone just LOVES her. I've heard more than once.."She's just the PERFECT DOG!!!" and she IS! I love HER SO MUCH. She's just incredible! Thank you so much! Please never quit your program! I hope you have saved more incredible sperm in a bank somewhere from your best stock because they are so well-bred. Thank you so much!

I miss you and think of you every time I look at my beautiful "Chic!" Dennis just loves her too! She went on the coach with us all summerlong. She was wonderful at the racetrack. Just PERFECT. :)

Love always Nancy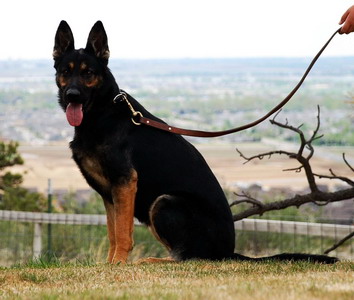 Molly x Norbo Ben Ju "Chic"

Dari,

Hope you are doing good.  I wanted to give you an up date on Varen.  He goes every with me.  I have taken him to the cider mill.  He goes to work with me every day.  He is just so happy all the time. 

His working drives are really showing already.  He is just truly a tough puppy.  He loves to play with kado.  And he is already kicking her butt.  But she really let him get away with a lot.  He already has picked when we are going tracking.  When he get sight of the flag he starts pulling towards it.  I can't say enough about his bite drive.  Like you said he lives to bite.  But his focus on me just keeps amazing me.  He had his first demo last weekend.  I did a shcutzhund demo for pet awareness day.  So in front of a crowd of people all he did was focus on me.  I was more than impressed with him.  He was only 10 weeks.

Here are some picture for you. 

Thanks for every thing,

Alysia Mefford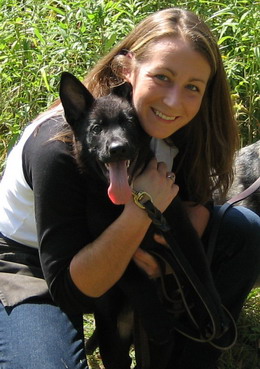 Just wanted to send you a quick email. We got the puppy last night and everything went really smoothly. She is doing good.  She is beautiful. Thanks again for everything.

Frank

Owner of 4 dogs from our breeding station including his new Hafa x Orry female!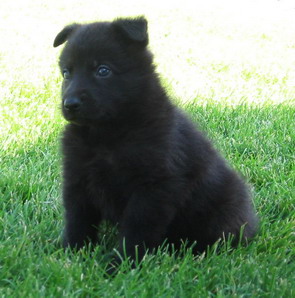 Hafa x Orry "Female pup pictured at 4 weeks of age

Dear Dari,

Please do accept our gift of thanks.  We will be sending it to you some time this week.  It isn't much in comparison to the new addition to our family that you have given us but we hope you do enjoy it nonetheless.  Cavalli came in to us just last night.  We are getting to know each other better and I was surprised at how instantly she bonded to me.  My husband especially noticed when I had asked him to watch her for a few minutes while I went to grab her a soft chew toy to play with.  He told me the entire time I was gone she was looking for me.  Even in the short hours she has been with us, it is already apparent how good of a fit she makes in our family.  She is incredibly respectful of her older sister, CC, and you are definitely right about her working drives!  I cannot wait to get started training with her!  Thank you again for finding such a perfect fit for us!  I will definitely be sending you some photos of her within the next few days!

My Best,

Suzanne Mah Woo BSc., CPCT, IACP 2193

Certified Canine Training and Behaviour Specialist


Hey guys,

Today is a great day. 

Kimbo is just  what I always wanted.  He's perfect.  Everyone is really impressed. 

Thank you so much.  Take care.

Truly,

Colin


Dear Darianna and John,

We want to thank you for our Van Den Heuvel puppy. He is wonderful: very smart and affectionate. He already knows the command "kennel" - of course the liver treats help with that. We are all getting along great.

We very much enjoyed the drive to Helena and back. A little long, but what stunning scenery. Kaiser travelled well in his little kennel right next to Caity. Sage was in her big kennel which I believe helped him.

We were disappointed not to get to meet your Dari and due to that circumstance felt uncomfortable asking John to show us the kennel and dogs. We trust they are everything you say and have proof of it in our back yard (at this moment, he prefers the kitchen). Any further information you have that would help us would be appreciated.

Thank you for your help with that and again for our wonderful puppy! Cecilia Krueger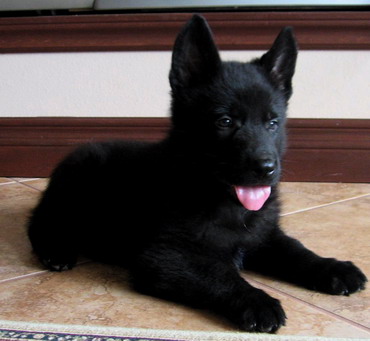 Ulrike x Orry "Kaiser pictured at 5.5 weeks of age"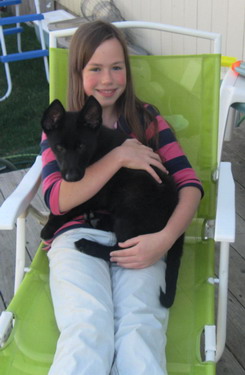 Ulrike x Orry "Kaiser pictured at 8 weeks of age"


Dear Dari,

You are most welcome.  I can definitely see why you were so bonded to her!  She's very special, and the more I get to know her, the more I'm falling in love with her.  Thank you for the tips on her tracking and drive building with toys!  I will definitely keep it up.  She's so incredibly bright that it's unbelievable.  It's only been day 1 today and she's already starting to go to the bathroom on command!  She sits every time she wants me to pet her (without me asking), and has started to learn Platz.  I think the warmest moment for me today was when she wandered over to me amidst all the people socialization and cuddled into my lap and fell asleep.  I have enclosed some pictures for you from her first day with us as well!  Please feel free to enjoy!

My Best,

Suzanne Mah Woo BSc., CPCT, IACP 2193

Certified Canine Training and Behaviour Specialist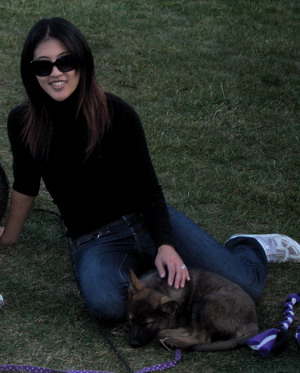 Hafa x Orry "Female Cavalli pictured at 8 weeks of age"

One of Jackys pups just got 1st place best in show!!! and best puppy in the herding group 1st place!  All the shepherd people are loving this pup  Storm! He has shown in two AKC Shows and is making big waves.  I will send you some pictures as soon as I get them of him in pose!  I am so proud of the way Jacky and Stykers puppies have turned out.  And to top that off Stryker will be a Certified Police dog here in about two more weeks.  Too bad Jacky cant breed any longer yet we are looking forward to recieving our new female pup.  Send us some pictures we cant wait to see her now and what she looks like!

Thanks Dari we appreicaiate you much!

Michele


Hi Dari.  I hope you and your family are doing well.  Fiona is doing really well and she's been a great addition to our family.  We love her dearly and she has returned that love ten-fold. 

I thought you might like to see a couple of pics of her.  In one she's on our bed with our 5 year-old son, Paul, and our 8 year-old male GSD PPD, Jake.  And then there is another pic which also includes our 10 year-old, female, American show-line rescue GSD, Greta.

I hope you like them.  Talk to ya later!

Patrick Murray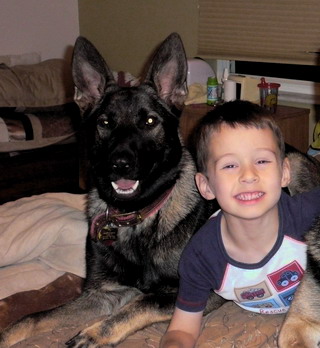 Fiona pictured at 8 months of age"


Dari

Jena had the best OB that she has ever had and I was very proud of her. I love Tara She is crazy and what a personality that girl has. You know the cartoon were they are Zooming around I should have called her taz or road runner :-) Her and Jena will sit on the coach curled up to eat bone or chew on toys :-) Sometimes I think they know they are sisters

Christy & Daryl Ehret


Hello Dari,

How are you? I hope all is well with you and your family.

Yza has started protection and is doing well.

Just wanted to give you an update and stay in touch.

Believe me, it absolutely kills me that I never got my Congo son. I think about it all the time. I'm just hoping that before it is too late, in the near future, I can purchase a Congo male from you before Congo is gone. I so greatly want a nice male at the house.

Yza is very smart and seems to be balanced in her drives. Trylyan has not come in heat yet this month. She is due but seems to be stubborn. She is a very hard to breed female. She is very healthy and fit but, I don't know what's up with that.

Well, I'll keep you updated on Yza, she is great. She has very nice defense and courage.

Talk to ya soon, take care and keep in touch.

Rhonda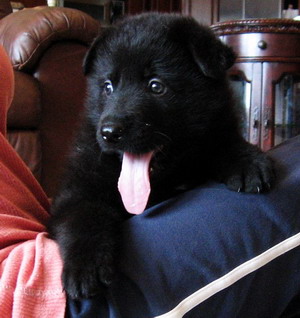 Caska x Orry female pup "Yza pictured at 4 weeks of age"

Dari,

Sorry it took so long for this update. Attached is a photo of four month old Nico taken today while vacationing with us in the Adirondack Mountains during a warm October day.  He is very intelligent, intense and an extremely driven youngster who does everything 150%. He bites very hard for a puppy, loves tracking, loves the ball and has a very high civil drive even at this early age. He has a bit of a temper and doesn't mind challenging hi master, maybe we should have named him Pike! His athletic ability is off the scale; our cats are no match for his maneuverability even at this early age.  

Thank you for Nico!

Sam Colombo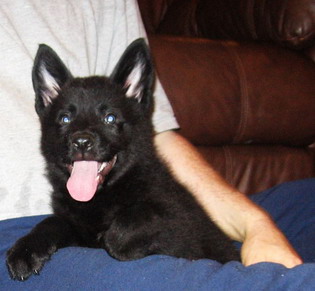 Chiara x Orry male pup "Nico pictured at 6 weeks of age"


Here is my baby, almost 11 months. 

I love this Dog!!!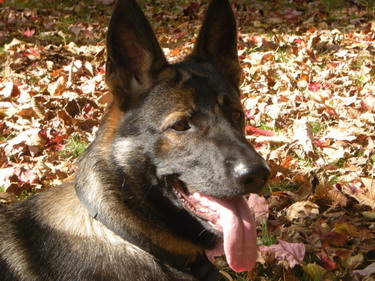 Chatza pictured at 11 months of age"


Dari & John

Hi ... How are things going? ... Hope all is well.

I WANT A CONGO PUPPY ! ! ! !  I seen on your website that you have or are going to breed Congo and Heidi ... No dog I have ever seen compares to Sheena and I want another Congo puppy --  Black sable -- PLEASE -- kind of like the last one -- a male in a female's body -- if possible ... do you have deposits already? or how close to pick could I get? PLEASE PLEASE PLEASE ! ! !  There is just no puppy out there like a CONGO puppy !

Thanks

Roxanne


Hi Dani,

I can't believe it's November and at the end of this month Asia will be 1 year old!  Time has flown and I have had so much fun working with this free spirit!  She is a dream and we are getting ready for her first NASAR test in a couple of weeks.  She is so awesome and as I've mentioned before can find a needle in a haystack!  Here are a couple of pictures – one she is 11 weeks old – one she is 11 months old! Hope all is well for you and your family.  High Country is coming to Arizona soon right after our test in California.  It will be fun to show Asia to Chris – I sent her some pictures not too long ago when I sent them to you.

Connie Degerness


  Dear Dari,

  Rick and I both know that we are still wanting another dog from you, but we are seeking your input. We absolutely love are little Ziggy. There is nothing that he isn't willing to do to please. Natural healer when walking, constantly looking up to me to make eye contact. great retrieve,recall, I just can't say enough. Our local police Dept. has already said they are hoping that he gives us the slip because they will claim him as the new Braidwood K-9. We would still love to have a another boy, solid blk, big, bold and beautiful. What we don't know is would it be best to wait until next year or is it OK to get him while Ziggy is still little for a better bonding being that there males.or do you advise against it. Have had 3 males and 1 female and have never had a problem. Only the females are more aggressive with same sex that I found but have never raised 2 females together as pups.

I know your probably wishing I would give you a break but I have no one to ask that is as knowledgeable.

In My Thoughts and Prayers,

Sincerely Sandy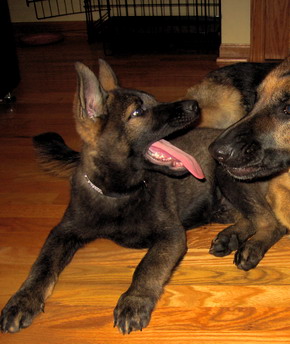 Hafa x Orry male pup " Ziggy pictured at 9 weeks of age"


Dear Dari,

I hope you are feeling better these days.  Zoey is sooooo wonderful.   She is soooo alert it amazes me for sure how she just notices everything.  Potty training her was not a problem either.  She crates and sleeps all night long and never whimpers till someone wakes to let her out around 5 am or so.  When I tell her to leave it she immediately lets go of whatever it is that she has that she is not supposed to have.  She brings everything she finds into her crate and we laugh because she will actually fill her crate with stuff then cant figure out how to get in it with all her stuff.  I sent you the contract signed and all and am awaiting her papers. Thanks Dari I am very please with Zoey and will keep you updated as time goes on.   

Thanks and take care of yourself

Michele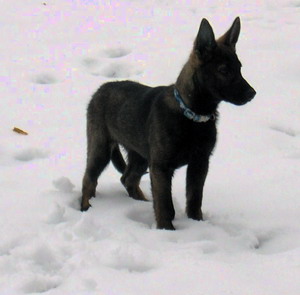 Vixie x Orry female pup " Zoey pictured at 10 weeks of age"


hello dari....just to let you know my puppy is doing great. he was 6 months on the 21st and is about 65 pounds.  he does have a mind of his own. he is a tough little boy, but we are getting along very well.  the training is going great also. 

I hope you had a good thanksgiving.  based on your experience, how much food (in pounds should he be getting now) I still feed him twice aday. a small amount in the am ( one patty, veg, and one egg yoak) in the pm he gets two patties with veg, egg yoak etc. the patties come 12 to a package and I guess they are about one pound. when do you go to just once aday and up the amount?  thanks Jim


Hi Dari & John,

Pat and I took Alex to an outside cafe for lunch today.  He was perfect.  He sat there and let people pet him etc.  The waiter even brought him a pan of water to drink and the waitress took his picture for their Christmas poster.  Alex posed for the picture like the ham that he is. 

Alex is absolutely perfect as a social German Shepherd and is our best son.

Merry Christmas to you and yours both skin and fur.

With affection,

Rich & Pat & ALEX (see who get capital billing)


Hi Dari,

I hope this finds you and your family well.  I don't know if you got my previous email with pictures of Birkita and Whidbey at the beach and in our new pool.  They are so similar in their personalities we often refer to them as "the twins" or "the Vandenheuvel Girls"

Kita has been taking Rally Obedience classes for a little over a month now.  We had our first trial this week.  It was put on by 2 clubs so we had 4 opportunities to earn the 3 legs needed.  She Q'd in her first 3 runs earning her RN title her first time out.  I am so pleased!  I saw a few other shepherds working and they seemed so shut down and flat compared to our girls.  These girls really love to work with their people and it is a joy!!

Take care and let me know if you did not receive those pictures; I'd be happy to resend them if you're interested.

David & Elaine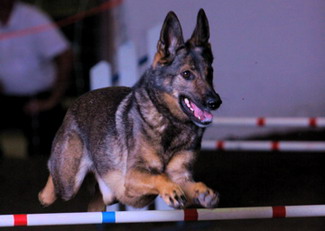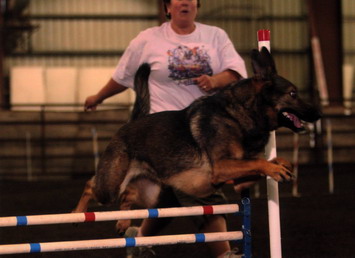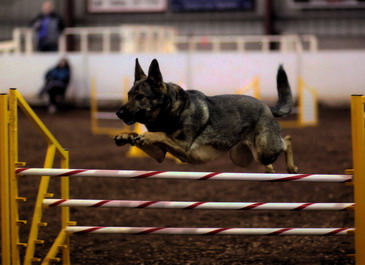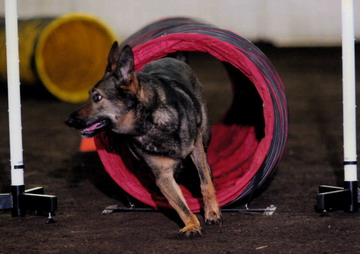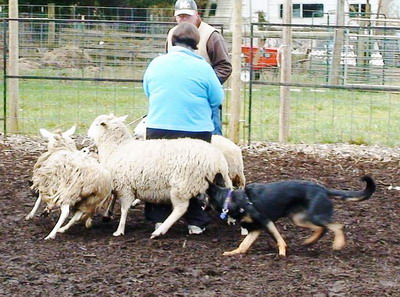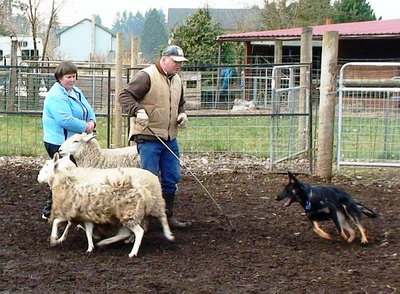 Norbo Ben Ju female " Birkita titled CGC, P1, NAJ, NA, NAC, NCC, TG-N, RN 5 y.o. GSD "

Norbo Ben Ju female " Birkita titled CGC, P1, NAJ, NA, NAC, NCC, TG-N, RN 5 y.o. GSD "

Hilda z Esagilu female " Whidbey CGC pictured at 8 months of age


ELAINE, THANK YOU FOR THE WONDERFUL PHOTOS!