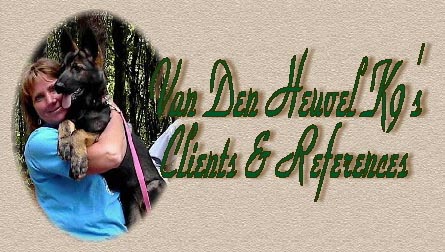 Here are some wonderful reference letters and touching stories from our clients, that own puppies from our Very Carefully Structured Breeding Program.

Dearest Dari,

     How are you doing? I wish to offer my deepest condolences to you, John and your family on the loss of Norbo. He contributed so much to the breed, and you gave the world so many healthy, strong, sound-nerved dogs with him. Thank you so much. My best wishes to you and your family at this time.

      Grimm and I are in Germany now, in Schweinfurt in Bavaria. It is unbelievably beautiful here! My fiancee is kind, gentle, and sweet-- and he loves Grimm! ;) Here are some pictures from our neighborhood. I wish you were here so I could show you in person. If you ever come to Bavaria, you and your family have a place to stay! :)

       Thank you forever for my best friend Grimm,

           Patti (used to be in Massachusetts, Grimm is my service dog in training, 11 months old from the last Congo x Elsa litter)

Here's the Wasserturm, a tower that held water in the past. Now it houses offices for one of Germany's many political parties. This is in our neighborhood. Grimm is 11 months old here, my special, handsome, smart sweet boy.




Hello Dari,

  I don't know if you remember me, but my name is Patti. I received a wonderful male pup from the last Congo x Elsa litter this year in January, to be my handicap-assistance dog.

   I must THANK YOU for my wonderful Grimm. You have a talent for matching a pup to a client's needs, that borders on supernatural. He is all you said, and all I asked for: calm, adaptable, settles quietly indoors, bombproof nerves, very easygoing, affectionate (I had no idea he's be so cuddly!! ), and intelligent. He is WILD about babies and kids, thanks to your socialization with your own kiddos.. thank you! Grimm is also "scary-smart": He was housebroken the day he arrived, he *sat* whenever he saw that I had something he wanted, and he flattens himself, chin on ground, when he sees a tiny toddler, to lure them closer to pet him. (neighborhood kids call him "Kissy") Grimm himself invented, without any training, the 2- toy retrieve game-- sitting perfectly in front as if already trained, before releasing the object and waiting for the next throw. And, if Grimm's trainer telephones me, Grimm runs to the phone, somehow can hear and IDENTIFY the voice, and runs to the door, spinning, expecting to go off to training. ;)

     I must thank you. At age 9 months, Grimm is already doing you and your kennel proud, sitting calmly with me in restaurants, solid, regardless of waitstaff, patrons, dishes clattering, etc.

     How are you and your family doing? How is baby Harmony? Are you feeling well? You do so much good in placing such fantastic dogs, I hope you are aware of the good that you do.

    Update: I am now engaged to a German man. :) Grimm and I will be moving in a month or so, to Bavaria. My fiancee is crazy about Grimm.

    I wish to thank you personally for my new deeply loved working partner and best friend. I also have some questions about raw feeding, and about Congo and Elsa. What is a good time to call, when I may be able to talk with you for a bit?

    Please know that I am more than satisfied with my sweetie boy. So proud, gentle, tough, sweet, huggy, smart-- and kissy. Here are some pics of Grimm. Enjoy!

    THANK YOU Dari,

           Patti and Grimm van den Heuvel

PS-- Thank you SO MUCH for the new Congo pics on the website... my dream come true, an answer to prayer, to see more of him! I love them-- especially with the dear lil munchkin hugging him on the sofa. ;) Dari, my life is forever changed because of you and the work you do. THANK YOU for my wonderful, sweet, handsome special working partner, Grimm!


Dearest Dari,

    This is Patti, I used to live in MA and moved to Germany. I have Grimm, my wonderful, beloved Congo x Elsa son in training to do handicap-assistance work for me. He just turned 1 year old! Below are some pics of my sweet, special, much-loved boy... yes, currently going through raging hormonal teenagerhood LOL!

   I wish to thank you so very much for my precious Grimm. No matter how big he gets, he will always be 'my baby.' He is the shining light in my life. You have given me such a wondrous gift in Grimm. Thank you for doing all you do... you are truly wonderful, Dari!!

   How are you and your family doing? How is Congo? I am *delighted* by the most recent Congo photos on his page!! Thank you so much for adding those! I am a raving Congo fan. ;)

   For his B Day, Grimm got a huge, bright pink, alarmingly realistic rubber toy piggy. When squeaked, it OINKS in a very deeeep voice. ;) My fiance gave me a dozen long-stemmed red roses. Also for Grimm's birthday, we went into the Altstadt, the old part of town.. this means Grimm enjoyed TWO bus rides-- which he LOVES! (he relaxes happily when the bus is in motion, but deeply wrinkles his velvety forehead in disapproval when the bus makes stops for other passengers.. guess it's HIS bus!)

    Sending you and your family thanks, as Grimm turns a year old:

Thanks to you, for guiding this breeding, testing these pups and matching me to my special lovey-lump boy...

Thanks to John, for taking the time to listen to what I needed, and convey to you my needs, and facilitating such a life-changing event in bringing Grimm to me..

Thank you to your KIDS, for making Grimm into a total ham with kids, a baby-kisser, a tot-snuggler, a complete fool for ANY child he sees, delighting in soft exchanges of petting and licks.

    HUGS for being so good to us, with all you have been through yourself,

          Patti, Ulrich (fiance) and Grimm (aka Kissy, aka SweetBunz, aka LoveBum, aka LapCrusher, aka HoneyLump, etc.)

Hi Dari!  It's time for your monthly picture updates... =o)

I LOVE this dog like I never thought could be possible.  I've only had three little dogs in my life, a Lhasa Apso when I was 10, and my two yorkie's (which I lost one before Juno came along).   My aunt had a white German Shepherd when I was little which I loved to death!!  I knew if I were ever to have a big dog, I wanted a German Shepherd, but i never imagined I would love him SOOOO much!!  He's so smart and he loves me like crazy!!   When ever I get sad about my Yorkie, JuJuBee, I just look at Juno and he makes me so happy again.

I hope you have a wonderful Thanksgiving!! 

Hugs & Kisses,

Maricelie, Rod & Juno

Hi Dari,

Hope all is well with you.  Bear and I are great.  I am now ready for another male pup to do Schutzhund with.  Don't care re color - other things are more important.  I trust you to pick for me.  I do like the beautiful large head, big boned males with all the good stuff for sport.  Pick me something that will blow the socks off the people down here.  tee hee  I would be ready around February/March or so.

Have a great Thanksgiving and talk with you after.  Take care and best to you.

Sue and Bear

P.S.  I promise I will send you a pic of Bear.  I'll try to get one this week and email it to you.  I know, I have been promising that for how long now.  :-)  I get compliments on him always.


Hi Dari,

Kaiser is a GREAT pup! He comes running when I call him, even though he's yet

to be formally trained. When he's off leash, he periodically looks back to check

on me. He's also beautiful, and gets complements all the time. Right now he's

teething so I cut out the tugging altogether. I've seen blood on one of his fluffy

chew toys. I now have my local supermarket cut whole femur bones in large

sections. I then provide him daily with both large knuckle and marrow bones

to chew on.

I'd say we've bonded quite well.The little monster just weighed in at 50 lbs at

only 5 months old, and I'm hoping he'll be 90 lbs.of solid muscle at full maturity.

Also, I make sure to walk him 1/2 hour everyday. He retrieves the tennis ball and

consistantly returns it to me.

By the way, Pat finally called me back. He says that Kaiser would be in his home

the entire time during training, so I may yet reconsider and send him to Denver.

At my request, Pat would also continue the raw food diet. Kaiser will be seven months

old by the time he gets to Colorado.

That's about it. I hope you're feeling OK. Get back to me when you have a chance.

I need your input on all this stuff. Bye Dari.

Dan Levin


Hi Dari,

I hope you and your family are doing well.  I have meant to call but things at work have been very busy (as usual).  I am so sorry that it has taken so long to get the check in the mail for the super greens.  I sent it yesterday so you should get it this week.  Again I apologize and hopefully it has not been too big of an inconvenience.

I wanted to let you know that I really enjoyed spending time with you and your family.  You are a person that I would consider a friend.  I wanted to let you know that and want you to know that I say that not because I expect anything more from you whether I consider you a friend or not, but because I think alot of you and your family.  You should be proud of your family and your business you and John have done a great job with both. 

I will try to call sometime in the next few weeks.

Take care,

Kris


Hi Dari & family,

THANK YOU, you're right, she's beautiful !  She's taking her time getting to know us, she came out of her kennel & came over to me. [she's smart]

I'll let you know what we name her.

Got to go & play with the baby.

Talk to you soon.

Dottie

Hi Dari, just got your package, Thanks

I mailed your contract today, you can disregard the note inside,

We are calling her "Ravan" I haven't decided on her registered name yet.

I wanted to ask you, what countries are her parents from?

I've never seen pedigrees like her parents before.

She's a real character! very smart, easy to housebreak[ so far] 

Hey, what's the best way to correct her from biting, without damaging her natural prey, hey I almost forgot, I did take Ravan to our vet's in Chandler 3 days after picking her up, the vet was impressed, of course is not in favor of a raw diet.

oh well their loss!

Talk to you soon, Have a Happy Thanksgiving!

Dottie

Hi Dari, Thanks for all your help, Dave can't get over how beautiful she is, I'll be sure & keep in touch, will let you know what her registered name will be.

Thanks again, hope you had a great Thanksgiving!

Dottie

Letter Posted By our Client Brian "Owner of Reyna Van Den Heuvel"

Hey Guys,

I just got back from a weekend up at VDH with my friend and club member John (known here has obdrwolf, he is also one of our club decoys and an owner of a VDH 2 yr old male). Anyway I just wanted to write a little bit about my experience around these awesome dogs.

First off I would like to express how unreal all of these dogs seemed! I have never seen so many awesome dogs in one place in my life!

The first night we got to Dari's it was a little to late to get any dogs out to look at but she allowed us to look into the windows of her Kennel and the first dog we saw was Congo Vikar. I honestly can not explain the shear mass of this dog! And the presence of this dog is bone chilling. This next story is going to sound totally unbelievable but I give everybody here my word that this actually happened. As we are staring in awe of Congo he is getting more and more agitated because I truly believe that he wanted to bring harm to us and could not get to us. Anyway he finally gets so frustrated that he picks up a stainless steel food bowl that is probably about 6 inches deep and 8 to 10 inches around and flattens it like a pop can with his jaws in one bone crunching bite. Then he proceeds to shake it so violently that he actually caused a 3 inch jagged rip into the bowl! Then he spits it out lays down and just stares dead into our eyes has if to say that would be your head if I could get out of here.

Then we went and looked at Norbo Ben Ju! This dog is amazing the shear confidence this dog exudes is amazing! When he saw us standing outside with Dari he never once took his eyes off of us but the look that his eyes gave spoke volumes! This dog has No fear and I truly believe he thinks he owns the world.

Next was Faro Policia, this dog has the most amazing structure that I have ever seen on a dog! And he was a lot like Norbo in his attitude just a quite confidence that sent chills down your spine.

Now I could go on in great detail about every female she has but I just don't like to type that much. I will however say here that Amalka z PS has to be the most civil female I have ever had the pleasure to witness! She is amazing this female actually looks like she wants to kill you! I can not say enough about Dari's females every single one of them are gorgeous and extremely serious girls.

So that was Friday night at VDH. But there is more, Saturday morning we woke up and went back out to VDH to get the pleasure to meet Cak and work a couple of her dogs.

First I would like to say a few words about her new stud Cak. This dog is actually touchable unlike Congo, Faro, and Norbo. Cak is a fantastic looking dog that turns on and off like a light switch. He allowed us to pet him but he still had that look as if to say one wrong move and you are mine. The bone and head on this male is eye popping and his black coat is the darkest black I have ever seen. I am very excited to see what he produces for VDH.

So finally the moment arrived when John was allowed to work Norbo. It was like watching a living legend coming out of that kennel. This dog is 10 years old and still wants to work as long as they will let him. I was seriously in awe of this dogs work ethic. Below are a few things John had to say about working Norbo.

"Norbo came out of the inside kennel, and was about 50 ft. away from me.  The night before when we had seen him in the kennel through the window, there was an obvious confidence in a dog that looked like he was 10 years old.  That first look at 50 ft., when he saw me with my equipment on, was the picture of Norbo you see on the Jinopo site.  I could see the twinkle in his eye 50 ft. away.  John, Dari's husband brought him up, and he was already firing up.  Just me looking at him was all he needed.  I agitated him up, gave a couple of run-by's, and then went in for the bite, and he crushed it.  The first thing I noticed was that his head occupied the sleeve from my wrist to my elbow, then, I started to notice the pressure.  This was a fairly new sleeve, and he was calm, looking at me straight in the eye, and totally full.  I started to pressure him, and he absolutely hit another level.  He didn't re-bite, he just crunched harder.  John outed him, and he was silent until he told him to hold.  His bark and hold was totally focused, and rhythmic.  The re-bite was just as the first, the more pressure, the harder the bite...from hard to "I don't know if I can slip this sleeve" hard.  He outed again, and we did about a 25 ft. pursuit.  I've seen all those Alpine videos where he brings Jiri to the ground and I honestly wondered how much acting was in the video.  He was not that fast, but he definitely jumped into the bite, and right after he got the bite, he does this neck whip thing, and I thought I was going down.  I didn't, but man, I was close.  Just fought him a bit, slipped the sleeve and put him away.  It was an honor, and a pleasure to work this legendary dog."

Then came Congo! I swear this dog is part grizzly bear and just the most insane thing to watch in action. This dog is 9 years old and works like a 5 year old male! He doesn't have one stitch of grey hair any where on his body! This dog goes civil at the first second he sees somebody that looks like a threat. I'm not kidding you guys my jaw was on the ground the entire time this dog was being worked. Below are a few things John had to say about working Congo.

"Congo!  This is no dog, this is Lucifer.  The sheer mass of this dog is indescribable.  He came out of the kennel area with John, literally like a wild beast.  He was barking, snarling, spitting, and wanted me.  John brought him over and I approached him civil, and he was just incredible.  I swear this dog has 24 more teeth then the normal gsd.  I felt impressed, and fortunate to see and work Norbo...I was getting nervous about my decision to work Congo.  The snarl was like nothing I've ever seen.  He was constantly moving forward, pulling hard on the leash, and, although he was snarling, is wasn't a fear look, it was the  what you would see at 3 o'clock in the morning when you just fell over the border into Czech.  To look up and see that...oh man.  It was the look of a dog that had been there, and done that for a long time.  I went back, put on the sleeve, and came in mad and hard.  He nailed me, and the fight was just awesome.  He was heavy, strong, and fierce, but fair.  I never felt like he was going to let go and get me on the leg.  Slipped the sleeve, and then tried to get the sleeve with him protecting it...no freaking way was that going to happen.  He was standing over the sleeve, and I was coming in low to act like I was going to take it, and all I could do was laugh.  I mean the sound coming out of that dog was hideous.  John kicked me the sleeve and I started to agitate him again civilly.  I was down really yelling at him and he came up and gave me a strike that was about 10 inches from my face.  It about knocked me over.  I get the sleeve, and give him a pursuit about the same as Norbo.  Congo doesn't really jump into the bite, he hits, and pushes you hard, and drives you back, fighting all the time.  My dog Savo, who is a Congo son, barks the same, drives the same, and is civil the same.  Congo definitely reproduced himself there.  I then slipped the sleeve and  he was put away.  This, is a bad-ass dog!!"

With all of that said I would like to just finish with saying that Dari and her entire family are great people that love what they do and it shows. I am so thankful to Dari for calling and inviting us up to experience these great dogs. Dari welcomed us with open arms into her house and went above and beyond to answer all of our questions and to make us feel right at home.

Plus she put up with us constantly wanting to play with all of her puppies which by the way was a blast!

I am honored to call Dari and her family my friends.

Hi Dari,

Well I just thought I'd give you an update on what the PSA judge/trainer (his name is Otis) and other people thought of Savo, Sascha, and Reyna.

Well to start out he thought that Savo and Sascha were incredible. He couldn't believe how young they were and how well they were doing. He actually thought Sascha was a male and also thought she was older than she was. Both of them did extremely well.

Now on to my baby! All I did with her was pull her out when ever we took a break just to socialize her a bit. When ever I did that John and I would play with her using a tug. Otis was blown away by how much fire and intensity she showed. And he couldn't believe the dominance she should at her age. He kept telling me that if I ever wanted to get rid of her to give him a call and he would take her in a heartbeat. I told him in his dreams! He told me that she would go as far as I wanted to take her. He said the potential for her in PSA was through the roof.

There were also a couple of other people there that just loved her and kept asking me where I got her. So naturally I told them all about you and they all took your website address. They couldn't believe how serious she was already. I also pointed out to them that Savo and Sascha came from you as well.

I didn't get a chance to take any pictures but I think John got some video that he will send you. He also got some video of Reyna running around with the padded stick in her mouth like she won it or something.

I hope you are feeling better.

Take Care

Brian

HI Dari,

I had so much fun talking to you the other night. I finally got my dog conversation fix. My wife is so happy now. LOL

Reyna had everybody blown away at training this weekend. I just tied her up to a fence so she could watch all the training of the other dogs and she just went nuts. On Sunday John wanted to see what she would do if he ran by her with just a sleeve jute cover on, well she bit the sleeve! We were all floored she bit it with a full mouth bite no less! Then she ran off with it in a corner and started dominating it!! It was the funniest thing. I tell you Dari she is something. I've never seen a pup so dominate before. Vince's wife was blown away by her she thinks it is the toughest pup she's ever seen.

Anyway I'll contact you as soon as I talk to this. Don't forget to forward me the other owners comments about their pups.

Take Care

Brian

Hi Dari,

Well I went picture happy last night and thought I'd send you some photos of Reyna at 14 weeks old. I can't believe how dark she has gotten! She is still as crazy and tough as always. Her and I are still going rounds about 2 times a week on who is the boss LOL! The word hard doesn't describe how tough this little female is. I have to tell you that you did an absolutely perfect job picking this female for me. I remember way back when I told you I wanted the hardest, toughest female you could give me and man oh man did you deliver!!!!! What a dog.

I can't wait to meet this other pup you are sending Vince and John. If she is anything like Reyna our club in the future is going to have the toughest females around. Not to mention Sascha as she matures. That will be 3 tough females all in one club.

Take Care and I'll talk to you later

Brian

Thanks Dari,

It really sounds like this turned out to be one fantastic litter. I am so glad I had the opportunity to own one of these pups. Of course with Reyna own maybe the wrong word, more like she allows you to be in her presence. She is such a Diva; I really don't think I could have picked a better name for her than Reyna which we know means Queen.

I have to tell you that I am so glad that I picked up the phone and called you on that first day just to talk to you about your bloodlines. I truly think of you as a friend. Thanks for sending me the perfect pup. I can't wait to move and live on some land because as soon as that happens I'll be ordering a male up for sure.

I hope you are starting to feel better.

Take Care

Brian

P.S. Did you get a chance to look at the pictures of John taking bites?

HI Dari,

You are welcome. I can't express to you how much I love this little monster you have sent me. Whenever I see her after work she just brings a smile to my face. And I know that I just beam with pride whenever she shows off like she did yesterday. John called me twice last night to tell me how awesome she is. Vince also tells me all the time how fantastic she is. He still thinks she is as tough as they come.

I don't know how I will ever be able to thank you for sending me such a special girl. You did one fantastic job picking this girl for me, you are absolutely the best and I truly mean that, the BEST!!!!

I meant to share with you that on Saturday my son was sitting in my wife's lap on the floor and I had Reyna out playing fetch. Well Reyna walked over and dropped the ball in front of my son, so he grabbed the ball and tried to throw it (I say tried because he is only 11 months old and it went like 2 feet) but that was enough for Reyna because she kept taking the ball to him!!!!! They must have played for at least 15 min. and my son as giggling the whole time. She is truly amazing!!

Brian

Hey Dari,

John told me he sent you the pictures of Reyna, aren't they incredible. She is amazing; I can't believe how full her bite is. You should see her work. I mean she will get down and just stare at Vince like she is begging him to walk over by her. And she strikes like a Rattle Snake it is so fast! Vince was shocked at how fast she can nail the sleeve! I can't wait to bring her up to see you guys I think you are going to be very happy with how well this VDH female is growing up. There is no doubt in my mind that she will be an awesome female to continue on the great VDH breedings. I'm almost afraid that you won't want to send her back to me when the time comes!!! HAHAHAHA.

Let me know what you think of the shots.

Take Care

Brian

Hi Dari,

Sorry to email again I just can't help myself. If I had it my way I would talk to you about dogs every day, especially about my special little girl. Anyway I posted those pictures of Reyna on the tug and the ones of her when she was 14 weeks old on a forum that I belong to and I thought you would enjoy hearing some of the comments about her. Some of the people don't speak great English but you will understand what they are trying to say. Also my father came into town last night and when he saw Reyna his jaw actually dropped he said he doesn't think he has ever seen a more beautiful dog before. Then she of course ran over and grabbed a mouth full of his pants and cowboy boots. J

Good luck with the birth of the baby and don't forget to let us know about the little one as soon as you can.

Take Care

Brian

SHE LOOKS AWSOME - SHE WILL GET YOU A LONG WAY

I bet she gives you enough to do - have your hair turned all grey?????

Hi Brian

Reyna is really looking great

And she has really grown since the last pictures you posted!!

I think this girl of yours can take you as far as you want - she has that "special spark" in her eyes and her attitude is fantastic.

Keep up the good work with her Brian.

Hi Brian,

Be carefull! This dog will bite that's no question.

I would wait untill two months after she has changed all her teeth.

When you start bitework when she is 8 months she will go directly on the sleeve probabely.

You have a jewel in your hands, give her time to grow and don't run fast

Wow Brian i can't believe how much she has grown A Norboette for sure She looks really great and we LOVE TO SEE her pictures so keep sending them

Not only she seems to act like Norbo, she also looks like Norbo She is definitely "daddy's girl" indeed. You must be so proud of her.

You have great pup in Reyna, she really is the real thing. Nice bites and a very confident female.

Also a very good looking girl.

Hi Brian She's simply incredible You guys keep up the good work She's a spitfire for sure 

Nice looking girl you have there...good bites on the tug too. Looks like you have a good future adult on your hands.

Hi Dari,

I just thought a couple of pics of Reyna may cheer you up a little. She is so photogenic! I talked to John (your husband not Crane) as I'm sure you know last night. He is a very nice guy. Anyway I told him a couple of stories about the little fireball you sent me. I can't wait to tell them to you. She is something, I mean totally off the hook. I am a prime example that you can tell people that when it comes to a VDH puppy be careful what you wish for HAHAHAHA. I absolutely love her. In a couple of the pics you can see how nasty she can look already.

I noticed the litter update on your site and that upcoming Congo litter looks awesome. I am very anxious to talk to you about it just because I love to learn all about the different dogs and stuff. I am dieing for one of our hour long dog talks. You better get well soon or my wife is going to choke me. HAHAHAHA

We are all worried about you and hope you get better really soon. By the way the new litter looks AWESOME! They look huge.

Take care of yourself and enjoy the pics. I hope you enjoyed the last ones I sent you.

Signed a HAPPY VDH puppy owner and friend!

Brian Clingan

HI Dari,

Just thought I'd send you over some pics of Reyna just hanging out trying to look sweet, but I know better than that. HAHA

She is really starting to get very affectionate with our son. She is still pretty rough around him but she is learning. He will walk up to the wire crate and press his forehead against it and she will lick him like crazy and then when he walks away she whines and scratches at the door to the crate. I think as he grows up I might end up losing Reyna to him; you can really see the affection in her eyes when she looks at him. That little devil look in her eyes goes completely away when he is there.

Thank you so much for such a wonderful dog. I know I tell you that all the time but I am truly blown away by her on a daily basis.

Take Care

Brian

P.S. Weren't the pictures of Reyna taking bites just amazing? She is a natural!

Hey Dari,

Hey Dari,

I just thought I'd share some pics of Reyna at the mock trial. She did great.

Here is something funny for you. She did really well on the BH obedience. She showed her age a little by losing focus on me a couple of times and refusing to do her sit in motion but all in all she did really well. Patrick said it was a more than passing routine.

Here is the funny part: Of all the things I thought she would show her age on I didn't expect it to be the OB but the practice protection work we did after the BH OB routines, well I was dead wrong. She was incredible; on a new field with a new decoy she could care less. I'm telling you Dari it was awesome!!!!! I had like three to four people ask me how old she was and when I told them 17 months they flipped!!! They couldn't believe it!

Here is what the decoy told me afterwards:

- "I am shocked that she could bite as hard as she does"

- "Man is she fast"

- "That is one nice female she is going to be something when she fully matures"

I'm so proud of her.

Take Care,

Brian

Hey Dari,

How are you feeling, I hope you are doing better. I thought some pictures of Reyna might cheer you up.

These were taken last week at our club during the decoy certification seminar that we held. Pat used Reyna for his certification and was moved up from Regional decoy to a national level decoy so know he is allowed to try out for nationals as a decoy. I about crapped my pants when he said he wanted to use Reyna for his certification because we have never done a ScH 3 routine before but she was AWESOME!!!! They did not make her run the 6 blinds because she does not know how to run that many but she had to do everything else.

Pat said she was hitting him so hard it was making his teeth rattle. It was the first time she ever did a full on as hard as they go in a trail courage test and she almost took Pat to the ground!!!!!!

The other cool thing was the judge that will be judging our trial was there and she was blown away by Reyna. She came up to me while I was watering Reyna and her exact words were "That is one nice bitch"... she also said that if Reyna preformed like that for her Sch 1 I have nothing to worry about even with not having great control.

Needless to say I was on cloud nine.

Anyway let me know what you think of the pictures.

Take care

Brian


BELOW ARE LETTER FROM MY DEAR CLIENT, BRIAN, OWNER OF REYNA VAN DEN HEUVEL BH/preparing for her SchH titles. THE LETTERS SPAN FROM REYAN AS A PUPPY TO BEING A TRAINED ADULT.


Here are some wonderful letter from our dear client Nancy who owns Frieda Van Den Heuvel!

Dear Dari, Ashton is beautiful! What a precious little boy you have given birth to! He is more than adorable--he's perfect. Although I have known you through only two of your five births, you always comment about the calmness of your babies. I wonder if that has anything to do with your being such a good mama to all your GSD young'uns? Any time I feel particularly distressed, if I go pet and preen over Duke and Frieda, suddenly I feel much better. If I could have as many puppies around me as you do, think how absolutely serene I'd be. I'd end up so good-natured, no one would believe it's me!

Did you happen to see the K-9 police dog contest on Animal Planet two weeks ago? (Yes, I know that's a stupid question. As if you have so much free time...) Anyway, I am absolutely convinced it had to be some of your Czech offspring that won. The policemen and their canine partners reminded me so of Frieda--stripes down their front legs and all. Of course, they were all as smart as whips and so fearless. (Naturally!)

You also might have heard that this morning our area of southern California had a 5.6 earthquake. (We live in Rancho Mirage which is near Palm Springs.) I had just served Duke and Frieda their breakfast. (They still get hip health and all their vitamins that you recommended.) The jolt and then all the rolling really freaked out Duke; he put his ears back and then ran outside. Not Frieda Van Den Heuvel! She looked up and around and then put her head back into the bowl! Nerves of steel. I don't think anything could rattle this doll baby.

Well, sweetie pie, I still consider October 7, 2001 one of the best days of my life--the day we picked up Frieda from you in Cherry Grove. And who knows? Maybe some day, I'll call you up and say, Get ready, Dari. I'm coming for a dozen puppies! Take care, my friend, and continued best of health and happiness to you, Ashton, your other four magnificent children, Congo and his pals and girl friends, and John too. With love, Nancy

Dear Dari, By now, you've had your new little baby! Now I'm betting it's a girl, while Jim is very sure it's a baby boy! Who's right? And I see from your website that soon they'll be more Vandenheuvel young'uns. Now that should keep you very, very busy. If you have some spare time, write and let me know how you are. Frieda, the little angel, is doing fine. We had begun running both dogs in the desert again, and although we tell Frieda not to lie in wait and ambush Duke as he trots by, she can't help herself. She will always be the most loving and affectionate dog, ready to give me kisses any time, any place. I love her so much. Jim keeps telling me that I have spoiled her and Duke to the extreme. I disagree. I lie awake at night, trying to think of ways to indulge them more! Any suggestions? You take care, my friend and trusted breeder. With love, Nancy

What a beautiful baby boy you have, Dari! He is truly precious. Does Ashton still have such a good appetite? I'm sure that you are pleased that he is a good eater. Having a finicky baby can drive you nuts. Ask my mom. I was a colicky infant and just gave her fits. She should have tried feeding me chocolate chip cookies. They always put me in an instantly good mood!

So, some of Frieda's kinfolk is part the Indianapolis racing families! Why not? Your Czech dogs are loyal, loving and incredibly cute. Frieda stays by my side, thick and thin. Right now, she's taking her mid-morning snooze. I look down at her and can't believe that I actually own such a beautiful dog. Frieda has the prettiest face with an exquistely colored coat. Her little paw pads are the blackest of blacks and she has to be the best kisser going. Although she will always be smaller than Duke, he doesn't stand a chance if she gets ticked off at him. He'll always back down, but in an instant, they're both schmoozing over each other as if nothing happened.

Do you ever hear from Frieda's littermate families? How are the rest doing? I hope that each of them is as loved and spoiled as I have done with my little girl. I know that it was your careful breeding that ensured Jim and me that we did get the most perfectly adjusted and healthy dog from you. Thank you again for adding so much happiness to my life, Dari. With love to you, John and all your children, Nancy

Dear Dari,

Long time no write! How is Harmony? I bet she is the darling of her mom's eye! Munch must be a tad jealous, huh? Now tell me how have you been feeling? Getting back a bit of your old spunk? I pray so, Dari.

And now to tell you something that you would have never thought I could do. I started the dogs on your all-raw diet! Following your suggestion, I now serve them tripe ordered from that website you recommended eons ago, www.greentripe.com. The dogs also happily munch on raw chicken bones (thighs seem to be their favorite), organ meats (kidney, heart, liver), raw eggs and Bravo! Kibble is out of the question. I've also gone back to all the supplements you mention in your website, including seameal, vitamin C and all the essential oils.

So what's the verdict after two months? Honestly, Dari, Duke and Frieda could not be healthier! Duke, as you may recall, had that serious ear operation in January where a large polyp was removed. The vet had found more polyps growing on Duke's ear canal and said that eventually those too would have to be removed, requiring a major restructuring of Duke's inner ear. Even after the surgery, I still got out a lot of black, waxy gunk from both of Duke's ears.

But no more! Yes, his right ear has more wax than the left, but it's now the yellow kind! I'm sure that in time his right inner ear will look as pink as the other. Frieda has even lost weight, which before was like asking a cement block to lighten up.

So what can I say, Dari? In a word, you're brilliant! I was just too stupid to listen to you before because I never thought the dogs would eat all this raw food. In return, I wish I could pass along some super-intelligent hints to you about something, but my words of wisdom seem to be limited to "look both ways while crossing the street." Promise me that you will take good care of yourself, give all your kids a hug for me, and tell all your GSDs that in my heart, they're all a special lot! Love, Nancy

Dear Dari,

I am so happy to hear that you are doing so much better.

Congo must be some kind of macho dog. It has to be the diet you're feeding him, Dari. Brix, my first male GSD, at 11.5 years, was already geriatic and only lasted two months past his 12th birthday. I wish I had known then what I do now about proper diet for dogs. Maybe, somehow I could have eased or prevented his degenerative myelopathy. I don't know. I even question if I could have stopped Pilar's congestive heart failure. I can drive myself nuts thinking about this, so I'll stop and talk about FRIEDA!

Frieda is exceedingly spritely. Put another way, she can bark and carry on like crazy when she wants to go in the car or be played with. She still gives Duke a hard time about just everything, especially when it comes to food or toys. But just as often, he knocks her around too, so I guess they're even. They're both resting now. Chewing on a bone can be so tiring, you know!

When are your new litters due? Boy, that must be a happy time in Montana! How is Harmony? I bet all your GSDs are already very protective over the newest Van Den Heuvel little lass.

Well, sweetie, let me thank you again for taking the time to write me. I know that your dance card is always full, so even writing an e-mail would subtract away from your busy, nonstop schedule. You take care, doll baby! Love, Nancy

P.S. Does giving a lot of kisses a common trait of all Czech dogs or just Frieda? Frieda is also quite the tail wagger! Is Congo and kin too?


Hi Dari,

I hope this finds you and your family doing well. 

We are totally in love with this puppy!!  She is bold, lively, smart as a whip, very loving and lots of fun.  She has fit in very well.  I think Birkita will sift to the bottom of our pack.  Whidbey and Tasha are both strong females, so I am keeping very clear boundaries to minimize any issues as she matures.  So far so good.

Both girls play well with her.  Both, especially Tasha, set great limits on her.  Like I said, she is bold as brass!  Thankfully she reserves most of her testing for the dogs.  She comes to all our classes and as met and played with so many dogs of all sizes and breeds.  She has a 130lb Leonberger friend, some little dog friends, Portuguese Water dog Buddies that she swims with and plays with, some aussies and border collies and her age mate white male shepherd.  She has very, very good social skills with them thanks to the manners that her sisters taught her.  Many people remark that she is so appropriate with dogs.

She has never met a person she didn't like, a new experience she didn't take on with glee and fears nothing.  She comes to work at my church with me and has charmed the old and young alike.  Everyone remarks on her stable, outgoing calm personality.

I've attached some pictures of her at 18 weeks.  We were at a park and she found a deep mud puddle:  boy does she love to dig in very wet mud.  She had a blast and then went for a swim in the lake and cleaned up.  She loves to swim, bites at the water and races through it.  She went in deeper the other day than ever before and was swimming really well.  Can't wait till we get our pool, I expect her to be a great dock diving dog some day.

Thanks for choosing this lovely girl for us.  She is everything we hoped for.

Our best to you,

Elaine Ableidiner

Hi Dari, hope this finds you well and joyfully preparing for the holidays.  I hope your recent litters were all you hoped for.

Whidbey is AWSOME!!  She had her first working seminar with Denise Fenzi who specializing in training working shepherds, tervs etc for Schutzhund and obedience.  She was very impressed with Whidbey's focus at such a young age.  She was working with me in a fairly small space while several other handlers were playing with their dogs in that same space.  This included a PWD dog buddy playing tug and a GSD she knows chasing a ball right behind her.  She focusses better with food at this point, but she is turning on to tug more and more. 

While all this went on and people gathered around us to hear Denise's comments to me, she worked with me on her sits, downs, high 10's (she's too enthusiastic to just give a high 5!), waving (the cutest thing you've ever seen), giving paws etc.  She really works with focus and a spark in her eye. 

Everyone was stunned that she wasn't even 6 mo old yet.  Several people asked what kennel she came from.  She was very friendly and calm with all people and dogs and was a perfect girl in her crate when not working. 

Also, she is growing at a lovely slow place.  At not quite 6 mo old she weighs 40.2 lbs.  She is long, lean and well proportioned.  She has great energy and her coat is lovely.  I am curious about the growth weight of her littermates.  Do you have any info on that?

Take your time responding, I know how busy you are.  Take care and Merry Christmas.

Elaine


Hi, Dari,

I'm trying Google to see if it has better spam blockers than Yahoo and to see if I have less trouble sending and receiving pictures.

Here are the two pics I tried to send the other day, plus a new one.  Her ears are just about ready to stay up - so cute!   Wish I could have filmed her chasing a field mouse yesterday - she would have had it if the fence didn't stop her.

Best regards,

Gayle

Hello, Dari,

I hope this finds you doing better with the new treatment you started in Aug.

I have my heart set on a great male from Orry X Chiarra and hope that is my Christmas present this year!  I think the pedigree with Zhiva's would make an outstanding combo.

I'm calling our fabulous girl, Zhiva, which in  Russian/Serbian/Czech, means active and lively - she will always come to Taz, as Dave likes that. 

I love her natural tracking ability - nose on the ground, like so many people have to work to train their dogs to do properly.  Up at our mountain home she quickly found a bear scent and tracked straight ahead until she got to his scat.  She has caught mice and a shrew in the yard.  Her protection instinct has been apparent for some time.  She's about 46.5 lbs. at 5 mo., rock solid and is incredibly strong for her size.  She holds her teddy bears with a good full bite, shakes them, and thrashes them to death like a wild animal.  Tough girl!

Zhiva knows all basic commands, hand signals, speak, turn it on,  and is a most enthusiastic learner.  We're going to start bite protection classes at 6 mo. and I'm looking in to French Ring sport in our area, when she's old enough.

I found some old photos of my parent's dogs from 50 yrs. ago - one was a favorite stud from Germany, a dark bicolor like my girl

I promise to send you some quality photos of Zhiva in the near future.  I'll attach a couple of candid shots for now.  In one, she pulled out two 25 lb. bags of rice I set aside for a friend to feed his mice (for snakes) and was dragging them across the yard. 

I could go on and on about this pup and know you are always busy, so will close.

Best regards,

Gayle Nixon


Hi Dari:

   I just wanted to send you a short note about Dosky (Cak x Exa). He is an awesome dog. His drive for the toy  (anything in your hand) is super high and his focus is unbelievable. His training is coming along very good and slowly. He always has a hard & full grip. I've spent a good bit of time working to keep him from becoming mouthy (calming him) and he stays tight most of the time. He comes at the helper with a gleam in his eye, as hard as he can and never slows down for a split second. He has almost knocked the helper down a few times and has a talent of just plowing right over the top. The helper must be on his toes and ready for Dosky at all times. Dosky and I both continue to build  our bond with each other and he is always such a pleasure to be with.

   I am training about twice a week with him and he is becoming more intense each session. I have to work fast with him just to keep up. His barking towards the helper is deep and continuous. He fires up without the help of anything but sight of the helper. My helper is very impressed with Dosky's ability, drives, bite and looks. He would love to have a dog like Dosky for himself. Dosky has an awesome big head and his dark sable color makes is look. He recieves comments about how good looking he is where ever he goes. My vet has said he is the best looking German Shepherd he has ever seen.

   Dosky exhibited a touch of his civil drives today when the helper accidentally got too close with his hands while I was putting him in his cage. He said that he must remember what he is working with and I agree. My helper/trainer was an Army K9 handler and almost made handler for the Presidential  K9 Team. He is very talented and I'm very fortunate to be able to have this opportunity. We train one on one most days except for a few handlers working on just basic OB. He did want me to ask you at what age did Cak or Exa start to exhibit their full working potential; at an early or late age; how old? 

   I wanted to send you a few pictures and will soon. I have to charge the battery in my camera.

   Dosky is everything I was looking for and I commend you on your choice for me. I hope all is well with you and promise to get those pics out soon.

Regards,

Rocky


Dear Dari,

Just a short note to let you know how Sasha is doing.  She took to her crate right away. The first two nights she cried for about 15 minutes after that she was trained.  She is so smart.  She already knows how to sit and speak and is close to mastering rollover and laydown. She absolutely loves my nine year SHepherd Laylou.  And Laylou is so good with her...teaching her the ropes and being so patient with Sasha.  It is so fun to watch them together...they wear each other out playing all day. Sasha is such a love and is fitting right into our family.

Hope you had a wonderful Thanksgiving and by the way the website looks great.

Have a blessed day,

Pam

Hi Dari,

Here is the picture of Sasha and her new mom.....they are great together and wear each other out....Sasha is doing great and growing so fast...she is a great fur kid...thanks for picking her out for us..we adore her.

Have a great Holiday...Merry Christmas, Pam


Hello Dari, and seasons greetings

I have attached a photo of Dutch for your pleasure.  He continues to be a joy and challenge for Charlotte and me, growing into his place within our home.

No lap dog, this one.  He is his own dog, and we are pleased with his intelligence.  The drive/determination he shows is remarkable, and it is our hope to channel this energy into positive, working avenues for Dutch.

His current weight is approximately 48 pounds.  The raw diet is working out well, though we do have occassional digestive issues requiring a more balanced approach on the menu.

To date he's been through puppy kindergarten.  We've not had the rabies vax regime yet, holding off until about 6 months.  After that we plan to intergrate him into the local bark park for more socialization, specifically with larger dogs.

We will enroll him in obedience classes thruout the winter and spring.  Although we work with him daily, there is always the benefit of a professional consult that really counts.

Anyway, he's doing great.  We thought you might like to see his current color, size, etc.

Warmest regards,

David Fisher & Charlotte Carlson


Hey Dari, what's been going on?  We had a great training session last Sunday with Savo, Sascha, Tonka, and Eva doing the P-3 stuff, and Maya with Sch.  There was this guy there that loves Maya, and Savo, but had never been close to him before.  We needed another helper for some of the exercises, and so this guy, Spencer said he would put the sleeve on.  The exercise was for Pat to come at Savo aggressively, shooting a gun, then stay outside of a 10 foot circle of him.  He could not come inside that circle.  Savo could fire up on him, but could not leave me to go get him.  Meanwhile, Spencer was to sneak up behind me, and actually attack me.  I was to call Savo back to me for a help bite on Spencer.  Savo fired up on Pat like crazy, Pat never broke the line, and Spencer attacked me...I yelled, "Savo, help" and he spun around and crushed Spencer.  I mean this guy has no presence either.  When I outed him, he barked about three times at Spencer, then stood up, and snapped right in front of his face.  Spencer about had a cow.  I warned him, that with new decoys, Savo does that...he kind of tests them.  He missed him by about 3 inches.  Spencer said he saw nothing but white teeth, and said he couldn't believe how hard he bites.  We did other things also, and Savo did very well.  He really likes this training. 

Maya is improving every time, and everyone that sees her just loves her.  She is beautiful, and tough. 

Let me know if anything new is going on.  J


Hi Dari, how are things going? I thought i would drop a line and say 

hi. The pup you sent me is fitting in great and will be a great 

working dog. She loves to play fetch and run around the training 

center with any toy she can get. I cant remember if i told you but we 

named her Bella.  I have some people wondering. SAR have been bugging me as well. Also I was wondering if  you know when i could expect her papers. If the AKC is as slow as the CKC it will be a long time. lol.

Talk soon

Dave Gomme


Who would have ever thought that the breeder of my wonderful little girl and I would become such dear friends? And I do consider you that, Dari, a friend. I pray that day by day you are feeling better and that soon your health concerns will be only a past memory. I wish you and John and all of your children a most blessed Christmas and New Year. And do give all the Czech GSDs (particularly Congo!) many kisses for me too. His daughter and Duke will be getting their own T-bone steaks from Santa. It was much too difficult to try to wrap up the defrosted, raw green tripe!

With love, Nancy


Hello Dari:

    Attached are a few pics I took this morning with Dosky while we played around a bit. I resized them so I could get them all in the email. If there are a few you like, let me know by the image number and I can send the full resolution file for each one. Now that I have the camera out and charged, I'll send you more this week to look at and feel free to use at your own discretion. I would like your professional opinion regarding his overall structure and what you see so I can compare your opinions with mine. His temperament is superb around other people and animals and he always maintains 1000 mph at everything he does. I really have to hump to keep up with him in OB. Enjoy and have a Happy Holiday Season.

Regards,

Rocky

Hello, My mom and I cannot let another day go by without thanking you for your excellent breeding and high quality pups. We are located in Puerto Rico and obtained ours from Mr. Bustillo. My dog Camillo di Borghese has as grandparents Congo/Denny jippo Me also Faro Policia/Arka Jombre  He surprises us every day. His temperament is absolutely a gentleman, he is very proctective and every day seeking a new command. He is 25 months and is the king of the house, he has learnd even to WINK!!  So thank you for your excellent line. I look forward to adding an additional one in the future since I have plenty of space (13 acres). They sleep indoors with us. Currently  my 15 dog, is too attached and we don't want to break her heart with another new pup around. Sincerely,Maria


Dari,

All's well with the puppy, his name is Mickey.  We're adjusting to dog ownership again, puppy proofing along the way.  Thanks again for being patient and taking so much time with us during the process.

Bill


Dear Dari & John, I just wanted to let you know she arrived last night in fine form-hungry & full of beans at the same time! We are having a leisurely day, just playing ball and walking in the woods. I wonder if she has ever been in snow before, because she sure is eating a lot of it! I want to thank you for such a beautiful pup, and I will keep you posted on her exploits in the SAR world...Take good care, and God Bless. Cheri


Dear Dari,

The integrity of your hard work as breeders is of the highest quality. Camillo is really a gentleman!  He is so smart, he even knows how to wink! Every day is a new thrill, he only needs to speak.

Just walked in for his morning exercise routine.

I share a few pictures of his stardom!

Your dedication is really worth it!!!!!!!!!!!!!!!!

Maria


Dear John and Dari-

   John, you were definately right when you said that Dari sent a beautiful pup.  She is just a gorgeous girl!  She arrived safely and in with her digestive system in fine working order.  She was already able to locate all of my labs toys in the snow in the dark.  And she has made it very clear that she owns all of his inside toys as well.  Thank you so much for sending such a wonderful girl.  I will keep you up to date on our training.  I hope you both get a well deserved rest tonight!

Thanks Again!

Sarah Geesler

She made it safe, sound and TICKED OFF!!!!   She is beautiful!!!!!    No fear in this little girl...  she's already explored the parts of the house she's allowed in.  Very independent.  Awesome!!  Thank you soo much!

Pam



Here is a letter from the excellent SAR, NARC, CADAVER, AVALANCE trainer, Cris Goodhue. She is kind enough to consistently refer client to our breeding station for SAR and Service handlers.

Hi Dari,

Are you feeling better?  I just got back home from Missoula.  I took Amelia's pup (Xena) to the airport.  A mutual friend of ours is a pilot and just happened to be flying through there today.  So he is flying her to Salt Lake with him tonight, where Amelia will pick her up.  The pup thought she owned the airport.  Very steady girl.  Boy can that dog track.  I got to do about 4 tracks with her while I had her.  She did outstanding. And as you know, I've started a lot of pups, but she is going to be really good.

Thank you for the phone number.  I'll let you know how it goes.  I do hope you are feeling better.  Maybe one of these days, we can get together and just talk.  I would love to see all your dogs one of these days. 

Take care of yourself and I am praying for you,

Cris


Dari,

Dara is here!  Safe & Sound.  Her plane was delayed 3 1/2 hrs.  SHE IS

GORGEOUS !!!  She was ok when I first took her out of the kennel, but I

let her ride loose in the back seat any ways.  After the 1 1/2 hr drive

home, she had relaxed.  So far it is pee outside and poop inside, but who

can blame her ... going from 5 degree Celsius to minus 36 degree Celsius ...

I wouldn't want to stay outside any longer than I had to either.  I think

Lee and I have both fallen in love with her already.  She is so calm, but

then it has only been a couple of hours.  I know you said to let her have a

couple days to herself in the kennel, but I think on this one, we are going

to disobey (haha).  Lee already has a bed ready for her in our bedroom.  If

we have any problems, the kennel is there.  We have both been practicing the

Czech commands, but so far she looks at us like we are nuts.  I think that

Dara and us are going to become multilingual.  It is a little scary bring a

dog into our home that we know doesn't understand us, but I am sure that it

is even more scary for her.  I am sure it won't be long before we will break

through the communication barrier, and when we do, it will be well worth it.

Thank you so much for finding us exactly what we were looking for.  I'll

give you a call later.

Forever Grateful,

Roxanne and Lee

Dari,

Yesterday we were booked in to take Robbie to the oral surgeon at 8 am, we

were just ready to walk out the door to head into the city and we turned on

our monitor just to check on Dara before we left.  We seen a puppy.  I ran

out to the kennel and she had 7 puppies already (needless to say, we didn't

make it to the city).  She was quite upset because they had got lost in the

blanket.  I quickly found them all and got her settled down.  Dara had 13

puppies and she is an awesome mom.  They are all doing fine, however, they

are quite small, so we will be keeping a very close eye on them.  I also

have milk replacement on hand in case I need it.  I was a little worried

going into this, because of only having her for a month and her only

speaking a foreign language.  She was amazing, she let me help her when she

needed it and only got upset if I tried to leave.  We found out later in the

day, that there was a huge accident on the highway into the city.  The exact

time and place of the accident is where we would have been if Dara hadn't

started having her puppies when she did (4 days early).  We believe that we

owe our lives and the life of our 2 year old son, to you and this amazing

dog that you found for us, named Dara.

Forever Grateful,

Roxanne & Lee


Hi Dari , just a short note to update you on Chyann (Afra / Norbo) . She is doing great .Everything we wanted in a GS. Full of energy and can run like a Greyhound. The only work she does is obedience as there is not a Sch. clubs in our area. The local K-9 officer just got a new K-9 from a importer in Ky.The last one was killed in the line of duty. The  police and fire department was shooting skeet and I asked if I could bring Chyann into the mix. The sound of gunfire did not faze her . As a matter of fact if she is scared of anything I have not found it.

Dari, Chyann will be ready for shots in March. By law a rabies vacine is required each year. What are your thoughts about annual boosters for distemper and parvo.

  Also , have you kept up with any of her littermates. Are any of them into Sch. or have been titled for any sports?

Regards

Lawrence Alford

Thanks for your reponnse. As soon as I get some pictures I will send them. Sad about her littermate and also Norbo.The more i read about him i feel privileged having one of his pups.Chyann is ever thing we wanted and be assured that she is loved very much. I will forego the booster shots.

Thanks again for a wonderful dog.

Lawrence


Hi Dari, I hope the new year is treating you and your family.  I am sorry its taken so long to respond, I tried calling you a few times but no answer.  I have to say Koda is a bundle of joy for the family.  The girls were in shock when Lucas and I walked in with him.  This being our first shepherd I have to say he is very different from our Labs.  His nick name the first few weeks was "land shark" my little Emily was traveling by furniture as she was afraid to walk on the floor.  I found a great trainer 10 minutes from my home, after one puppy class and a new prong collar we have him under control.  Cascade K9 is their name and Michael and his wife specialize in working breeds particularly shepherds.  He is good friends with Ivan Balbanov and actually has a couple of his dogs at his facility.  As soon as he saw Koda he treated me differently than the "poodle" owner.  He did his own temperment test and said you did a great job in picking out my boy.  That said he wants me to train him in the sport.  We will see on that one.  Before we saw him I thought you mistakenly gave me his brother "godzilla" as he is a determined, dominant little guy.  Based on his diet- 100% raw with all of your recommended supplements he is probably and better be the healthiest dog in Wa.  My wife called me today as the mailman delivered the 20lb container of Nupro Gold and advised me that I have gone off the deep end, but really she loves Koda more than any of us.  Well, I forgot how much energy and need for attention puppies have.  Well, right now I am just trying to grow him slowly and make sure he has the best foundation for a healthy adulthood, but assuming we get him trained which I know I will, I am already thinking how cool it would be for him to have a brother or sister.  Why not?  Life is short and these dogs have so much to offer.  We will see on that one.  Anyway, let me know that you are doing well.  I check your website often to see whats new at VanDen Heuvel.  I cannot get enough info on this breed and cannot wait to get more into the training.  I will stop babbeling for the moment and send you some pictures of him soon.  I still have some questions that I will save for the next time I catch you on the phone.

Take Care.

Rich

Hi Dari;

Just checking in, hope all is well with you and your family.  I need to get some pictures to you, all I can say he is the best, my family loves him so much.  Question for you, I have read about heart worms and neutering and need your advice.  Whats the best age to have him neutered and I am thinking we should have him on a heart worm preventitive but am told in the NW its not that prevelant.  Your advice is important.

Thanks

Rich

Thanks Dari, I will send some pictures and update you on his life shortly.  I am already thinking about how much he would love to have a sister.

Rich

___________________________________________________________


Hi Dari,

She is so quick.  She wines when she needs to go outside, I need to be quick but she is a champ.  Very smart.  She is now accepting her kennel quite well.  I gradually and positively motivated her to accept the kennel and she walks in there on her own.  She doesn't shun it at all.  She just learned to walk up and down stairs.  She was trying to follow me.

She is scheduled to get her shots Friday.  There seems to be some difference in what you said and what they suggest. 

I have been feeding her raw chicken, with the bones - boy that is a frightening thought but she is pretty good at it - any reservations with the bones?  Ever had any problems?

She does very well at night, she sleeps right next to me,  in her Kennel...she is very upset when separated - she will immediatley begin to loudly whine or howl even.

Dave


Hi!I wanted to get your email address so I can forward an updated photo of CoCo, she is coming up on her 3rd Birthday!! Yikes, i cannot believe how time flies!!!!She truly has been a blessing!!!!! Have a great day - Amanda

Here is CoCo again in the living room!

She has been the greatest dog EVER!!!!! I am truely blessed to have her!!!!!

We completed the second phast of dog training - off leash training.

Every day I drop her, off before work, at Grandma's house - where she has about 2 acres to patrol. She runs around w/my parents 13 yr old GSD and let me tell you - she LOVES to run and patrol!!!!

Take care - Amanda


Hi Dari,

  We are THRILLED with Fiona and are having a BLAST with her!  She immediately just fit right in with us.  We couldn't be happier about our choosing you and about you choosing Fiona for us.  I spent months looking at different kennels and I felt then, as I do now, that you were/are the best choice. 

We are certainly providing a quality home for Fiona where she will be loved and cared for and be an active part of our family.  My concern is my trying to do my part in the training to match what she has in her genetics.  It's a tall order and I have high expectations of myself. 

In the end I'm highly confident that she'll be an excellent family companion and personal protection dog. 

I week ago I picked up a very soft rag and tied it to the end of a clatter stick and started dragging the rag in front of her.  She'll chase it, bite and pull on it and I give her very mild resistance before letting her win it, all the while I'm praising her.  I then gradually started shaking the stick a little to emit its sound and now she is accustomed to the sound as well as the presence of the stick up over her head as she bites the rag, with NO hint of any issue at all.  I have now begun rubbing her with the stick and she happily wags her tail.  Just tonight she grabbed the rag and ripped it away so hard that she pulled the stick out of my hand and then she turned and literally pranced away with her prized rag in her mouth while dragging the stick.  I think she's coming along really well in that regard.   

I've also taken a small puppy tug and I present it and let her take it without ANY resistance on my part at all due to her little teeth.  I have a jute tug, leather tug and a bite-suit material tug for her to work on when she's a bit older. 

She becomes a little demon when its time to eat.  I feed her with my adult dogs and I have to keep her from stealing the other dogs' food.  LOL!  I just pick her up and put her back in front of her bowl and she resumes her ravenous conquest of her food bowl.  I'm also amazed at how quickly and powerfuly she can destroy and consume a chicken leg.  Wow! 

Over all the time that we've had Fiona I've seen flashes of the serious nature of what she's destined to become.  I am really impressed with her.  I feel very, very fortunate to have the honor of owning one of your dogs.  I am very proud to tell people where she's from. 

As I mentioned before I did take her to see Ivan Balabanov but, in spite of his greatness at Schutzhund, I'm not necessarily sure that he can develop her a real-world ppd.   And then there's the K-9 instructor who doesn't believe a puppy should work on a tug IF they're going to be a psd or ppd.  I wrote him off my list, which was unfortunate because he's only 20 minutes away and they train four nights a week.  And then there's another K-9 trainer for Orlando/Orange County (Ed Reyes) that I've trained with in the past.  Again, he's another Schutzhund guy and some of these people train a ppd the same way as Schutzhund and then label the dog a ppd.  I asked the prior K-9 officer to come to my home to do a home-invasion scenario with my ppd, Jake.  He looked at me like I was on crack.  Training a young dog on the field is fine, to a point.  But a ppd needs to train in all different environments such as the home, car and more.  At least that's my belief.  Some apparently don't share that thought. 

The main reason I put together that message board for you (perhaps you haven't seen it yet?) and offered to help moderate it was so that I could ask questions and hopefully some of your seasoned customers would chime in with some good advice.  I certainly understand that you don't have the time right now to devote to such a project. 

Thanks for reassuring me that you're happy with us a home for Fiona.  I didn't think that you were disappointed with us but I can understand how my email might have given you that impression.  Email can sometimes send a different signal than the one intended. 

Fiona is going to be the dog that grows up with our son and the significance of that is NOT lost on us.  We appreciate tremendously that "his" dog is such a fine and wonderful dog for him to share his life.  Thank you again for Fiona!

Talk to ya later!  :)

Patrick


Thank you so much for writing back, Dari. I fully understand how you miss Norbo, but please be comforted by knowing that you provided a wonderful, full life for him, something he could never have had if he had remained in Europe.

But how about Congo! Frieda and I are both thrilled to think her daddy is still going strong. Diet? Yes! Loving surroundings? Undoubtedly! And with several of your girls coming into season, this should be some spring for you, Miss Dari! How I wish we lived closer so that I could help you. Of course, my specialty would be giving kisses to all your dogs, but hey, I could learn the rest, couldn't I? By the way, Frieda turned 6 1/2 years old on the 17th, so naturally, we all had to celebrate. Both she and Duke really like their new Bravo food--this time it's buffalo. I also bought some elk, in addition to the chicken and lamb. Jim and I also divided up the tripe for future feedings. Does this madness never end?

How are your children? Harmony must be growing into more of a princess every day. How's Munch? One day when you have time, you'll have to give me all of your other children's names, ages and what they're up to also.

Well, honey lamb, you take good care of yourself, you hear? And I pray that you are feeling stronger by the day. I don't think you have a choice on that one. Your girls are eager to start a family and you have to be up to snuff!

Love, Nancy


Dari,

I am having a wonderful time with the girl you sent me.  She is everything I had expected.  She has most of her basic obedience commands down, and I am working on her searching.  She has reliably learned to dig for an alert for a food reward that I hide.  I will begin working with a retired FEMA trainer in the spring.  I was just curious as to which SAR trainers (which organization) you had out to watch you evaluate the litter. 

Thanks Again!

Sarah Geesler


HEY DARI,

    JUST WANTED TO KNOW IF YOU HAVE ANY NEW UPDATES OR PUPPY POSSIBILITIES? FURY IS DOING GREAT!! HE IS REALLY COMING INTO HIS OWN. WHAT A GREAT DOG.

THANKS,

JOHN GONZALEZ


Hi Dari,

Just got this email of photos from the male pup you sent to my client in Georgia... thought you might like to see what he looks like at almost 6 months.  Tim is extremely happy with him and everyone who meets him thinks he is awesome!

Theresa

Here is a photo of the male out of Zena/Cak that you sent my client in Atlanta....He stays in touch and LOVES his dog!


Dari,

Our little boy has settled in so quickly and is a real doll!  He's 15 lbs. of pure "stud."  Zhiva is so good-natured and let him chew her bone.  It will be nice when they're closer in size and can play together.  For now, they get supervised time together.

My trainer (Bob Warren) is anxious to meet him as soon as shots are done.  He's doing some serious training videos and asked us to be in them.  He said yesterday that he has Streiten on film doing protection. 

I'll attach a few photos I took last night for you. 

Thanks again for this great puppy - I know we'll be back for another girl in the future.   

Best regards,

Gayle

--------------------------------------------------------------------------------


Dear Dari,

it is time for another pup.  Rose is going to be two in August and is magnificient, beautiful, devoted and we love her.  Are there any pups due from Congo;  is Congo for sale.  Would he be right for our family, or would a pup be best.  My husband said he wants a big male to give us a little more protection yet be willing to please,all those steel nerves and good with our children.   Rose was sired by Reno and Hafa.    Warm Regards,  Carol Orvald




Hi Dari!

Cheetah was 6 months old last week. I weighed her at 51 pounds.

No signs of Pano, I think with the BARF, the supplements

(I added Spirulina and Kelp) and the slow steady growth we may

dodge Panosteitis. She is a great dog and has been a pleasure to

raise. I'm looking forward to many fun years with her. There are

two recent pictures attached.

I know that GSD's first heat can be between 6 and 12 months, but

thought you could probably narrow that window. There are several

un-neutered males in my neighborhood and I've never had a bitch

in heat before. I'm a little worried that I'll miss the blood on her dark

fur. I've been checking every day with paper towel, but it's probably

too early. I want to be able to keep her on a leash outside, even

inside the fence, when she is fertile.

Toenails have been a challenge - I've been sneaking one at at time.

I've heard some people use their Dremel and the dogs don't mind

as much. I think if one of the Pet Groomers has a sling that will

be the way to go, but I'll probably have to really tire her out first

to get her into it. Do have any neat toenail tips/tricks?

Thanks again for the great dog!

John


Dear Dari,

Wanted you let you know that "Jet" is doing great!!!  He is such a nice puppy... I I I Absolutely Love Him to pieces ;o)  He is so attentive of me, I just think he is awesome and I couldn't be happier!  He loves his ball and loves to bring it back, follows me where ever I go, which is very limited at this time.  He is soooo sweet.  He is very confident and sooo happy all the time!!

I was hoping you could tell me the date of his 1st vaccination, I want to make sure I give the next one on time. 

Thank you again soooooooooo much for the opportunity with such a GREAT PUP!!!

WARMEST REGARDS,

Cindy


Hi Dari,

I want to stress that she is awesome, very smart, I am surprised on a daily basis how well she learns.  She is working alongside my female lab who only understands Dutch, Chatza follows the German commands, that way there is little confusion.

She is growing like crazy and looking a lot like Jack, very dark on the back, but the sable gray is obvious on the neck and she still has her dark face.  Very regal looking!

I am tickled pink with her looks, her attitude, smarts, and she is so mentally strong...quite a challenge when she is not doing something constructive.

Thanks,

Dave


Hi Dari! 

I can't begin to tell you how much I love this puppy!!!!!!    She is Gabrielle Van Den Heuvel, and she is the nicest pup I've ever had!   You were dead on about the nose.  She plays hide and seek, tracks, and searches for her toys.  She is oozing personality, and isn't afraid of anything.  She's getting sooo dark, and is just starting to get her big girl teeth.  We're following you're feeding program and she's doing great on it.  Thank you again for a perfect pick!

How are the other pups doing?  Any all black Orry daughters that might fit?  I am so psyched about this, I can't thank you enough.  I'll send pics soon.  Hope all is well with you, your family and the 4 legged kids!

Pam


Dear Dari,

The site looks great and I love Orry's Page, its nice to see all his info there.  Great layout and the pictures rock!!

I am so enjoying Jett, he is all you said he would be and more!  I love that he is so focused on me,   it is so very refreshing!!  I  ABSOLUTELY LOVE HIM!!

I have attached a couple of pics for you! 

Thanks so much,

Cindy


Hi Dari,

We had a very interesting trip.  I met with Susan Saturday night and intended on leaving Sunday at 3pm.  Got to the airport in plenty of time after but was informed the airport was shutting down due to all the snow.  We were taken to a hotel and the people were so nice, they took me to grocery store to get some food – this was a small neighborhood store and the meat guy was so nice – he got me a couple of chicken backs and 1 turkey neck so at least we had food! We were snowed in!!!  Anyway, I did get home today and the USAir people couldn't have been nicer – The ticket agent has a Shepherd so she loved the puppy and didn't even ask for paperwork – she just let me take her in the cabin with me as a comfort companion. 

I named her Asia and she is getting along so well with our cats and dogs. They run outside and my big Pax is so gentle with her.  So far not even an accident – she know how to go to the door – we really bonded two days in a hotel and learning where the door was and how to go outside.  She is very vocal and lets me know when it's time to go out.  She is napping in the kennel in the middle of the living room right now but in the hotel we kept each other warm. 

Just wanted to let you know she is already a member of our family and the whole "pack" stays in the room with her until she is more comfortable with being here.

Thanks for choice – she could not have a better home.

Connie (SAR HANDLER)

Hi Dari,

She is just excellent and very independent!  She plays with our big Shepherd and if she doesn't like what he is doing she barks at him and he backs off!  She also decided I wasn't getting her food fast enough and barked at me this a.m. – of course all the while doing a perfect "sit". J

Thanks for getting back to me.  We are going to Utah next weekend to do a seminar with Janet.

Connie


Hi Dari!

Here is the photo of Panda I promised. How cute is this? Our snow is melting, so I have been throwing her ball into the grass and brush. Now that she can't see where it lands, she is REALLY using her nose!!! She will not come back without the ball. I am watching her closely, and can see the beginnings of a great problem solver at five months. This photo was taken right at four months. I'll keep you posted on how everything goes along the journey. Blessings to you, your family, and canines, Cheri & Panda


Hey Dari,

    I wanted to send you these fotos of FURY (Hyk x Zutta) taken on 3/26/08. He is really turning into quite a great dog. My friend on the FLPD K9 unit has done some training/testing with him on several occasions and he's very impressed with what he has seen. Hope that all is well with you and your family. Liz and  I can't wait for the arrival of our new VDH puppy. I know the she will be just as great as our FURY.

                                                                             Thanks,

                                                                        John Gonzalez


About Tilly, I really like her.  Bria was a bit grumpy with her at first, but it didn't phase Tilly for more than a couple of seconds and then she was back at following Bria around.  They get along fine now.  Bria is even giving Tilly her ball to play with.  (Tilly can't steal it, but plays as soon as Bria offers it.)  She really adjusts quickly to new places and continues to love people.  She wants to run up to every new person she sees.  I took her to Brian's work and the noise and machinery running in the shop didn't phase her at all.  She is really steady with loud noises.  She was upset that she couldn't get through the fence to where I was chipping ice off of concrete - very loud, and she wanted to play. She is bright!!  She also uses her nose for everything.  I am suprised that she doesn't crash more. A really nice thing is she plays really hard and then just rests.  She actually slept all night last night - yea.  But even when she was waking up she settled down in a minute or two.  All the snow we've been having has provided her with a nice challenge and also wears her out.

We'll keep you posted.

Susan and Brian Experienced SAR handlers