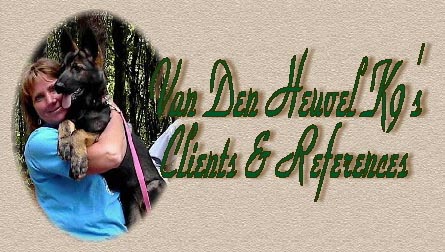 Here are some wonderful reference letters and touching stories from our clients, that own puppies from our Very Carefully Structured Breeding Program.


Hello Dari,

Busy night in Powell County last night, After arresting two on seperate domestic charges, I was trying to get home at a reasonable hour. Observed a vehicle stuck in the median and stopped to render aid. Soon as I pulled up, he sped away and the chase was on. Continued for 23 miles to Elliston, where he locked up the brakes and turned on me. Both my front brake calipers blew when i attempted to stop. Finally got turned back in the right direction and continued up mountain road a couple miles while I waited for backup. Loaded up Oso in other deputies truck and continued on while two MHP officers set up a roadblock by my disabled vehicle. After playing chicken with bad guy, he bounced between us and the roadblock and finally wrecked and fled on foot. Oso and I were on the track within a couple of minutes, heading down throught the trees. after about 200 yards, looked back to check on my backup and surprise, no backup. I cut Oso off leash and in a flash he was gone. Oso started barking about 5 minuts later, and through the ruff terrain I finally managed to catch up to him. at that point, we were perched on top of a 10 foot rock cliff, calling in our position to the other officers. I finally started to pay attention to my dog again and lo and behold, the bad guy was right below me. Turns out the rock cliff is what saved his life. after falling off it, Oso would not jump down. I can only imagine what he would have looked like in that five minutes had he got him. Glad it worked out.

After a minute or two of barking, snarling, and lots of pointing of the bright red laser, we started up the hill. 40 minutes later, back up on the road, while cuffed, the suspect decided to finally confront me about how lucky i was to have the dog for protection. he took a step forward and Oso got his reward bite. (yes, it was his crotch).

To finish out the night, we had a robbery of our local gas station by two mexicans, wanted out of washington, three barfights, and a kid stole and totaled moms new buick.

So far My suspect is being held on 4 felonies and a stack of misdemeanors that i am still writing.

Just thought I'd share Oso's first felony apprehension.

Stay safe

Gavin

Hi Dari,

I do believe Hannah will be ready for her BH by our trail later this year. Our club is trying to host the 2005 DVG Nationals so who knows she might be a superstar and compete ( wishes on my part ).

She is so wonderful and I thank you so much for picking her out for me. She is my Pretty Princess even though she is the toughest dog in our club. Our trainer says she has a little more than enough drive and that is perfect. I went to my first trail and was surprised to see even a SchH 3 dog that had less drive in protection than Hannah. I have high hopes for her and I think she will be wonderful in competition. I hope all is well with you and your family doggie and human. Just to let you know that in a year or so we will probably want another puppy a male this time and black like the Gita Pita. She lays on the couch and gets her belly rubbed and plays with her Kong. She is happy and even gets along okay with the cats. Hope to hear from you soon and I will let you know about any trials or important things that come up.

                                                                           Adryane and Scott

Hannah Van Den Heuvel Update(Hannah has now received her BH and SchH1. Adryane will continue to complete her SchH titles with Hannah.) Scott earned his BH and tracking 1 with Elsa Van Den Heuvel and will continue to complete her titles as well.

Hi Dari, (Denny was a fully trained adult that we matched to a multiple animal household for our clients Alexis and Ron.)

Thank you for one of the greatest gifts we have ever

received. Denny is the best.   She slept in bed with us

last night and we went to moms for dinner and she sat

on the couch like a lady and tonight she is on the

couch with Ron like she has been there all her life.

She is the greatest.   Still having a little trouble

with pepsi.  Pepsi still snarles her lip and is

corrected instantly. Poor thing she is being

treated like a dog.  Denny gets along with all the

goats,  especially baba.   All they do is play together

it is awesome how all animals get along even different

species. What a gift you have given us and we are so

blessed to have such terrefic animals     thanks again

we hope to come and see you and john in the near

future   tell john hello and thanyou for all your help

and support with the decision making with duthces  yes

we put her to sleep  it was tfor the best but what a

hard decision   thank god  it is done and for the best

  thank you for all your kindness and patience and

sharing your knowledge      alexis

Hi Dari,

It is so funny how Denny treats ron and me totally different 

ron plays with her constantly and she lays EVERY nite

ON the couch with him on his lap  he is in 7th heaven

and with me she is gentle and not rough and doesnt ask

me to play you will just never know what a joy she is

already spoiled rotten  the used to be guard dog is

now a play and lover dog and likes everyone  we do not

even have to watch when someone new comes she likes

everyone i can see when she is suspecious she walks

away and observesfor a few seconds to make sure every

thing is kosher   i could go on for days about her but

you  probaly hear this from all your clients   please

addres the coming in the door fast problem   thanks

alexis and ron  

Dari

What at a great gift we have.

I have to share with you the reason I most wanted a great companion....My husband enlisted in the Oregon Nation Gaurd after 9.11 .. He felt the the duty to serve and protect his county. Frank did not enlist until we were marrried in 2001, and not until now did know did I know what I agreed with.

I knew many months ago Frank would be assigned to go over seas, and that is why I wanted a compaion.  Amd now he is in Louisiana protecting and helping  our own people.

This is my first alone night w/o frank and what a challenge this is, but I have CoCo. And until Frank comes home, I will have CoCo and  I want to thank you for your business and commitment to making the right the fit. Although CoCo, she does not fill the viod of Frank,she brings me love, satisfaction, fun, a reason to come home.  I love and adore CoCo. I will do anyting and everything to make sure that she is healthy and is in great shape.

So to make a good story come true, Frank will protect (a county) and CoCo will secure (me).

CoCo is almost four months old........she is learning and adjusting very well, I could not ask for a better dog. Right now one of my kitties is sitting on top of  the crate CoCo is sleeping in and the other is laying on a chair next to the crate. I would take a picture, but the camera is in my truck, and knowing animals they would move by the time I got back.

John and Dari, thank you for CoCo, she will make life wonderful.

Hi Dari!

Thanks for getting back to us so soon. Are you feeling

better?  I hope so---we have been thinking about you

often.

I can't wait for you to see Bo.  I think she looks

great!  She is getting a lot of exercise, she's on a

great diet, and I go through obedience training with

her at least four times a week. She currently weighs

about 89 pounds and I think that's a good weight for

her. Bo is very protective of me and I just love that

becasue I can go anywhere--hiking, walking at night,

into strange areas---and feel completely safe. And

when Dan is out of town, I feel like I have my very

own body guard.  I can't tell you how happy we are

with her!

We have decided that we do not want to spay BoBo.  The

thought of putting her through that at this stage

makes us nervous.  How do you suggest we handle that

with the new puppy?  Should we arrange to get him

fixed right away?  I will certainly defer to you, so

just let me know your thoughts.

Looking forward to hearing from you.

Warmest regards,

Andrea, Dan and the BoBo.

Hi Dari and John!

I am so sorry we haven't been in touch for so long but BoBo has kept us busy. Dari, I hope you are feeling better.  Were you able to get some much needed rest?

We are in Carmel now for a few weeks. BoBo loves it here.  She really is such a clown and so very affectionate.  She has discovered that she really can swim...in fact, it's hard to get her out of the water.   When we first brought her home, she was protective yet a bit reserved.  Now she has decided that no one should come within 300 yards of either one of us.  And she is very proud of that. she gets a lot of exercise---a long walk in the morning, hiking, beach and swimming in the afternoon, and chasing the ball/ obedience drills.  We have continued with her obedience drills ( or rather, I have, because Dan is such a softie.)  I have her on  the raw food diet and she is thriving.  She had continued to scratch fairly often so I thought maybe I should stop giving her the Natural Balance snack roll because of the wheat content. I think wheat was the culprit behind an allergy because now she isn't scratching at all.  BoBo , as you could expect, wasn't too happy about not getting that

snack because she absolutely loved it!  We have, however, found some tasty grain-free substitutes and she gobbles them up.

How are Congo and Amalka?  Dan, Bo and I are planning to drive up in a small RV when the puppy is ready.  We thought it would be a great way for us to bond with the new puppy, and it would also give you a chance to see Bo.  If Aaron is available perhaps BoBo could have a refresher course---although frankly, I don't think she really needs one :-).

I do have one question though---is there a command that will let BoBo know that the person(s) knocking on the door are o.k.?    If I hold her and allow the person to come in, she eventually calms down.  The dilemma, of course, is that we don't want to discourage her protectiveness.  We just want to be able to signal to her that it's o.k--i.e., this is not an intruder.

Hope all is well with you.  we look forward to hearing from you.

Best Regards,

Andrea, Dan and BoBo

Hi Dari, (Purchased 2 puppies from our facility. We did the foundation training on her young male pup Norbo)

just wanted to let you know that Norbo is GREAT!!!  He already knows the fence! and Neema never stop playing, they are bonded already.  He also stays with me alot which I like.  No accidents at all, he really is great thanks so much.

You should see them in the kids pool!!!! He gets in with Neema and they roll around and get soaked, they have a ball chaseing each other and then back in the pool.

He is very happy here, and so is Neema happy with him.  I will send some pictures soon.  He is really going to be big, he is almost as tall as Neema already.

THANK YOU BOTH AGAIN FOR A VERY WELL BEHAVED BOY, I HAVE TWO WONDERFUL FUR BABIES!!!!!!         Bonita......very satisfied

Hey Dari

Some of the photos are a little blurry, sorry!  The little fellow in the

photo is my helper Mack, he's two and Emilie loves him to death.  I

think one day he's going to be a great handler.  Emilie is doing great,

she's working on her obedience training.  The club is so impressed

at her trainability.  At six months she's trained to sit/stay, come,

heel, bring and we are working on platz as we speak.  The majority of

her training has been off leash and we incorporated hand signals as

well.  Emilie is obeying hand signals at six months.  I feel as though

there is no end to what she can learn.

Have a great day!

Brent

Hi Dari,

Just so you will know Caisson is on the Strafford NH Police Department as the first ever K9 unit!   He scored an 80 percent on his drug test so the trainer is going to start him right away, we think starting next month. He will be used for drugs and tracking only.....

Caisson does not appear to have any problems with anything.  I think the "jumping" we mentioned, you understood it was with a training program....he is not doing that kind....just the puppy in him going after things and over things in the yard with Randy.  He is doing just fine and we are happy with him.

And he still jumps at everything from dragon flys to blue jays!  The trainer did say we have to take up the dogs food bowls after a certain time...he would like Caisson a bit more slim for his training. 

Anyway just wanted to keep you posted.  I will send you a photo of them (Caisson and Cannon when I get an updated one)

Sincerely

Jayne







Hello Dariana ,

    Hope you are doing well.     Well , at this time , I' m writing to you to check on the progress of 

Trixa / Xero mating.  I hope everything is going right on schedule and that

Trixa's delivery is a success...

    I really enjoyed your new page of Trixa , everything is so well

documented  and her full picture is outstanding.  Her body structure is very

similar to that of Xeros.  Is that one of the reasons you decided to mate

her to Xero ?  Her pedigree is also of top competition , and some of the

dogs in it like Titus  and  Tom Z  PZ  I have heard such good comments about

them.  I  saw a picture of Titus , he looked  like a  V - rated  stud dog 

and  I  am sure he passed those traits  to his many offsprings.  On Trixa's 

page , you also mentioned a video of her upon request ,   I will like to see

it Please!!!

    Dariana , I am very much looking forward to the outcome of this litter

, because  I feel  its  working potential  will be very versatile ,  you

certainly are serious breeder.  As you know , my ideal dog is one

that is very serious , with qualities to do sport competition.  See , I 

have seen so many dogs in sport  who are outstanding , but do not have the

toughness nessessary  to defend in real life situations.  That is one of the

main reasons I want a czech / DDR  German Shepherd .  I  know  that for many

years these blood-lines were used to developed dogs that were very trainable

, strong structured  and  with strong characters. Weak dogs cannot handle

military duties!!!

    I  hope that you will always keep emphasizing good working genetics

above all else in your future breeding programs , so that  all of us would

be able to enjoyed good German shepherds for a long time.

    Well , I' m through for now and as always , I' ll  be waiting for your

response.

     Sincerely , Carlos Echevarria

    P.S.  Please send me an  e-mail when the puppies are born!!!

Dari,

Just a quick update on Ceira.  She is doing great. She just turned four!!!   Can you believe it?  She has really matured in the past few months.  She is much calmer in the house, but all you have to do is say the word is she gears right up.  She is always ready to work and never seems to tire.  I can work her for a couple of hours and she still wants more.

I recently started showing her in obedience and so far she has her ASCA CD Title and her St Huberts CD title all with numerous first and second placements.  She has her Novice Rally title with a first place.  We just started her AKC CD title and she scored 195.5 with a second place her first time out.  She excels in agility, unfortunately her handler stinks!!! She is like a border collie on an agility course.

  She is a peanut of a thing she weighs about 65-67 pounds which is a good weight for her.  Because of her size she is even more agile.  She will always be young with her spirit and energy.

She means the world to mean.  I adore all of her spunk, drive, and craziness.

I like the litters you have coming up.  I wish I were ready for another pup, but I have my hands full right now.  They look wonderful though!!

Hope all is well with  you and your family.  How does Montana agree with you??  My husband and are going to plan a trip there soon.  Any suggestions on what we shouldn't miss out on??

Take Care. I will keep you posted on all of Ceira's successes.

Lyn

Hi Dari, (Elaine purchased her second female working puppy, Whidby, due to all the success that she has had with Birkita " Kita".)

Thank you for spending so much time on the phone with me.  I am excited!!

Here she is:  Birkita:   CGC, P1, NAJ, NA, NAC, NCC, TG-N; 5 y.o. GSD

Here are some pics of Birkita.  She is just gorgeous isn't she?!  She is the feminine version of her daddy.  I hope I can meet him when we come to see/get our puppy.  She is not one to play with other dogs, but she'd love to meet you and your family.  She is a bit of a land-shark though:  check out the pics of her on Mt. Hood!

Elaine

Dari,

This bitch is a BLAST!! You really did me right. I will forever be an

ambassador for you regardless of how she turns out. I see things in her I

haven't seen since I had the Marko vom Cellerland son in the seventies. Luv

this dog!!---Cliff

Hello, thx for thinking of me. Just wanted u to no your grand baby Cyrus is doing great! I started French Ring Sport w/ him and all is doing well. I haven't worked on the jumping yet, as it id hard on the joints at his age. His drive is CRAZY to say the least. He was born for this type of work. Everyone in my club loves him, not only that he is the only GS, but he is all heart!  Take care, Daniel Marullo

Hi Dari,

Nancy and Damon below during their SchH2 trial in Germany.

Louise and Nancy got there next SchH degrees. Nancy reports that she now understands most all the Germans are saying and that her speech has improved greatly.

The judges where very nice and said they were impressed with out teams.

What happened:

There were 10 SchH dogs, 7 on Sat and 3 on Sun. Rather than one large trail, this was set up 1 trial on Sat and another on Sun. I think that may have been done to allow some who failed on Sat to have another go at it on Sun.

Claudia got her B.

Louise got a 98 in Protection. I'm not sure if it was the top protection score for the w/e or not.

Damon got a 96 in protection loosing all 4 of his points when he slipped off the sleeve when attacking during the back transport. He immediately reengaged.

Damon got a 98 in tracking loosing a point when he did not quickly indicate on the last article and another point for his indication positions not being straight/parallel with the track. He looks back to be sure Nancy sees he has indicated (asking, "are you going to indicate, by giving me meat, that I indicated?") and this turns his body a little.

Damon got an 88 in obedience. I'm not sure where the lost points.

Damon and Nancy's total of 282 was high score for the 2 days (10 dogs). Nancy is so stoked.

I don't know when the others are returning but Nancy will be back Tue night, tomorrow, and we should be at the field Wed eve. Are you coming to training tonight? I may not be there as this is the last time I'll be home, to straighten up, before She returns.

Tom

Hi Dari, Dan Purchased Koda for SchH from our facility after seeing Officer Ed Mills puppy Bear.

Koda is a great girl. She'll be four months old tomorrow. Extremely intelligent with great drives, especially food. She loves my nine and a half year old male GSD. Although I think she'd rather eat our cats. Miller Foods, where they process Oma's Pride is only half hour from our home. We bring a cooler and stock up on the raw meat. Koda and Zeus are both on raw and it has made a big difference in Zeus. He's like a pup again. Ed Mills' "Bear" is doing great also.

Thanks for the great girl (Koda)

Dan Coleman

Hi Dari,

I really have to say WOWW!  He's everything I anticipated and better.  Very

good play drive, even minutes after we opened the crate.  I'm amazed at how

powerful he feels at only 8 weeks old.  And so alert and inquisitive!  I've

been aquainting him with my cat.  Foolish cat I have, despite any barks or

growls is just as inquisitive as the pup.  I think I'll name him "Rook", and

he's bonding with me much better than any dog ever has.  Thank you so very

much for this.  You have a very amazing talent, I'm very impressed!  I have

no doubt you will do Christy a great justice in the selection of hers ;-)

Daryl

Hi Dari, ( Officer Dave purchase Cain for Patrol/Narcotics)

Up date on Cain; hid toy from Cain under a rocking chair while he was in

another room. When I called him and told him to find his toy he discovered

it with little effort. Eight weeks, wow! Will keep in touch, Dave

Dear John & Dari,

Hear are some photos of Cain aka pretty boy, he has been a real joy. i can wait to start with his training. he hit his tug like a ton of bricks, his focus during play is unbelievable. he is a character and has won the hearts of the whole family. Keep in touch. sincerely, Dave

Assistant chief of Police Dave sent this E-mail to our client John in Colorado regarding his female from our program.

Hi John,

I did get a female puppy from the Norbo x Exa litter.  We named her Mishka.  Mishka is very confident.  She has adjusted very quickly to our home.  Right now I am letting her be a puppy and get used to everything.  She has a wonderful temperament and a very sweet look on her face unless she is biting you...then it doesn't look so sweet.  Apparently she has inherited the Norbo "vice grip" bite and those back teeth can be quite painful.  I think you will like her overall structure and she has a beautiful head.  Dari spent a lot of time talking with me and trying to make sure I got a dog that I would be happy with.  From everything I can see right now she looks like a nice puppy and a good fit for me.  I will try my best to see that she reaches her potential.  Dari really was great to work with and is a kind and patient  person.  I enjoyed talking with her and hope to stay in touch. I took Mishka to Denver on Saturday to the PSA training.  Everyone there seemed to like her, she was barking up a storm and trying to run off with all of the equipment.

I wanted to thank you again for taking the time to talk to me when I first called and for bringing Savo down for me to see.  He is a very impressive dog and I can see why you like him so much.  Seriously...I'm 50 and have worked with military, police and SAR dogs for most of my adult life, you have a very special dog. 

Hope to see you soon, Dave

David M. Miller, Assistant Chief of Police

Breckenridge Police Department

Hi Dari,

I have enrolled Tosca in a puppy basic obedience and socialization class the end of October.  My vet is familiar with a Sch group in Michigan so I am going to check them out.  Tosca is doing great, growing like a weed, and yes I am following your diet. Nerves of steel is an understatement of her dispositon, I have never seen a  puppy so self assured in my life, and with so much heart. YOu and your husband are doing an excellent job in breeding these dogs.  When people ask me if I am going to breed her I tell them I leave that up to the experts if they want a puppy like mine to contact your kennel.

Yours

Deborah

Hello Dari,

I cannot tell you how happy we are with Scud!

He arrived right on time & he was active, curious and thirsty!  It was love at first sight.  What a wonderful, wonderful Puppy.

I took him home and surprised my husband, Dan, with him.  He could have been knocked over with a feather, he was so surprised.  

Since I was gone for a couple of days after that, Dan & Scud have had several days to bond.  

Dan is totally enamoured with Scud, and Scud likes both of us!  Dan has mentioned several times how impressed he is with Scud's temperment, intelligence and self-confidence.    He has told me repeatedly that this is the kind of dog he would have picked for himself.

So not only do we have a loveable addition to the family, My husband thinks I am wonderful for getting him such a great puppy!

We are looking forward to many years with Scud.

What a perfect transaction!

Many Thanks!

Deborah Meyer

Dari

I wanted to take this opportunity to give you an update on Scud:   Black German Shepard puppy (Sire Congo ViKar) who was shipped to Texas the first week of May

Scud continually exceeds our expectations.   He is everything we wanted and more in a German Sheppard.

His temperament is perfect for us.

He is healthy

He is lovable & yet is already demonstrating a protective instinct for our home.

He gets along with our other dogs

He is headstrong, self assured & confident, but he learns quickly (no no no no no no....hahahahahaha)

He is house trained and has had very few accidents.

He is beautiful & smart.

My husband is already talking about us purchasing another one in ~ 2 years.  I hope you have one with a very similar personality available then, too.

I cannot say enough wonderful things about this dog. 

Thank you for ensuring we purchased a dog exactly like what we wanted.

Deborah Meyer













Dari

Gato is doing well and his ball drive is thru the roof, not so much on the chase of the ball or kong but on the retreive of it(which is what I want). Today I through the kong in a snow bank and I thought I knew where it went but alas I lost it, especially with Gato's foot prints everywhere. Gato looked for about 5 minutes then I helped for about another 5 and then I gave up and went back to my patrol car. Gato didn't come back he stayed at the snowbank for another 5 to 10 minutes before running back to me with the kong which he had found buried. Pretty impressive. His bark is starting to show and I am very happy with him. Everyone is impressed with his beauty. I am impressed by his solid nerves, good drives and quiteness in the car. Please send me a paid invoice on Gato so that I can put an insurance policy on him and I can have the paper work for my records. Thanks again  Deputy Wallace

I will keep you posted.

Hi Dari, I just wanted to let you know I sent out the purchase agreement papers today.  Sorry it took so long I kept forgetting to take them to work so I could make a copy.

Also wanted to let you know how much I love this puppy and I am having alot of fun with her.  She is going to be a beautiful dog.  She's so smart.  I take her with me as much as I can and she's already used to the truck and sits quietly on the seat.  She understands to 'sit' perfectly.  She's starting to retrieve things to me and she's beginning to understand 'down'.  I think that's incredible for only nine weeks old.  She follows me everywhere. I have the book you suggested and I'm going to order the tapes also.  Thank you for the suggestions.

She is starting to hold her other ear up now,  she looks so cute with one up and one down though.

I will send you some pictures soon.

I'm finding it very easy to to mix her food & follow the diet you gave me and she eats well.

So anyway, just wanted to let you know how happy I am to have her and everything is going great

Dianne.

Hi Dari,

Roxie is doing great!  I just can't get over how easy she is to train.  She learns so fast!  I am really enjoying her alot!!!  My whole family loves her, they want one just like her!

My granddaughter is 11/2 years old and she loves to play with Roxie with the garden hose and Roxie loves the water.  It is so funny to watch.

Also, I don't know if it is inappropriate to ask but could you send me a picture of Congo?  I would like to put it in Roxie's photo album.

Thanks again for such a great dog!

Dianne Maki

Hi Dari and John,

    An update on our baby. We have named her Zirra and as of yesterday,

her ears are up! So exciting, just like having another child! The two

nights following her first night she howled like an opera singer. Last

night , however, she did really well. She seems to have an aversion to

the closing of the door on her crate. We put her in there sometimes when

she's napping to get her more comfortable with it but we leave the door

open. Last night I just talked to her for a second after I shut it and

she was gone.  She already has favorite places to lay down and nap or

chew on one of the numerous toys and rags littering the house. She's gone

from carefully exploring the house and yard to prancing around with tail

erect like she owns the joint. We have all agreed that she is the

cutest,smartest, funnest puppy that ever lived. She is going to be so

pretty.

    Well, I've put off the inevitable long enough...time to exercise.

     God Bless you both for the wonderful job you do with all your furry

kids!

                                               Love, Dina

Picture this: Me , in the yard at 6:00 a.m. looking like Night of the

Living Dead with Zirra firmly attached to my nightgown shaking it wildly.

I am now beginning to understand the term "bite drive" ( she's a driven

woman!)

Dari,

The puppy you sent is not 15 weeks old and doing great.  Seems to learn rapidly and does what is wanted with conversational commands: "sit", "down", "come", "place","eat", "water", etc., but do not enforce any commands at this stage in part because there does not seem to be any need to do so.  I have enjoyed many breed of dog but have never encountered the self confidence and wish-to-work/play responsiveness that this pup shows.  His name is Moshe, the Hebrew transliteration of the biblical name for Moses.  Moses lived a life of royalty in Egypt yet when the time came to do his duty he remembered his origins and performed magnificently--thought that was a good theme for a German Shepherd.  I appologize for delay in return of papers to you--a lot of stuff piled up on my desk because, I am told, "you're spending all your time with the dog."

He loves snow, beach-ocean, trails, riding in car seat and kennel.  The Solid Gold folks were excellent and a group of us here order in bulk.

Thanks for all your attention to your animals.

Don Speer

Dear Dari, (Edgardo purchased both females for his security company in the Phillipeans)

The girls are a constant source of pride and joy to me, and I will send

you pictures of them periodically so long as you do not tire of

receiving them. Agi is no longer with you and Gita has been retired so

I feel very fortunate to have these two special girls.

I read from your website that you have some exciting litters coming up.

How I wish I could accommodate another pup at this time. I hope these

litters turn out great for you.

Best regards,

Edgardo

Hi Dari,,It's Ed Mills From Waterbury Connecticut. I just wanted to drop you a line and let you know that Bear is doing wonderful....Although sometimes he thinks he is the "Boss"....(He really is a high drive beauty)..More importantly I have a friend here at the police Department who is looking for a new Shepherd...He recently had to put is dog,of eleven years, to sleep....He is going to call you. His name is Timothy Wright and he is looking for and all black Shepherd or a black and sable....Dari  Thanks Officer Ed Mills

Hi, Dari~ (Nancy and her family own Indy 500 raceway. We supply protection dogs for their security)

Have you guys ever seen this site? My mom's policeman friend Chris who kind of is her chauffer/bodyguard here at Indy ...who also has a german shepherd k-9 ...told me about it today...I'm just going to check it out myself..thought you would be interested....he LOVES

Eliska...It's like you said..there will be policemen jealous of your dog...he was..he wanted one REAL BAD...he said...one puppy is already SOLD (if I breed her!) ha ha...I took her up into the suite today (probably the first dog in one of our suites since there's really "no dogs allowed"! ha ha! I told mom "seeing eye dogs and bomb search dogs can go ANYWHERE...we will just tell our (hired) security guards that "she is a search and rescue K-9 bomb sniffing dog~ but they don't care because we own the place and we are walking with a policeman anyway! ha ha!

Anyway...She is doing GREAT! We've been taking long walks on the golf course at night and she is just GREAT walking with the little ones..I have her off leash and them on little long strings of leashes...(clothes lines) and every now and then I will let ONE of them (only) go free...and they keep up with her..then I'll grab that line and let another one run "free" with her....and they really enjoy it but I don't trust them all to go at once although I think soon I could do that...but for now I'm too afraid one of them won't come back when called but so far they seem to be coming back to me which is good. They are all separately addicted to me so they all seem to come when I call...I've never had ANY DOG come to me when I call before Juliet...luckily I got her addicted to me the first two years of her life...and the POMS are easily addicted to you....so this is the first time I've not only had FOUR DOGS come to me when I call them...which is QUITE NICE for a change (and still I'm finding it hard to believe!!!)

More later..just wanted to give you another great report! I'm having so much fun with them ALL! Nancy

Dari, (Officer Gavin owns Oso, one of the top Dual Purpose dogs in the State of Montana. Oso was a part of 2 of the largest drug busts in Montana's State history. He has also made several successful apprehensions.)

Thanks for the response. I realize this is a busy time for you and John, it really shows the dedication to your customers that you will take the time to keep in touch.

I have forwarded a couple of pics of Oso. The narcotics training we just completed was in Helena at Fort Harrison. It is nice to be done with that phase and back home to my family and am looking forward to getting to work with Oso. In just the last week, we have already done a couple of deployments. We assisted the drug tak force in Butte with a search warrant and Drummond School had us come in and search the luggage of the seniors before their trip to Denver.

Its hard to believe that it is such a small world sometimes. With you staying in Hall, and me living in Gold Creek, and one of YOUR  dogs searching the Drummond School !

Congradulations to you and John with your upcoming child, hope all goes well.

It is very exciting to hear about your move and I look forward to the opening of your new facilities. Thank you for the invitation, I would love to come for a visit.

Keep in touch,

Gavin

Hi Dari,

Here is another success:

Author: Andrew Capasso 9/28/06

The largest drug bust in the history of the Southwest Montana Drug Task Force ends with more than 150-thousand dollars of meth off the streets.

Tonight one man is in jail, three illegal aliens are set to be deported, and four pounds of meth are off the streets of southwest Montana.

Authorities said they've been planning Tuesday night's bust for about a year. Police went to a bowling alley in Anaconda to buy some meth from Romero and that's when officers from several counties in southwest Montana moved in to arrest Romero. He's been charged with possession and harboring illegal aliens.

The street value of all the meth officers found is about 177-thousand dollars. Officers also said because of this bust, meth distribution should slow down for a while, because dealers will be much more cautious.

This is the initial news report on our latest bust. The buy took place in anaconda at the bowling alley where one pound of meth was recovered. We then converged on a camp site in a neighboring county where the two Powell County dogs searched a logging operation campsite and recovered an additional three pounds of meth located in a camp trailer. We searched a two acre area with several campers at that location and also a house in Deer lodge. $15,100 in cash, and two vehicles were also seized.

Gavin

.

I am an extreme sports dog handler and currently have a working dog.  I visited your site at the recommendation of a friend in my training club whom owns two bitches out of your kennel Xero X Basana. I found your site to be very well done and loaded with some very fine animals.  I plan to visit your site many times in the future to keep up with your breeding programs and hope that sometime in the future you may be interested in using my boy in your program as well.  I hope to meet you sometime in the future for anyone who puts as much into your dogs as you do are held in high esteem by me.  Thank you and continue the good work.

Hal

Dari, sorry for not getting back to you sooner and i'm sorry for the quick entrance and exit when we came to pick kisha.  our little girl will be 8 months old on tuesday and is everything you discribed her as being.  high/drive energy and strong willed. nothing bothers her that she can't handle.  she well known at scott's seeing eye foundation as a burst of energy.  she loves the agility obstacle course and is doing everything dogs a year and older are doing.  we have her on you diet and at 7 months she weighed 68 lbs.  she is lean and musculer with full sense of confidence.  we will send pictures as soon as i can get the together.  thank you for the good match making.  yes, she is also a talker in the morning and we are past the "no bite" stage of her life.  she loves to hold our hand in her mouth in the morning.  thanks again.  hans-peter.

Dari,

Oh I love her.  She is great.  I picked her up from the airport, pulled her out of the crate and we all (the Delta staff,) just loved all over her.  She the went to the grass and pottied.  She had a great stool, no stress.  I then just let her ride loose in the van on the way home.  she is great.  We got home about 10:00 and I put her in the dog yard all night so she wouldn't have to go back in the crate.  The next morning I took her to Schutzhund and she was amazing they all love her!!  She even outed for me.  She has great drives, and loves Taylor.  I am so glad that things worked out and I got to have her.  She is just the type of dog that I like just hard enough.  She was so excited to go and work, so she was trained right.  I took a bunch of pictures of her and have them up under the site.  I just need her full name and the pedigree infor.  I don't think they ever got back to you on all that.

Thank you so much for this dog.  She is just great.

Heather

Dari,

We are enjoying JamaKa so much, she is such a sweetheart, and very protective of us.  It is so neat to watch her during her training sessions at the club, she is so awesome, she loves to WORK.  Since we have moved she has so much more room to run.  Her agility is outstanding and she loves to run up, down, around and through the woods and fields.  We practice tracking with her and she is right on each time, nothing can get past her!  She is also VERY FAST!

We love her, thank you! 

And thank you, we did have a great fourth, I hope you did too!  Hope everything is going well with you and your family.  Tell your dad hi for us, I was going to send them some pictures but I could not find their email address since we moved.

Sincerely,

Beth

Hi,Dari    Just leting you know how Reka is doing.She is the most amazing working dog I have ever seen,We have been doing lots of work together,She loves to please me. She has very very high drive and bites awsome with good grip and full mouth,She loves to do bite work at the club,it is so fun for her.She is the best,I took her to the river today and we were at a spot where the water was runing,she would run full blast and dive in the deep part and swim back and do it again.I can't say enough about her I could go on for days,I can't thank you enough! I could'nt be more pleased with her.She is every I wanted and more.When she gets older I would really like to get some more dogs from you.Your the only one I will get a dog from in the future. THANK YOU SO MUCH JAMES  

(Jeremy is a Dual Purpose handler that purchased 3 puppies from our breeding program. He won the Region 4 Police Dog trial with Deuce!)

    Dari,

    Thanks for the prompt response. You should hear how people who know

these lines love the Art and Grim Blend. They then see my dog and there

thoughts are confirmed. He has just outstanding temperment,nerves and prey

drive. Just when I think hes at the top of his game he takes it up another

level of intensity. He always saves his best when the pressure is on as

well, hes a real performer. Ill keep you updated on his progress and

achievements and send you the credit. Jenna is also doing very well but I

have her on a much slower pace. She is becoming very dark, she will be a dog

you mistake for a solid black at a distance and then as you walk up to her

you can see the traces of the sable. Shes going to be a big one as well. I

had her at the vet onn 05-19 and she weighed 25.8. Im keeping a close eye on

her though as I do not want her to grow too fast. She will be entered in the

puppy class at the trial, I believe its its the 3-6 month old catergory. In

regards to the congo x amalka puppy Ill be looking for a very serious dual

purpose male. If by chance you dont feel any meet a very very high standard

or if you have better prospects from another litter please dont hesitate to

let me know, I value your advice greatly. Thanks again and if you ever need

anything please let me know.

Your Friend

Jeremy

      Dariana,

    I wanted to drop a quick line and let you know we recieved the pup safe and sound. He is outstanding! The head is to die for and his over all structure is fantastic.

he showed no signs of stress from the flight and absolutley no avoidence to any stimulas. He is very earger to meet and greet everyone and doesnt hesitate to explore all the new places alone. he is great and my brother-in-law couldnt be happier. Im just glad Im going to have the opportunity to be involved with him on a daily basis.

Your friend

Jeremy

         Dari,

    Just wanted to drop a quick line and let you know Deuce rebounded nicely at training last night. He was back to him old self as if nothing had ever happened. he was very intense and had several very good bites. His obedience was also very good, his focus was perfect throughout the entire B routine. He never lost eye contact through the entire thing, that was great even for him whos obedience is always nice. the trainer is getting more and more impressed with Jenna evey session. Last night she really turned her prey drive up a notch and was crazy for the ball. She is teething now so we didnt do alot except let her socialize and chase a few balls around but he really likes her and hes not one thats quick to drape praise. His quote was " Jeremy, you have a great investment there. Females like her are few and far between.

      Dariana,

    Just wanted to write and tell you the dogs are looking great. Ill be attempting Deuces BH very soon. We were at the club working last night and Deuce just keeps getting better and better. He is becoming extremely serious in his protection and his drive is extreme! I also got the prelim back on his hip xray and they were great. The vet said the hips were as good as he had seen and they couldnt be any better. Deuce just turned 15 months old and weighed in at 71 lbs. Jenna is also doing great, Deuce is already very protective of her and they play great together. She is an eating machine, enormous appetite. She of course is 4 months and weighs 34 lbs. She looks like Xero, same color and the muzzles are identical. I am entering them both in a conformation and breed survey on July 19. Our club is having a trial the first weekend in October thats when Ill be getting the BH on Deuce. Thanks again for everything. Hows things on your end? Hows Amalka doing?

Your friend,

Jeremy

Dariana,

    I just wanted to write and give you an update on Deuce. He is doing great and he is really maturing into a beautiful adult. We have got a good start in his shutzhund training and expect to have him titled soon. If all goes well we will begin his narcotics training in july and hopefully he will make his first tour of duty as a certified K-9 in Sept. We were blasted this past week by a major snow and ice storm so training has been kinda tough. I did take the opportunity to get out with him some and the first thing he did was climb a flight of ice covered deck stairs on his own accord, a true statement of his outstanding nerves. I was able to photograph this and Im going to attach it and some other phots in my next email. His nerves and temperment are outstanding! he is very eager to work everyday and his ball drive is tremendous. The people at work and the club are very impressed with his appearence and work drive, he is going to be something special. I expect to title him all the way through sch III. Ill keep you updated on his titles and hopefully many drug and cash seizures through work. I want to thank you for giving me such a fine dog. I look forward to doing more business with you in the future. I also have a co-worker who is interested in a service quality male anytime one comes available. Keep me posted and I look forward to hearing from you. I also look forward to hearing about and seeing my newgirl. Thanks!

                                                                        Yourfriend,

                                                                    JeremyWalker

Hello Jhon And Dari;

Thank you very much for the oprotunity with my dog Kongo son of congo Vikar, Kongo is a great dog hes the best dog K-Sar in the region (Central America)  I trained him for protection , obedience for competition here in Panamá in some disciplines that we practice here with the best results in a near future Iam thinking to get a new dog from your Outstanding Kennel.

Congratulatios:

Mario Chan D.

Panamá, R de Panamá.

Hi Dari & John,

Hope your house is built and everything has settled down for you and yours.  Alex continues to be the goodwill ambassador for German Shepherds.  Everywhere we go with him,  people cannot believe how well behaved and socially adept he is.  We have had Alex with us for a year and a half now but it seems that he just arrived yesterday.  If possible, he becomes more attuned to us with each passing day.  He really believes that this house and yard are his(of course, he has the run of the house etc.) and that the new SUV is his alone.  You should see him as he enjoys riding in the car, what a kick.  Pat and I feel that he is a perfect match for us and you could not have found a better dog for us. He is both lovable and protective at the same time.  He is also hygienically very clean as you had said Dari.  When I get around to it, as the grass greens up,  I will take more up to date photos of him.  He measures somewhere between 27" and 27 1/2" at the shoulder and weighs around 98 lbs. and is as solid as a rock.  When he gets motoring, you have to get out of the way.

As we were watching him play, with his 3-rubber ring tugger, we would call him and he would bound over immediately,  we were reminded of one of our favorite quotes.

    " He is your friend,  your partner,  your defender,  your dog.  You are his life,  his love,  his leader.  He will be yours,  faithful and true to the last beat of his heart.

    You owe it to him to be worthy of such devotion."    

                                       Anonymous

The above quote puts the value of our Alex in proper perspective.

As always,

Rich & Pat & ALEX

Hi Dari & John,

Alex is now 15 months old and will be 16 months old on this Friday 92-20-04).  We have enclosed a few photos of him taken today.  We have to tell you that even at his young age,  he is the best dog we have ever had.  Alex has fit into us better than we could have hoped for. He is a joy to live with and take everywhere with us. He is smarter than most of our friends and also more loyal.  None of our friends would lick us whenever we pat them on the head. Imagine that!!!!

Anyway, he is starting to mature but is still a teenager who does funny things to make us laugh every day.  He loves to suddenly perform "his joy of life run" -- running at full tilt and changing direction multiple times with no seeming end goal or motive to his activity-- except that he is smiling and enjoying himself the whole time.  The more we laugh and clap, the faster he goes.  Thanks for matching us with a joy of our life.

As always, warmly and affectionately,

Rich & Pat & ALEX

Hello Dari

This is Tim hunter from kannapolis NC.  I bought a

male and female from you about two years ago.  The

male was out of Faro Policia and the female was out of

Congo litter.  I would like to say hello and tell you

they Apache (Male) and Seika (female) are doing great.

Seika has started on her tracking about two weeks

ago.  She is doing great, She has also completed work

in her narcotics detection Marijuana, cocaine and

Meth.  She has great drive and loves to bite.  She has

the attitude that i like but loyalty that I demand.

APache on the other hand is wide open.  He is 110

percent full adrenaline.  His fight drive is great,

his nerves are very solid.  He is an all around great

animal.  I recently showed him to the gentleman who

trained me to be a K-9 officer for my police

department.  He was very impressed and offered to buy

him on the spot.  After I said no he then asked if I

would like a super drive female to breed with.  He

would like puppies from him and her to train for

police agencies

Thanks again,

Tim

Hey Dari,

I got Nitro's Sch2 title at our club trial in May and we just competed last

weekend at the Regionals in which he took High in tracking, and 2nd in

Obedience and 2nd in protection and 2nd overall in the Sch2's.  I've

attached a couple pictures my husband took and I'll send you a nicer one

once I get them from the photographer for the event.

Tina