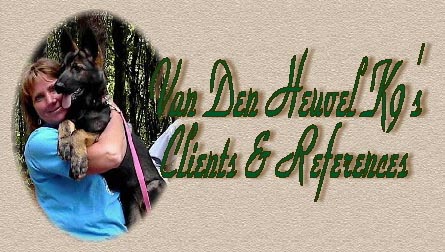 Elis is a wonderful part of Susan's family.

Multiple SchH3, IPO3, fully trained family protection female proudly owned by Susan, Scott, and their 6 children

  Hi Dari,

  I hope you had a great holiday !!. We decided at the last minute to head to the keys. We took Elis, and I sent you some photos. You have to look at them. They're great.

  Elis had a total blast. She LOVES the ocean and was a maniac in the water. She would stand at the edge of the boat dock and if you didnt throw her ball in the water, she would grab it in her mouth and sling it in the water. She would then jump off of the dock and go to get it.

  She's the greatest!!!!

  Warmest hugs,

  Suzy