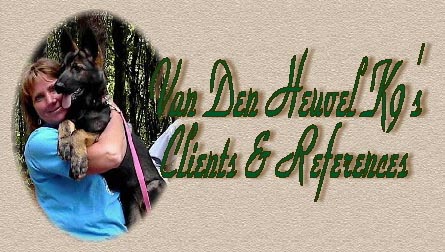 Dari,


Hi, just an update on our little terror.  We took Pagan a.k.a. Bone Crusher to the vet for her 3 mo. shot Mon.  She weighs 22 lbs. and is as solid as a rock.  She is doing great.  Our arms are like chewed up hamburger meat.  This little rascal has the strongest bite we've ever felt.  If our big dogs bit us with the same force we'd be walking around with nubs.  I told Ron she could already be a police dog because she'd have the bad guys begging for mercy with those jaws.  She is going to be awesome when she grows up.

Leka gets more beautiful each day.  She is a rich black sable.  She is stunning!!  We just stare at her in amazement that we actually have this beautiful, intelligent, intense animal in our lives.  She is starting to fill out now and though we haven't weighed her recently, I'm sure she's at least 70 lbs. if not more.

Hope you're feeling better and thank you so much for our babies.
Karen

Hello Dari,


Little Pagan (yes, we finally decided to name her that) is awesome.  She just finished eating her supper.  She likes the chicken livers in her food.  I hope that's OK.  Leka wouldn't eat them until she was a little older.  She liked the chicken breasts.  We didn't get home with her and settled in until about 3:30 a.m.  We played with her for a little while and when we put her to bed, she cried for about 10 mins. and then zonked out.  I slept until about 9:30 this morning.  Ron brought her in the bed with me about 7:30 and she slept by me like a little angel.  That little rascal can bite, as I found out when she woke up enough to play.  We keep her in a large wire crate in the kitchen when Leka and Kaya come in.  Leka is not sure what to think of her but is very upset that she cannot come out and play yet.

Pagan followed me aroung the house all day when she wasn't sleeping and chased me in the yard.  She was busy exploring her new environment.  She has a rubber mouse that squeaks and she loves to play with that.  Ron had to help his nephew move today and didn't get to play with her much.  I told him he'd better watch out or this one was going to be mine, too.  She has the cutest little face we've ever seen. You can't look at her without smiling.  Please keep doing what you do, because these are the most awesome dogs. 

We hope you are feeling much better soon.  Will keep you posted on little Pagan.  I didn't think I could love another one as much as Leka but they're just like kids.  You can always make room in your heart for one more.
Thanks again for all you've done for us,

Karen and Ron  

Dari,

We just wanted to let you know how happy we are with our new little girl, Anzheleka (Leka).  She arrived on the plane in perfect condition.  Her eyes and coat are shiny.  She is alert, playful, and in superb health.  She has a great temperament.  She is a tenacious little thing, holding her ground against our cats and our adult German Shepherds (through the sliding glass door, of course).  She is so cute when she barks, holding her head back and sticking out her little chest as if to say, "Bring it on!"  We are working on house training and she is doing pretty well with this for as young as she is.

I just want to let you know again how wonderful your diet is.  Leka is a shining example of  how well it works to promote optimum health.  Our oldest female, Kaya, has had terrible problems with her skin and coat.  She was constantly biting herself leaving sores behind.  We had tried everything, but your lamb and rice based diet along with the added natural foods and your health supplement have cleared up her problem.  She has grown a whole new coat even richer in color.  Our youngest male, Hawk, was fed a diet of puppy food soaked in rich cream by his breeder and has had a weight problem since we have had him.  He would lie around in the yard watching the other dogs play.  He just didn't have the motivation to get up and run around for any length of time.  After being on your diet for 1 month he is chasing balls and running around with the other dogs.  He finally has some definition to his body.  He is like a new dog.

We can't tell you how much we appreciate your sharing this diet with us and how much we are enjoying Leka. 

Thanks so much,

Karen and Ron Rambo

P.S. This puppy has an awesome bite.  I can only imagine what the harder pups must be like.