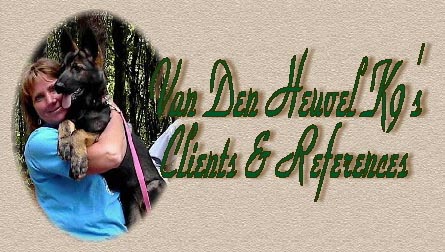 Hey Dari,

I absolutely love Nency. (whats not to love).  She is everything you described and more!  She has very bonded with me much more already than I would have ever expected!  She obviously has a very high pack drive, which I love!

I have been taking her to my lake house and she goes insane over the water.  She is in the lake all of the time (She wears a pink fluorescent lifejacket).  She also loves gong out on the boat.  If I jump in the lake, she is right behind me!

She is truly the most athletic dog I have ever laid eyes on.  I took her to my club last weekend and although she is a little rusty (which would be expected) , I can tell that she will be a very fun dog to work down the road (after the puppies).

I have an appointment with a reproductive specialist on September 25th to do the ultrasound.  I will be sure and let you know what I find out!  Keep your fingers crossed that we have some puppies in there!

I hope you guys are doing okay with this whole tragedy!  It is so heartbreaking!

Hope you guys have a wonderful weekend...I will be in touch!

Take care,

Julie