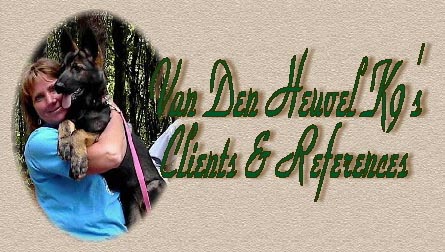 Dari,

I didn't realize you had responded to my last letter.  I just figured that you were very busy, so I took no offense in not hearing from you.  Now I realize that I must have inadvertently deleted your letter when I didn't recognize your E-mail name "Headan4u."  We always look forward to hearing from you, so you can be assured that I'll be much more careful about deleting my E-mail in the future.

  I'm glad you approved of our reference letter.  I'm sure you know that everything we said was straight from our hearts.  So feel free to have any of your possible clients contact us if they're looking to talk with someone who has seen for themselves that everything you say about your dogs is absolutely true.

  Take care Dari, and we'll be talking to you soon/with new pictures included.

                                                                               Your biggest fan,

                                                                               Harold Eaker

Diane and I don't have any kids, but the pride we felt must be like that of a parent who's child brings home a report card full of A's.  And what's even more important is the fact that we know we didn't teach Rook not to be gun shy.  He came to us that way.  And for that we must once again thank you Dari.

  Since we started looking into getting another GSD after Max passed away Diane and I have read more then just a few books on the subject.  A couple of them dealt in-depth with the history and development of the breed.  It's rise and fall here in America.  Well, I want you to know that we think that when someone 50 years from now is reading about the history of the GSD in America.  That they will not only read about it's rise, and it's fall.  But that they will be reading about it's rise again.  And about the predominant roll that you and your husband will have played in that resurgence.

  You have given me the dog I have wanted since I was a small boy watching

Rin Tin Tin.  My only regret is that I am no longer that young boy with most of my life in front of me to share with one of your wonderful GSD.

                                                                              In your Debt

                                                                            Harold Eaker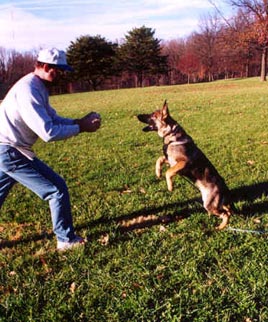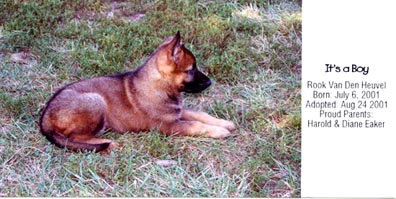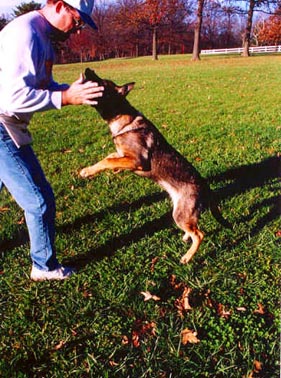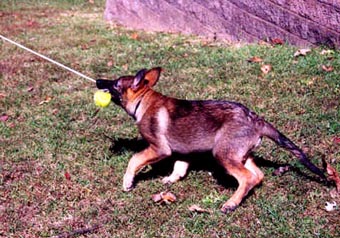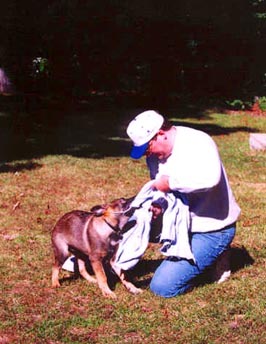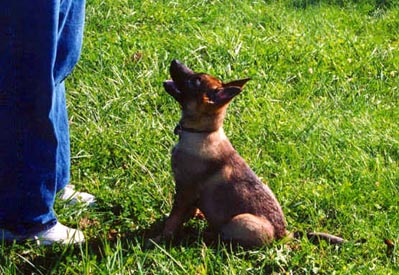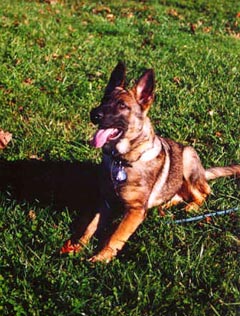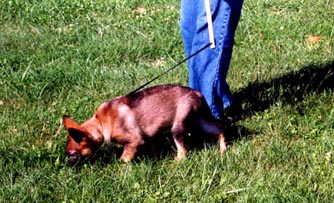 Harold and Diane Eaker and Rook Van Den Heuvel


Dear Dari,

We wanted to write and thank you for all you have done to help us receive the perfect dog for our needs! Rook has been marvelous! He was holding up both ears at 8 weeks old, which of course made him "look" smart, but his true intelligence has turned out to be far more than anything we expected. In less that two weeks time spending just a few minutes a day, Rook learned to come when called, sit, lay down, shake, gointo his crate, and bark on command. He is even beginning to "out" on command all at 9 weeks.

When we call him, he has learned to do a front sit looking straight into our faces, even when he's distracted. For instance, we took Rook to meet my brother, his wife and three kids, along with their cat. There were a few times when he was stalking the cat through the house that we couldn't see him, but each time we called him, he would forget about the cat and new surroundings and come running and do a front sit right at our feet. This was very impressive to us.

Also when we take Rook on walks
he's always looking up at our faces, which is just what we'll want when we start teaching him to heel. The thing that Rook has learned to do that's been the biggest blessing, is to ring some Christmas bells that are hanging on our front door to let us know he has to go outside to relieve himself. It's just been incredible how fast and easy it has been to house break him. He's just been incredible, Dari. He's learned all this with just positive encouragement and food rewards, He has very high food drives, and we jokingly say we should make him a "Will Work For Food" sign to hang around his neck
!

Not only has Rook turned out to be extremely smart, and a very quick learner, but he's the firecracker that you said her would be. He's got more drive tha his current 30 pounds of body knows what to do with. You should see the way he explodes out of his crate each time we let him out. He's always ready to do something. ANYTHING! It does not matter to him. It can be chasing his tennis ball on a rope, or playing tug of war, going on walks, or even retrieving and tracking work. No matter what it is, he's always up for something, especially if involves biting.

It does not matter to him if he's biting something after chasing it across the yard, or if he's defending himself after being challenged. He certainly has all the prey and defensive drives that you arned us about. Not only that, Rook's bite is as calm as it could be. Even when he's very excited he never becomes mouthy or nervous. You can really tell that this little guy has all the confidence in the world. He has always had this confidence from the very start. Like the frist time he experienced the lawn mower, he showed curiosity but no fear. He was only 9 weeks old, and yet all the noise and wind that the mower was stirring up did not faze him a bit. And before I knew it, he was running along side of me totally unconcerned about this big green roaring monster he had just met.

There was the time that I took him to a park to take some pictures of him while he was still small. I think he was about 10 weeks old at the time. Anyway, I noticed that he was getting a little tired, so we sat down under a tree to rest up. While we were sitting there I started to watch a soccer practice that was going on. Then all of a sudden, I  hear Rook
barking. I noticed that it was not the high pitch barking of a puppy that is happy to see someone, or when they are afraid of something and they are trying to bluff their way through. It was a deep(deep for a 10 week old puppy that is) defensive bark. Then I turn to see him walking past me a few feet and taking a big open stance and barking again at a gang of what he thought were thugs(actually they were a bunch of soccer players, but he did not know that. They could have been the bad guys that were walking towards us. Because he was so young it was funny to watch, but I think it showed the confidence and protectiveness that will be a big asset once we start his personal protection work.
Rook weighs about 30 pounds now, so he's about 1/3 of his adult weight, but what's there is all heart, Dari. He really does have the heart of a lion and nerves of steel. Even when we've had to correct him, he bounces back in an instance. Not once has he ever acted afraid or intimidated, or sulked away after being corrected. Literally two seconds after getting a conrrection he is back at it. Nothing seems to faze him. To see such a hard puppy that is affectionate and loving as Rook is has been a real surprise too. We expected him to be a touch little guy after ready Congo and Denny's pedigrees. Diane was more than a little concerned that because he had such a heritage, he would not allow us to cuddle and play with him. But just the opposite has proven to be true. One second he's trying with all his might to rip is bite rag in half, acting like that cartoon character the "Tasmanian Devil", and the next he is running into our lap rolling onto his side so we can rub him. It is almost like there are two different dogs inside the same body. One that is as hard as nails and is all business, and the other that follows us around the house wherever we go, and wants nothing more than to be petted and loved on.

We think that you have struck a wonderful balance between a hard dog that is full of drives that will be able to protect us and our home for years to come, and a loving, loyal companion that will return ten fold the affection that we give him. Even our Vet was very impressed with Rook. The Doctor's family runs a boarding and training kennel and is seriously involved with Schutzhund on an International Level. The Doctor said Rook was exactly the type of dog they look for when they purchase their Shepherds. We also talked with your Vet when we had a question about Rook's first set of shots. She spoke very highly of you and Van Den Heuvel kennel, stating that it was one of the best in the area and that you never over breed your animals. We thought it high praise indeed for a Veterinarian to Compliment A Breeder!


We wanted you to know how thrilled we are with our new family member, and to thank you for your continued support. So many breeders consider the transaction finished once the payment has been received. We appreciate the fact that you are always available to answer any questions that we have about Rook's care and training. (If I remember correctly, the last time we talked I kept you on the phone till after one in the morning.) We can tell you truly care aobut the welfare of the dogs that you breed. We could not be happier about our decision to purchase a dog from you! Thanks so very much, Dari


Sincerly Harold and Diane Eaker
Dear Dari,

I just wanted to pass on the news that Rook has passed his latest milestone with flying colors.  And that is to say, Rook couldn't be any less gun shy if he couldn't hear at all. 

Here's what happened.  Each Thanksgiving Diane and I go and visit my family in the bootheel part of Missouri.  And each year the guys either go hunting or target shooting.  So my plan was to set it up so that Rook and I were a couple hundred yards out in my uncle's field while my brother would fire off his shotgun every minute or so, while I slowing walked Rook closer to the place they would be shooting from.  WHAT A BIG WASTE OF TIME THAT WOULD HAVE BEEN!.....By the time Diane and I and Rook arrived everyone was already outside shooting clay pigeons in the backyard field.  So I decided to watch his reaction to the noise as we walked toward the backyard.  And if he reacted poorly I was going to take him back to the truck, and try putting my original plan into work.  When we got around back I saw about a dozen relatives, with my brother and uncle both shooting shotguns.  Dari I kid you not.  Rook's reaction was beyond anything I had dared to hope for.  He was just fabulous.  Not one single time did all those people, and all that shooting cause him to act frightened or startled or surprised in any way at all.  He was as calm and friendly and relaxed as could be.  And then we stared target shooting with two different handguns.  (One of them being a . 357 magnum, which are louder then most handguns.)  We must have fired over 200 rounds of ammunition.  And again he stayed as relaxed and calm as if he were here at home playing in his own front yard with one of his tug toys.  He could not have been more solid. You would have thought he had grown up around gun fire his whole life.