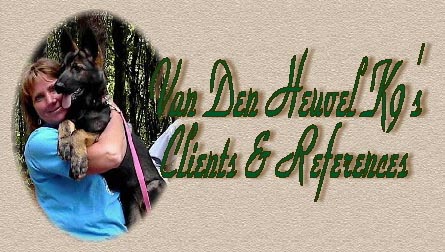 Zirra pictured at 7 weeks with her favorite new owner's slippers!

    Hi Dari and John,

    Just a quick note to tell you how our little girl is doing. She  traveled great! She rode pretty much all of the way with Gabriel and slept a lot. We felt since she was so comfortable and contented that it was a good arrangement. We stopped a few times to give her water and to let her go potty- no problem. I took several photo's, of course.  At one point I looked back at Gabriel and he was looking at her with the same endearing expression that Terry wears when looking at newborns and he

said " you almost wish they would stay puppies" and sighed.

    We got home pretty late but stayed up for a bit so she could move

around some after the long drive. She cried just twice and not for very

long after we put her in her crate. She slept till 7:00 and got up with

considerable spunk to everyone's delight! ( We did take her out twice

during the night).  We are compiling a list of names ( we already had a

few in mind but wanted to wait until we got to know her a bit) we will

have a decision by tomorrow.

   Thank you very much for all the information you have freely given

these rookies! We love this little girl , she has simply stolen all of

our hearts!  I'll keep you up-dated.

                                          Love,

                                          Dina , Terry and Kids 

  Hi Dari and John,

  An update on our baby. We have named her Zirra and as of yesterday,

her ears are up! So exciting, just like having another child! The two

nights following her first night she howled like an opera singer. Last

night , however, she did really well. She seems to have an aversion to

the closing of the door on her crate. We put her in there sometimes when

she's napping to get her more comfortable with it but we leave the door open. Last night I just talked to her for a second after I shut it and

she was gone.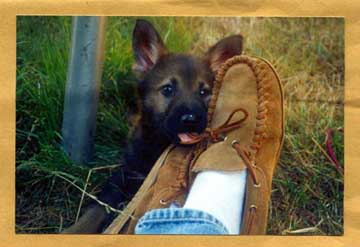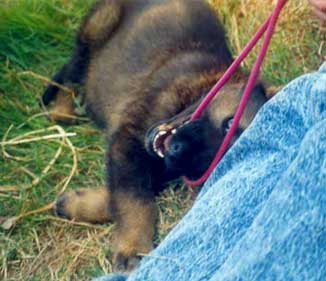 She already has favorite places to lay down and nap or chew on one of the numerous toys and rags littering the house. She's gone from quietly exploring the house and yard to prancing around with tail erect like she owns the joint.

We have all agreed that she is the cutest, smartest, funnest puppy that ever lived. She is going to be so pretty.

    Well, I've put off the inevitable long enough...time to exercise.

     God Bless you both for the wonderful job you do with all your furry kids!

                                               Love, Din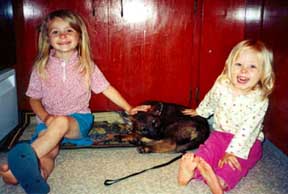 Picture this: Me , in the yard at 6:00 a.m. looking like Night of the Living Dead with Zirra firmly attached to my nightgown shaking it wildly. I am now beginning to understand the term "bite drive" ( she's a driven woman!)

Zirra at 7 weeks with her new family.

"From our family to yours."