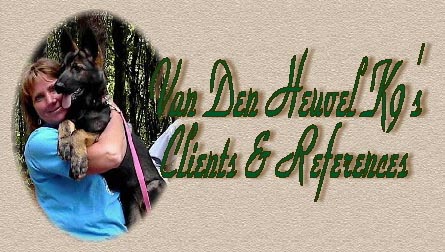 Deborah's puppy Tosca pictured at 8 weeks of age

Sire: Congo Vikar  Dam: Amalka z Pohranicni Straze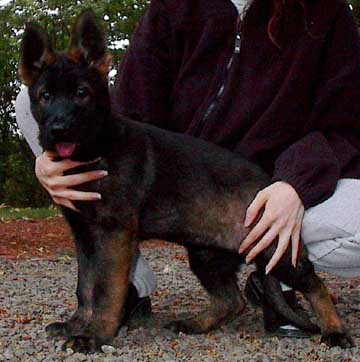 Dari,

  Thank you for the diet plan I will follow it. Tosca slept next to my bed last night on her Big Dog pillow she was quiet, and comfortable. For a puppy I was very surprised, pleasantly I might add.  She retrieves a tennis ball, follows me everywhere and then lays at my feet, I am so amazed.  Of course she is playful and very intelligent.

  Thank you for calling her Tosca she does know her name.  She met Pal, the golden retriever, Black Jack and Midnight the cats, and Scarlett and Rose two of my horses last night. I had the horses out of the pasture in the main yard, all of my land if fenced. I took Tosca outside to urinate and everyone came to visit.  It went well, the sharing of smells and all, along with my leader of pack intro to them.

  Thank you again for my beautiful pup. I will be in touch.

Sincerely yours,

Deborah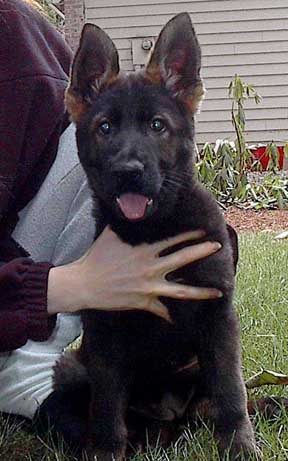 Deborah's puppy Tosca pictured at 8 weeks of age

Sire: Congo Vikar  Dam: Amalka z Pohranicni Straze

Hi Dari,

I have enrolled Tosca in a puppy basic obedience and socialization class the end of October.  My vet is familiar with a SchH group in Michigan so I am going to check them out. 

  Tosca is doing great, growing like a weed, and yes I am following your diet. Nerves of steel is an understatement of her dispositon. I have never seen a  puppy so self assured in my life, and with so much heart. You and your husband are doing an excellent job in breeding these dogs.  When people ask me if I am going to breed her, I tell them I leave that up to the experts. If they want a puppy like mine to contact your kennel.

Yours,

Deborah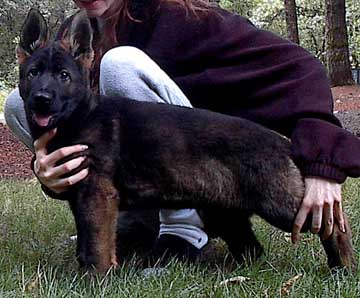 Deborah's puppy Tosca pictured at 8 weeks of age

Sire: Congo Vikar  Dam: Amalka z Pohranicni Straze