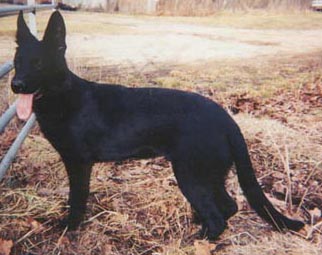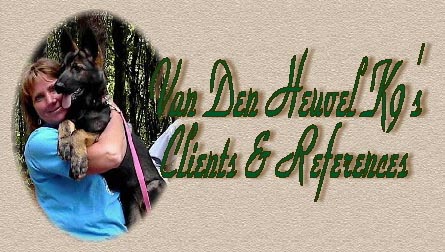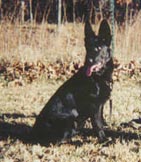 Hello Dari & John,

   I assume by now the money was posted to your account. I received the

return receipt for the registered letter yesterday, date of delivery 9/29.

All is fine with "Otho", he is having an exceptionally WILD morning today!

He's so cute and so very smart! He has already learned to go to the door or

to the newspaper to do his business. He knows his name, he comes when we call him, he sits for his meals!


He watches TV, I have to get a photo ofthat! When I play tug with him, he shows a very posessive attitude towards his prey and will guard it! When we go to slowly take it away from him, he will go after your hand, then pick up his prey and carry it! Good boy! I must say the gene pool is also kicking in as I have never seen a puppy do a full mouth bite at this age!! I can now throw away my alarm clock as 5:00AM seems to be our regular wake-up time. Needless to say, we are thrilled with our new boy!!
   Again, thank you for this great boy, he is quite the personality, very

loveable, comical and serious in his drives. My feet will never be cold

again while on the computer as he sleeps on top of  them. He has bonded very well with both me and my son. He is well, happy, (the living room and

kitchen is full of his toys!), and moved in like he was always here, never

missed a beat. Hope all is well your way, I will stay in touch, I can't wait

to start training this little guy! Thanks again!

    Sincerely,

    Deborah J. Lyon

Hello Dari & John,

  The checks arrived today (Sat. the 13th), thank you. Otho is doing very well! He is full of himself and all the drives I could ask for. His retrieve

is really good for one so young, not to mention his prey drive! My poor mop and vaccum don't stand a chance!!  Neither do I in my robe as he just hangs on all over the house! He's a pistol. He is also a good boy when it comes to behaving about chewing things he shouldn't (although with all the toys he couldn't possibly be bored!)


He has the run of the kitchen at night and whenI am not at home, and all my table and chair legs are still intact. Thanksagain for this wonderful guy! He is exactly what I wanted!

I happened tofind a picture of Bero, and I must say he looks a lot like him. I am goingto a trial on Sunday, and I'm sure everyone will be wanting to know all about him. I'm going to wait till I get some more shots in him before we go out where a lot of dogs are.

Thanks again, he is doing very well, and we are very pleased!
  Sincerely,

  Deborah Lyon


The other gal there today, Jessi, acts as helper, and when she came around
the side of her van she acted in a semi threatening manner towards Otho just

to see what he would do. Mind you, she had on NO equipment or tugs, she came

towards us, he alerted, I said "watch her", and when she proceeded in our

direction, he went to the end of the lead as serious as a heart attack!! No

hackles, very confident.


He did a nice track, a bit slower, but right down the line. Then we worked him with the tug, building prey drive with frustration, and then she'd let him have a bite. A flying leap off the ground and the tug is his! He carries very nicely, no mouthing, never trying to drop and chew. He is very impressive to watch, and a true joy to train. Not a nervous bone in his body, a very clear headed, thinking dog. 

I've been talking to a Police K9 Unit Officer out here who also has a Czech male. I've seen his male, was not impressed, can't wait till he finally meets Otho
He is a very social dog when appropriate, and very protective when

necessary. If his brother is anything like Otho, he should make one heck of

a K9. Well, that's it for now. Hope all is well with you and your family,

take care, and thanks again for our Otho!

Sincerely,

  Debbi Lyon

Hello Dari and John,


Well, Otho and my son and I just got back from the St. Louis Schutzhund
Club trial. I could not be more proud of my little black guy! No sooner did

he exit the truck, people were flocking around to see him. He acted like the

cock-of-the-walk. Dogs barking, cars and trucks going by, guns shooting

(turkey shoot going on down the road on top of the pistol at the trial!),

kids running, and everyone wanting to know who the beautiful black pup was!

He (and I) were in our glory. Almost immediately, the helper from the club,

went to the equipment shed and got out a ball on a line. Otho was turned on

now! In the midst of all the commotion, he was showing them all what prey

drive should look like. Brian, the helper, was very impressed.


A couple wasup from Arkansas, Andrea and Jani, and when they asked who he was out of, Andrea said that she had spoken with you about a possible puppy. Jani was most definately impressed with him and kept coming back to him again and again. Not once did he show a hint of scittishness or hesitation, just jumped into the situation as if he'd been going all along, even after a 2
hour drive.


Then I met a man named Harold who has a Congo/Deni son (5 month
old sable), he kept commenting on what a beautiful head he had, what bone!!

He had not brought his puppy with him, but we all wanted to see him too, so

he went home and got him! Same confidence, drive and bone. Nice boy, and

Harold is a very nice man.


At 3 1/2 months of age, Otho has pretty muchmastered sit, platz, and the heel, all very upbeat  and the fun puppy typeof obedience work. He has started on tracking and does very well there too,works for his regular kibble. Very high food drive indeed! I could not be more thrilled with Otho. He is a very happy, outgoing, and super confident guy, very macho at such a young age (lifts his leg already!! jeez!), very social, loved the kids. One woman asked me when the gun shots were fired if he was deaf, "he didn't even flinch!" All in all we had a lovely day, he'll surely sleep tonight! Keep your answering machine working, I'm pretty sure you'll be getting some calls!!  Thanks again, hope all is well on your end, I'll send you some pictures soon.
Sincerely,

Deborah Lyon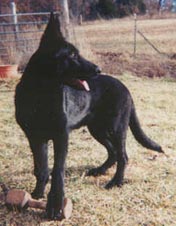 Hi Dari,


Glad to hear the paperwork is on the way. I heard through the grapevine
that you had had a bout of pneumonia, I just got over a small case myself,

hope you are feeling better. Crazy weather! Otho made yet another splash

today! I got together with some freinds north of me today for a little

training session. Carla hadn't seen Otho since he was 3 1/2 months old. She

liked him back then at the Schutzhund trial, but after today I think she was

really impressed. In fact, Carla, Jani and Andrea, were big fans of his

at the trial, and I hear, have since been in contact with you about pups!