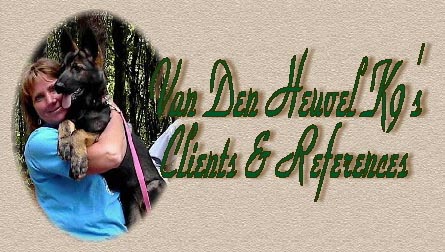 Hi Dari,

  I just wanted to let you know that Norbo is GREAT!!!  He already knows the fence, and he/Neema never stop playing. They are bonded already.  He also stays with me alot which I like.  No accidents at all, he really is great thanks so much.

  You should see them in the kids pool!!!! He gets in with Neema and they roll around and get soaked, they have a ball chasing each other and then back in the pool.

  He is very happy here, and Neema is so happy with him.  I will send some pictures soon.  He is really going to be big, he is almost as tall as Neema already.

THANK YOU BOTH AGAIN FOR A VERY WELL BEHAVED BOY, I HAVE TWO WONDERFUL FUR BABIES!!!!!!         Bonita......very satisfied

Hi Dari,

  How are you doing?  Well do we have a little girl yet? Hope everything is well, we are all fine here. 

  Norbo and Neema are great together, and are wonderful, I could not ask for anything more.  I have some pictures to send you.  Neema mothers my friend's male and corrects him as if he were hers.  You would be so proud of them. They listen so well and seem to understand everything I say.

If I dont send them I will forward on pc, as I think I am going to get a scanner, but I need to learn how to send them first.

Let me know how everything is with you and baby, Thanks Bonita