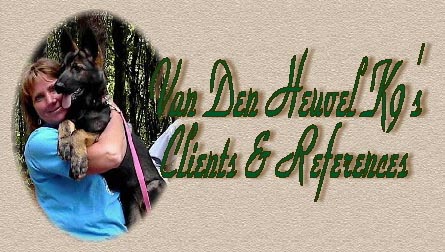 Hi Dari,

Just wanted to let you know that Christian is doing GREAT.  I love him.  He is a wonderful dog!!  I have never been so pleased with a dog, ever.  He is absolutely what I wanted in a dog. 

We have decided that we will get our next dog from you;  probably in the middle of next year.  What all do you have planned litter-wise for then?

Take care, and thank you!

Blessings,

Ann.

Hi Dari,

This is Ann,  Just wanted to let you know that he is doing great.  He is going to be a really wonderful dog.

Also, my husband is beginning to look for a dog for himself.  He is looking for a dog for protection, and maybe to do tracking/SAR.  (That is what I am beginning now with Christian.)  He would like the dog to have the same characteristics that Christian possesses, great drive, courage, good thinker, etc.  I think he is leaning moreso toward a trained dog, female, potentially maybe to breed to Christian someday should all that work out.  He is looking into getting the dog towards summertime.

  If you have or will have anything that you think would suit him, please let us know.

Thanks, and we LOVE Christian.  What a dog....

Blessings,

Ann

And the servant of the Lord must not strive, but be gentle unto all men, apt to teach, and be patient.

-II Timothy 2:24