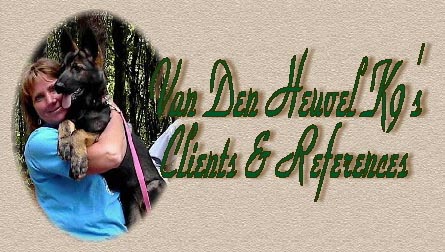 Hi Dari and John!

  I am so sorry we haven't been in touch for so long but BoBo has kept us busy.

  We are in Carmel now for a few weeks. BoBo loves it here.  She really is such a clown and so very affectionate.  She has discovered that she really can swim...in fact, it's hard to get her out of the water.  

  When we first brought her home, she was protective yet a bit reserved.  Now she has decided that no one should come within 300 yards of either one of us.  And she is very proud of that.

She gets a lot of exercise---a long walk in the morning, hiking, beach and swimming in the afternoon, and chasing the ball/ obedience drills.  We have continued with her obedience drills ( or rather, I have, because Dan is such a softie.)  I have her on  the raw food diet and she is thriving. 

  Hello Dari,

  I can't wait for you to see Bo.  I think she looks

great!  She is getting a lot of exercise, she's on your

great diet, and I go through obedience training with

her at least four times a week.

  She currently weighs

about 89 pounds and I think that's a good weight for

her.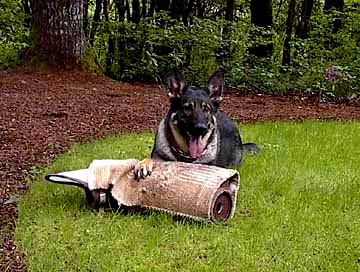 Fully Trained Personal Protection Dog "Bo"

  Bo is very protective of me and I just love that becasue I can go anywhere--hiking, walking at night, into strange areas---and feel completely safe. And when Dan is out of town, I feel like I have my very own body guard.  I can't tell you how happy we are

with her!

Best Regards,

Andrea, BoBo, Dan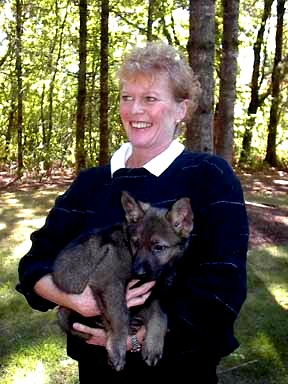 Andrea and her 2nd Van Den Heuvel K9 Addition

7.5 week old Rudy, Hailey x Xero Son

  How are Hailey and Xero? 

Dan, Bo and I are planning to drive up in a small RV when the puppy is ready.  We thought it would be a great way for us to bond with the new puppy, and it would also give you a chance to see Bo.  If Aaron is available perhaps BoBo could have a refresher course---although frankly, I don't think she really needs one :-).

  Hope all is well with you.  we look forward to hearing from you.

Best Regards,

Andrea, Dan and BoBo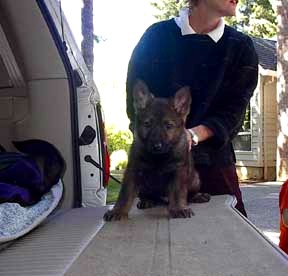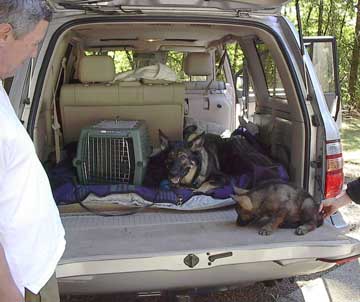 7.5 week old Rudy and new owner Andrea