 Exa's offspring have been placed as prospects in a large variety of working homes ranging from family protection, SchH, to Dual Purpose/Single Police Work, SAR.

    Exa is a Top Producing Czech import Daughter from our Elite producing stud male Xero z Pohranicni Straze. Exa is rated velmi dobra, SVV1, SVV2, 1st breeding class, full bonitacion pronounced courage, hardness and willingness to fight, hips/elbows 0/0.

Exa has been a very strong part of our carefully structured breeding program for several years. She produces very uniform and strong litters. Her puppies consistently show excellent pigment, strong nerves, and early presence of working drives. They have very robust body structure coupled with excellent old DDR head type.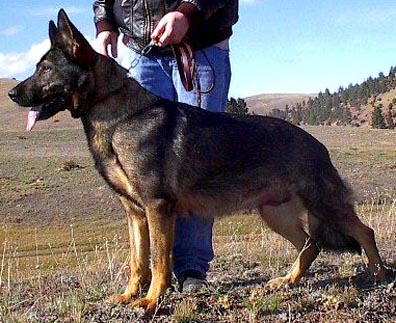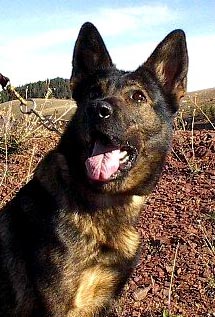 Exa is a large boned female with a wonderful character type. She has very high drives and focus to the toy and is effective in protection work.

   Exa's pedigree is absolutely flawless for producing strong working dogs with a great degree of versatility in their working temperaments.

  She is not only our daughter of our Xero z PS, but a daughter of the famous producing female Figa Cega who has a tremendous list of outstanding working offspring to her credit.

   The key dogs that are seen on Exa's damline are DDR Bero v.d. Friedersdorfer Flur, DDR Held v. Ritterberg, DDR Ingo v. Rudingen, DDR Hanne v. Furstendamm, DDR Pascha v. Glockeneck, Gita Salrak, Grischa v Schwarzen Milan.

  The key dogs in her sireline are her sire Xero z Pohranicni Straze, grandsire Grim z Pohranicni Straze, Ben z Bolfu, Tina z Pohranicni Straze, Lenka Klo off of the excellent L. Klo litter whick also produced Lord, the linebreeding 4-3 on Kaso z Pohranicni Straze, and 5-4 on DDR Iwo v.d. Buscheke, the great Klara z Pohranicni Straze.