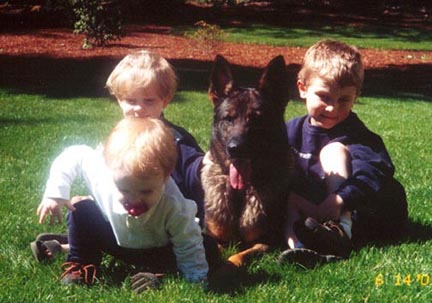 Her highly concentrated pedigree is packed full of many of the strongest working dogs of the present, and some truly great dogs of the past. Some examples of these fine dogs include greats such as Gero z Blatenskeho Zamku, Omar z Blatenskeho Zamku, Treu v. Schaferstolz, Iwo v.d. Buscheke, Whisky v. Ritterberg, Bojar v Schotterhof, and the well known Czech female Klara z Pohranicni Straze who has been noted here because of her long list of super strong working offspring.

     Denny is excellent with young children, will independently protect your property, motor vehicle, family etc. She possesses correct social character, travels well in the car, and is an indoor/outdoor dog.

     She is a proven excellent producer of huge boning, substantial head type, and wonderful working drives. She breeds very easily and whelps normally. Denny has produced 3 healthy litters and is coming off of a full year long break from breeding.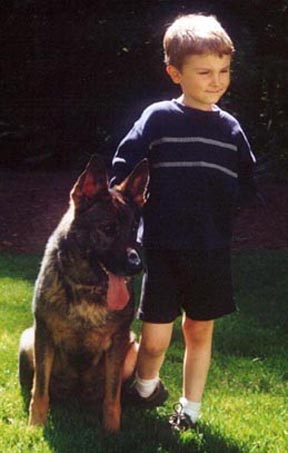 Denny Jipo-Me is one Gero z Blatenskeho Zamku's (vyborny, ZVV3, IPO3, SchH3, FH, OP1) finest daughters. Deny is the product of the exceptional breeding between Gero and the foundation female for the Jipo-Me kennel Zeira Jirkova Dvora (velmi dobry, ZVV1, 0/0). Zeira was noted for giving her female offspring excellent temperaments, characteristic retrieve drive, and excellent overall working abilities. She will be an ideal property protection dog, family companion protector, personal companion protector, or breeding addition to a working dogs breeding program.